Published on August 12, 2019. Last Updated on July 10, 2022.
In the beauty world, it seems that rice bran for hair is growing in popularity, either as an oil or product ingredient. There are plenty of hair and health benefits of rice bran or rice bran oil in the beauty department, and scientists are now finding more conclusive evidence of rice bran's benefits for hair and hair growth.
Like many plant-based extracts being talked about and marketed to consumers for hair health and growth, rice bran oil is attributed to many health benefits, including healthier-looking tresses and improved hair growth. 
While we should always be aware that many myths are associated with different trending natural ingredients, studies explain why we should consider rice bran for improved hair sheen and growth.
The Beauty Buzz on Rice Bran Oil Properties For Hair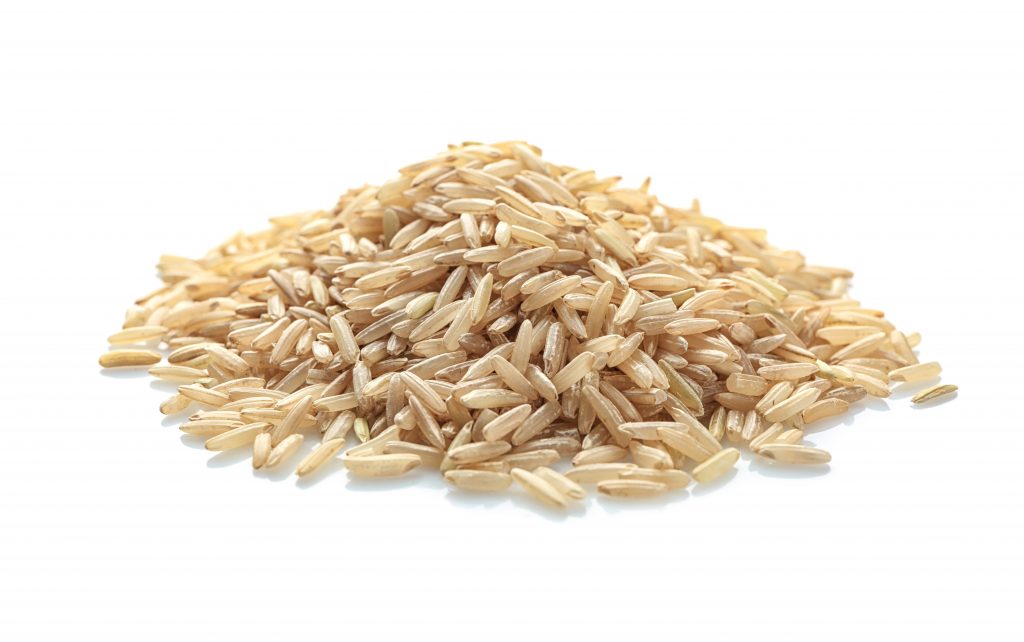 Online brands such as Style Craze, NDTV Food, Cure Joy, and Naturally Curly have discussed rice bran oil's hair and beauty benefits.
It is also a favorite of celebrity hairstylist Corey Powell who says, "With its high concentration of vitamin E, rice bran oil creates a hard shell barrier around the hair cuticle so that the hairs are stronger and less likely to break."
What is Rice Bran?
Referred to as the "Asian secret to beautiful, healthy hair," rice bran oil is making its way from Eastern tradition to modern, natural health practices across the globe.
The gold-colored extract comes from the outer brown husk of the rice grain. It is believed to be a rich source of antioxidants, a dandruff fighter, and even a natural UV protectant. According to various online articles aimed at beauty enthusiasts, rice bran oil is the only source of a potent antioxidant known as oryzanol. Also, they mention that a component found in oryzanol, called ferulic acid, acts as a hair growth stimulant.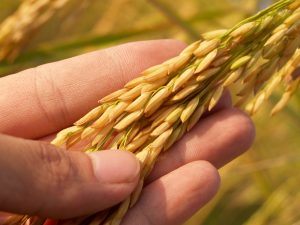 But what are scientists saying about the benefits of rice bran for hair? And what are studies revealing about how and why it can help with follicular and skin health?
Rice Bran For Hair Growth in Mice and Humans
Researchers in Korea have looked more closely at how rice bran extract can promote hair growth.
One study on mice, called "In vivo hair-growth promoting effect of rice bran extract prepared by supercritical C02 fluid", investigated different components found in rice bran extract (RB-SCE, or rice bran supercritical extract) and their effect on hair growth. These included:
linoleic acid

policosanol

Y-oryzanol

Y-tocotrienol
The researchers observed results in histological morphology (microscopic anatomical form, characteristics, quantities) and mRNA expression, which indicates the production of new protein structures based on instructions provided by DNA.
The administration of rice bran on mice increased several growth factors, as evidenced by mRNA expression. This included:
vascular endothelial growth factor (VEGF)

insulin-like growth factor-1 (IGF-1)

keratinocyte growth factor (KGF)
Also, the rice bran extract decreased levels of a compound known to be detrimental to hair growth, transforming growth factor – B (TGF-B).
These scientists also discovered that linoleic acid and y-oryzanol were the main components that induced the formation of new hair follicles. They also found that the rice bran extract also caused many overall total hair follicles to transition to the anagen (growth) stage – a critical marker indicating the possible growth of new hair.
This study's hair growth potential of rice bran extract showed similarities to 3% minoxidil. Based on all their findings, the researchers concluded that rice bran extract (RB-SCE) is a viable agent in treating hair loss.
It is important to note that although rice bran extract has similar hair growing potential to 3% minoxidil, rice bran is an entirely natural product that can be taken regularly at prescribed doses without potential dangers to the body. 3% Minoxidil, on the other hand, is known to have possible unwanted side effects and complications to human health.
In another study, Safety and Efficacy of Rice Bran Supercritical CO2 Extract For Hair Growth in Androgenic Alopecia, researchers looked at the effects of rice bran on 50 human male subjects with androgenic alopecia (2). 
The subjects in the experimental group received topical dermal applications of 0.55 RB-SCE (8ml/d) for 16 weeks. On the other hand, the control subjects received topical dermal applications of a placebo.
The researchers measured and compared various dimensions in both groups:
hair quantity

diameter

density
Patient satisfaction and the feedback of dermatologists who assessed the subjects' photographs were also considered.
At the end of the 16-week study, researchers found that the RB-SCE had produced a significant increase in hair density and diameter. In addition, patients reported high satisfaction with their outcomes, and photo assessments confirmed these overall improvements in their hair quantity, diameter, and density.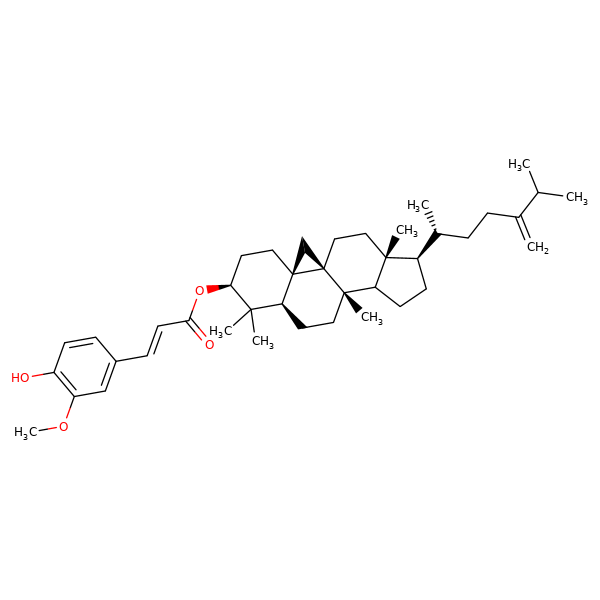 Research on Rice Bran for Hair Loss
Rice bran oil may act as a 5a-reductase inhibitor, according to scientists. This enzyme in our bodies breaks down testosterone into an end product known as DHT. In individuals genetically predisposed to androgenic alopecia (i.e., common pattern baldness), hair follicles are more sensitive to DHT, which causes them to miniaturize.
The development of treatments for hair loss has focused heavily on inhibiting the 5a-reductase enzyme. In addition, researchers are investigating plant-based extracts from sources like rice bran to meet the demand for safer and more natural chemical ingredients.
In a study entitled, 5a-reductase type 1 inhibition of Oryza Sativa bran extract prepared by supercritical carbon dioxide fluid, scientists compared different plant extracts and their effects on human fibroblast cells (3). They found that Oryza Sativa (i.e., rice bran) demonstrated the highest antioxidative and biological activities, including stimulation of human skin fibroblast cells.
Furthermore, its linoleic acid content, total unsaturated fatty acid, phenolic contents, and biological actions were all found to correlate positively with 5a-reductase inhibition activity.
Based on these findings, the authors of this study concluded that supercritical CO2 extracted Oryza sativa bran crude can be an anti-androgenic product.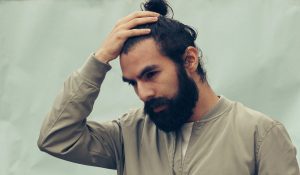 What Scientists Have to Say About Rice Bran Oil Benefits for Hair Growth and Health
According to a review published by the Journal of Scientific and Industrial Research, Gamma-oryzanol from rice bran oil – A Review, the critical component of rice bran oil, y-oryzanol, is a combination of ferulic acid esters of sterol as well as triterpene alcohols.
The review concluded that y-oryzanol could protect against UV light. UV light promotes hair's detrimental process of lipid peroxidation. Additionally, the publication cites research that illustrates how ferulic acid may encourage hair growth by accelerating the process of cell differentiation.
Further Research Supporting Rice Bran for Hair Loss Prevention and Hair Growth Enhancement
A 2017 Food & Nutrition Research study studied rice bran mineral extract (RBM) in four varying treatment groups. The study evaluated the efficacy of RBM in expressing anagen-related molecules in human dermal papilla cells (DPCs) through wnt/catenin pathway expression. After administration of the DPCs to the treatment groups, western blot analysis revealed increased type I collagen expression, a 2.5-fold increase in a control group vs. 4-fold in the RBM group."

Thus, after carefully considering their findings, these researchers concluded that "RBM has a potential to recover DPCs activity and decreased inflammatory-related markers, which validates rice bran's possible use for hair growth. Furthermore, these researchers specifically stated that "hair loss prevention and hair growth enhancement occurred when RBM is applied" via cosmetic or hair growth-enhancing products, further supporting the benefit and potency of rice bran in combating alopecia.
Rice Bran For Hair Protection Against UV Rays – Research on Skin Fibroblasts and UV-B Damage
In another study called "Anti-photoaging effect of fermented rice bran extract on UV-induced normal skin fibroblasts," scientists studied the effect of fermented rice bran extracts (FRBE ) in protecting in-vitro fibroblasts (cells that produce collagen)  against UV-B damage.
The researchers treated human fibroblasts with FRBE and observed the following parameters:
morphological change of the fibroblasts

secretion of IL-1a

pro-MMP-1 levels
After exposing the fibroblasts to UV-B radiation, the cell growth rate declined. But after receiving treatment with FRBE, the normal rate of cell division was restored.
Treatment with the rice bran extract also increased collagen synthesis in a dose-dependent manner within the UV-damaged fibroblast cells.
Furthermore, IL-1a levels fell to the baseline standards of non-exposed control cells. Lastly, rice bran treatment caused a decrease in the levels of Pro-MMP-1 to normal concentrations.
In conclusion, hair can become dry, brittle, and aged when exposed to UV rays. Therefore, the sun-protecting properties of rice bran extract support observations that rice bran extract can have powerful anti-UV protective elements that will significantly benefit skin or hair protection products.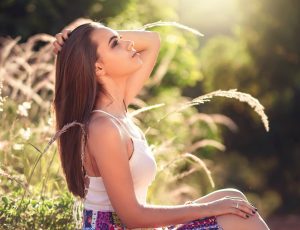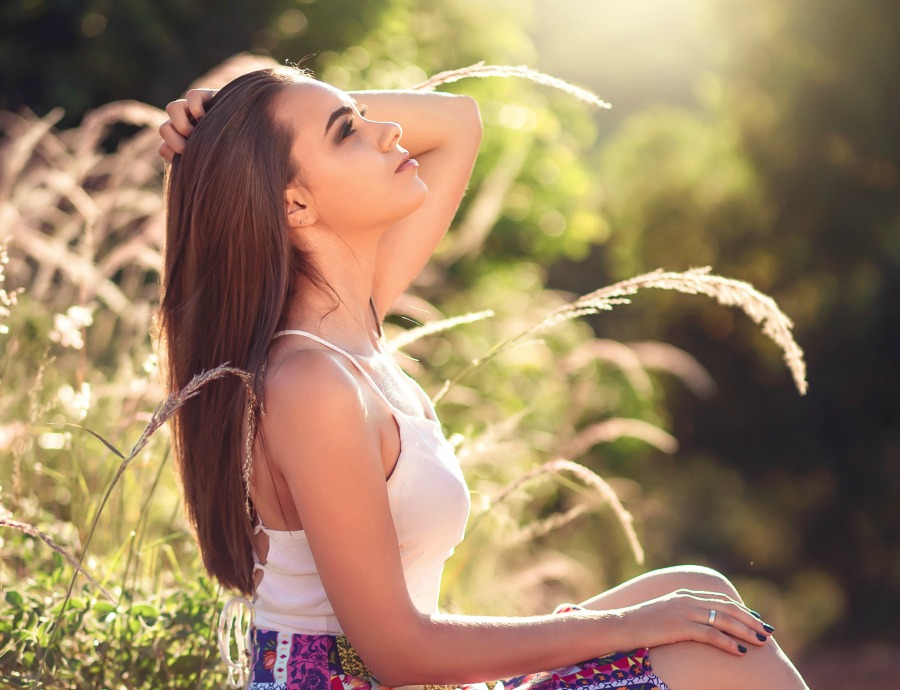 Rice Bran Side Effects
According to WebMD, rice bran is "likely safe" when taken orally. However, consuming higher-than-average quantities may cause stomach issues, gas, and unusual bowel movements. Topically, rice bran is "probably safe" when used as an exfoliant, added to baths, or used as a natural foot scrub. However, rice bran may cause redness and itching in sensitive skin.
Safety Profile For Rice Bran
The Environmental Working Group (EWG) gives rice bran oil a 1-2 "fair" (green) rating score on a scale of 1-10. In other words, this ingredient is considered generally safe regarding concerns about:
cancer
developmental and reproductive toxicity
allergies and immunotoxicity
organ system toxicity
environmental toxicity
In the Environmental Working Group's (EWG) Skin Deep numerical health risk ratings, rice bran scored low at 1-2.
Other Uses of Rice Bran
Besides benefitting your hair follicle wellness, rice bran is a nutritious source of niacin, fiber, thiamin, and vitamin B6. Rich in calories, it helps dieters feel full much longer. So what are some other ways you can benefit from rice bran?
Breakfast Foods
Add rice bran when baking muffins or bread. More simply, add rice bran to your cereal (hot or cold) or your yogurt.
Healthy Snack
Consider quick no-cook uses in nutrition-filled power balls (i.e., combine in peanut butter, sunflower seed butter, dried coconut flakes, cacao bits, etc.)
Fruit Bowl
Make a delicious raw-food chia seed pudding bowl for breakfast, brunch, or Saturday morning lunch. First, mix your chia seeds with your favorite nut milk. Next, add about two tablespoons of rice bran. And finally, top with colorful fruits such as raspberries, strawberries, blueberries, and sliced mangos. Take a snapshot with your phone and share your healthy and beautiful creations on Instagram!
---
How Can You Harness Rice Bran's Beauty & Hair Improving Qualities?
Are you interested in treating your hair with rice bran? Although you may find rice-bran products in-store, this may not be the best solution for your hair.
One should look for optimally formulated products to effectively unleash the potential of rice-bran oil for hair health. Such a product must retain the beneficial properties of rice bran in concert with other supporting ingredients for better results.
Note the improved color, thickness, and health of her hair! After several months of natural Dr. UGro GASHEE oral hair supplements, she improved her hair's health dramatically.
Dr. UGro Gashee: Before & After Pictures – Hair Restoration Results
Dr. UGro Gashee's all-natural hair growth results: before and after four months of consistent usage. Note her overall hair health's improved fullness, length, texture, sheen, and shine.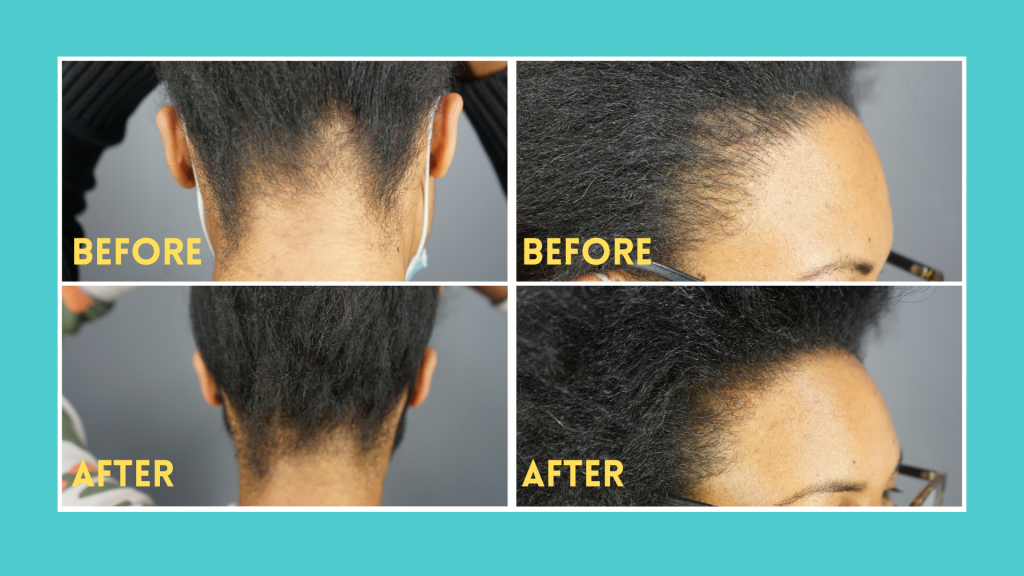 ---
Frequently Asked Questions – Rice Bran For Hair Growth, Health, and Luster
Many people seem to be searching for DIY tips on making your own rice bran oil. But, will homemade versions work for hair problems such as dryness and hair loss?
Homemade extracts may not have an adequate concentration. Due to this reason, when it comes to dryness and hair loss, DIY rice bran oil may not produce any practical improvements for dryness and hair loss.
Therefore, finding a professionally made rice bran oil product is probably better.
However, it is best to maintain realistic expectations when using a single ingredient, especially since problems like dryness and hair loss are likely due to many factors that differ from person to person.
To maximize your chances for hair recovery and the amount of hair growth for your situation, we recommend a holistic and natural approach for hair loss based on Gashee all-natural plant-based ingredients – formulated and clinically proven to help you reach the hair health you desire.
Will rice bran oil for hair work on just the strands, or should it be applied to the scalp?
Using any natural oil on the hair can help to soften it. Applications on the scalp can be beneficial but should not be depended on as a fix-all, miracle treatment. It may be better to rely on more advanced formulations, including other effective natural ingredients supported by research studies.
The choice ingredients themselves are essential, and the relative proportions to one another can enhance their overall effect.
Is it beneficial to consume rice bran oil to reap its benefits for the hair, skin, and the rest of the body?
Many online sources mention the health benefits of cooking with rice bran oil.
This is due to its content of antioxidants and monounsaturated fats and its ability to lower cholesterol.
Rice bran oil can potentially benefit many areas of the body. But it should be consumed within the overall context of a healthy, well-rounded diet. Your doctor can provide more specific forms of dietary guidance which is suitable for your body.
One recommended way to orally consume rice bran oil or rice bran oil extract to help with hair growth or recovery is through Dr. UGro's Gashee oral supplements. Yet, although research finds that rice bran and its derivatives are often safe for human consumption, it is generally recommended to consult your doctor before taking any new medication or dietary supplements.
Related Articles on Hair Loss & Restoration
References
Choi JS, Jeon MH, Moon WS, et al.,

In vivo hair-growth promoting effect of rice bran extract prepared by supercritical C02 fluid,

Biol. Pharm Bull. 2014; 37(1):44-53

Choi JS, Park JB, Moon WS, et al.,

Safety and Efficacy of Rice Bran Supercritical C02 Extract for Hair Growth in Androgenic Alopecia

, BioPharma Bull. 2015; 38(12): 1856-63

W.Ruksiriwanich, J.Manosroi, M.Abe, et al.,

5a-reductase type 1 inhibition of Oryza Sativa bran extract prepared by supercritical carbon dioxide fluid

, The Journal of Supercritical Fluids, Volume 59, Nov.2011, pages 61-71

M.Patel and SN Naik,

Gamma-oryzanol From Rice Bran Oil – A Review,

Journal of Scientific and Industrial Research, Volume 63, July 2004, pp.569-578

Kim, Y., Kwon, S., Jang, H. and Seo, Y., 2021. Rice bran mineral extract increases the expression of anagen-related molecules in human dermal papilla through wnt/catenin pathway.

 Young-Kwon S, Su-Hyun J, Kye-Yong, et al.,

Anti-photo aging effect of fermented rice bran extract on UV-induced normal skin fibroblasts,

European Food Research and Technology, June 2010, Volume 231, Issue 2, pp-163-169

Umar, S. and Carter, M., 2021. A Multimodal Hair-Loss Treatment Strategy Using a New Topical Phytoactive Formulation: A Report of Five Cases