Published on November 29, 2021. Last Updated on January 14, 2022.
What is Beeswax: Beeswax for hair has been used as a staple for several hair products throughout the centuries. Beeswax, also known as cera alba, is a natural wax produced by honey bees and it is known to help protect the hair, and possibly improve hair health. Is beeswax good for your hair? How to use beeswax for your hair, and other related questions will be explored by recent findings of modern science, medicine, and research below.
Beeswax for Hair Growth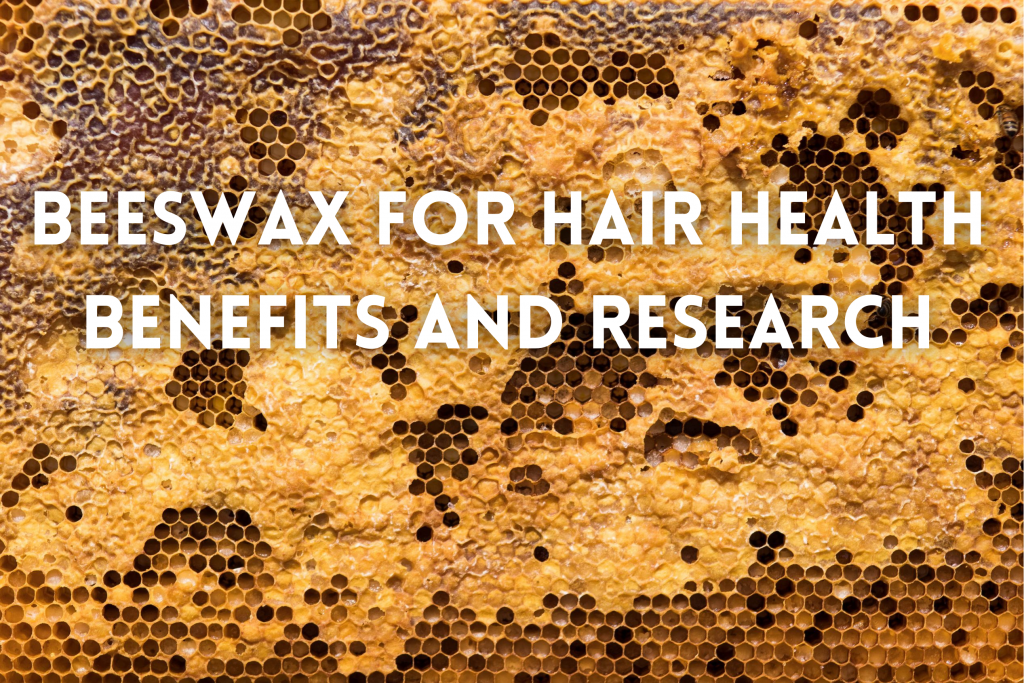 Bees have always been significant contributors to human society, and now they're making their way up in the cosmetics, health, and beauty industry. For centuries, beeswax has been a staple ingredient in various beauty products — primarily for its hair benefits explored and explained below. 
Beeswax for Hair Growth: A Study
In 2016, a study was conducted by Advanced Biomedical Research on hair wax containing beeswax in order to test its effectiveness and possible use for hair growth. The wax incorporated propolis, a significant compound produced from beeswax.
According to the study, the formulation with beeswax "significantly increased hair length on 10th, 20th, and 30th day compared control group (5.8 ± 0.3 vs. 2.6 ± 0.4, 11.4 ± 0.6 vs. 5.8 ± 0.4, and 17.5 ± 0.5 vs. 12.7 ± 0.4 mm, respectively) and also the weight of newly grown hairs on 30th day (0.056 ± 0.006 vs. 0.043 ± 0.005). It improved hair follicles percentages in anagen phase without any sensitivity reaction."
Therefore, the study did find that after 30-days post-treatment, the length and weight of hairs and percentage of hair follicles that were in active cycles of growth had significantly increased in comparison to the control group.
In conclusion, the researchers found that beeswax significantly improved hair growth within 30 days of daily use. 
However, although the beeswax proved its tendency to speed up the hair-growing process in the candidates, it is difficult to conclude that the beeswax alone caused the growth due to the product containing additional ingredients, like cannabis Sativa. It may very well be possible that it is beeswax, combined with several other natural ingredients that may have contributed to a significant stimulation of hair growth.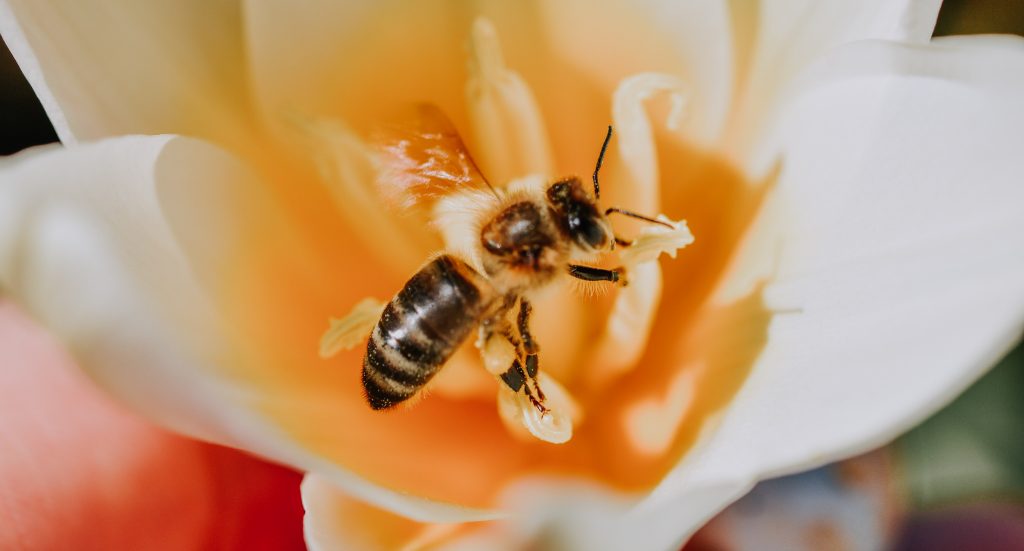 Other Hair Benefits & More Related Studies on Beeswax
In addition, beeswax also speeds up the healing process of wounds through its antibacterial and anti-inflammatory properties. Beeswax is packed with vitamin A that encourages cell reconstruction while improving overall cellular health. All of these benefits combine together to contribute to beeswax's ability to help soothe scalp conditions, which may also directly affect hair health and hair growth. 
Additional Beeswax Study on Hair Growth
In 2003, a study examined the effects of beeswax on individuals with conditions such as psoriasis, eczema, and dandruff. The partially controlled, singled-blinded study concluded that candidates who used the honey mixture containing beeswax had "showed significant improvements [in hair health and hair growth] after two weeks [of use]."
In alignment with the findings from the study, research finds it is best to use products containing beeswax as an ingredient rather than using the raw substance directly to the head to prevent excess buildup. 
Benefits of Beeswax Products for Hair Health
Products with beeswax effectively lock in the natural moisture in the hair without leaving a greasy residue. Beeswax hair products can be used as a finishing agent in the last stage of hairstyling to achieve a subtle shine while preventing frizz. Individuals with dry hair may also use beeswax products to seal split ends. 
Due to the natural weight of beeswax, beeswax hair products are especially great for textured hair — including Afro, coily, and curly hairs. 
Beeswax is also recommended when creating dreadlocks as its sticky texture aids in holding the dreads in place.
How to Apply Beeswax on Hair to Lock in Natural Moisture
However, keep in mind that beeswax should not be applied to the scalp because it is likely to clog the pores. Instead, be sure to apply beeswax only to the hair ends.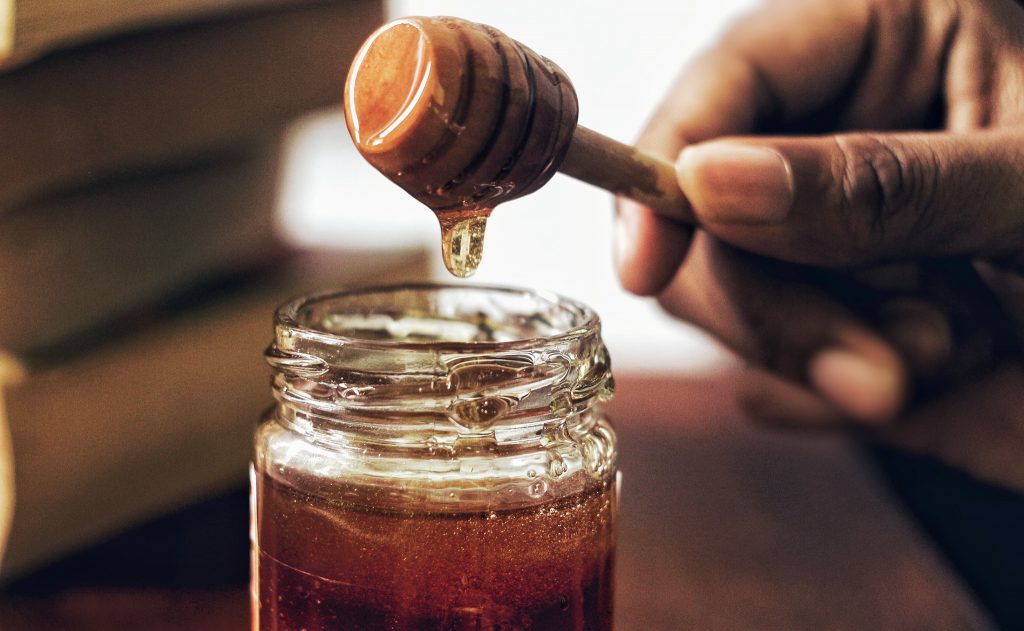 Factors to Consider Before Using Beeswax on Hair
Despite beeswax's many hair benefits, there are a few factors to consider before using beeswax. 
How to Avoid Beeswax Buildup
One of the main concerns with this ingredient is its ability to build up in the pores if used excessively; therefore, consumers should avoid the scalp during application. 
When a buildup occurs, it can be challenging to wash it off because beeswax is not dissolvable in water. 
To remove a buildup, soak lukewarm olive oil in your hair for a couple of minutes. Then, wash it off with gentle dish soap to remove the remaining grease. Use a moisturizing shampoo and condition to finish the routine.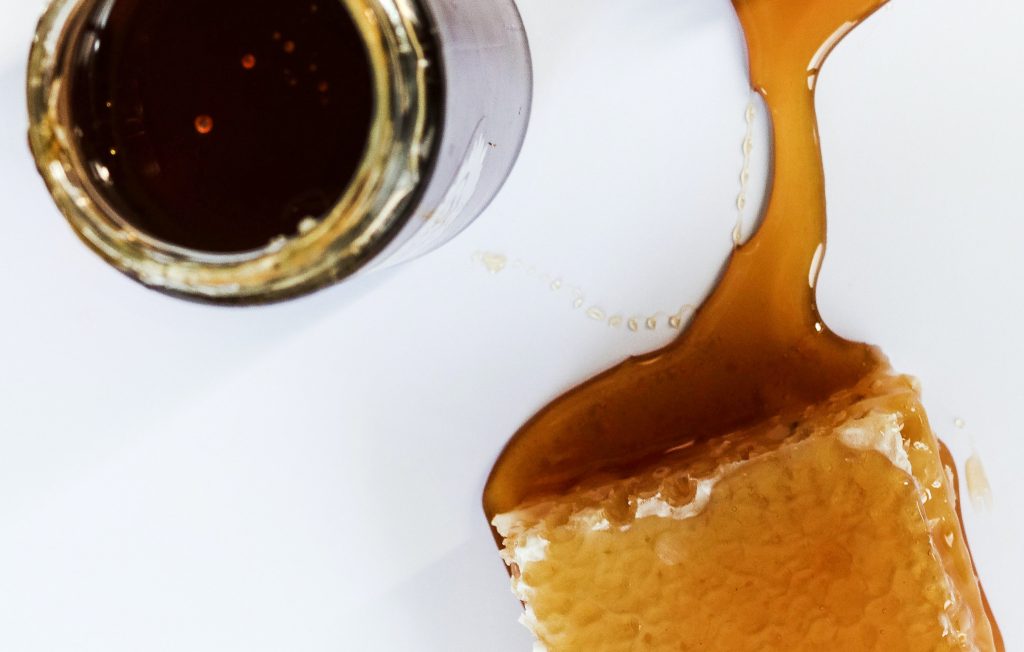 Stains
Beeswax residue can be difficult to remove when stained on a cloth due to its sticky residue.  If stained, there are a few steps you can follow to make the removal process more manageable. 
First, place the cloth in the freezer, or use an ice bag to harden the stained beeswax. Once set, gently scrape off the beeswax with a butter knife or sturdy card. Then, wrap the cloth in paper towels before applying a heated iron to absorb the remaining wax. For complete removal, use a stain remover onto the impacted area before washing.
Beeswax Safety Profile
Aside from the few precautions during usage, there is no significant harm of beeswax to hair health.
The Environmental Working Group analyzed the potential safety hazards of beeswax. It concluded that the ingredient shows little to no concerns in all of its rating criteria — including promotion of cancer, association to developmental and reproductive toxicity, and signs of provoking allergies. 
The report also shows that beeswax is not suspected to be an environmental toxin and is designated as safe to use in beauty and food products.
Harness the Beeswax Infused Power of Dr.UGro GASHEE Pomade!
Beeswax is one of the many powerful and natural ingredients found in Dr.UGro Gashee Pomade for better hair health. To help increase the feel and appearance of hair density, thickness, and volume, or to help regrow hair lost or aid hair growth, apply a pea-sized amount to fingers and rub directly on to scalp or targeted area once or twice daily.
---
VIDEO: Beeswax Infused Dr. UGro Gashee Topicals: Before & After Results
If you are experiencing hair loss, rest assured that you are not alone. Hair loss may happen due to a variety of reasons including age, time, and even stress. Hair health depends on a combination of all these factors and more. Some of these factors can lead to detrimental hair health, resulting in hair loss, hair thinning, or more.
If you happen to experience symptoms of hair loss, alopecia, hair thinning, hairline recession, or any other hair-health issues, you may be able to relate with Diane's story and how she was able to overcome these struggles in her hair health, using Gashee Natural Oral Supplements and Topical Pomade Botanical for hair health.
Meet Diane: For Diane, a combination of consecutive tragic events and passings in her close family had quickly compounded to her rapid hair loss. Facing these tough mental and emotional challenges ahead of her have seemed to "taken a toll" on her, according to her husband, and after she saw a noticeable decrease in the quality and texture of her hair, as well as a range of other related hair loss symptoms, it was time for Diane to search for a permanent and working solution for her hair health.
Some of the symptoms of hair loss that she had to deal with include:
Decrease in quality of hair
Decrease in quality of hair texture
Patchy hair
Frail hair
Sparse hair
Parts of scalp exposed
Lack of volume on edges & temples
How Diane Recovered Her Hair Health for a More Confident Future
Diane's first few steps towards her eventual hair health recovery first began with a meeting with Dr. U, known as Dr.UGro, originator of the Dr.UGro GASHEE Natural Hair Product line. As Diane told Dr. U about her concerns, of how some of her hair had gone, and thinned out, of how her scalp had begun to show exposed patches, and of her decreasing volume and density of hair, Dr. U had proposed a simple solution for her.
Below, you can watch a video testimonial of Diane's personal successes and experience with Gashee Pomade and Oral Supplements, and how they have helped her in her journey towards better hair health.
Dr. UGro Gashee: Before & After Pictures – Hair Health Improvement Results
In a few months' time, Diane was able to already see, feel, and notice a considerable difference in her hair health, thickness, and volume. The growth was remarkable. Dr. UGro Gashee's natural hair growth results: before and after several months of consistent usage. Note how in Diane's case, there is a remarkable improvement in the fullness, length, texture, sheen, shine, and visual health of her hair.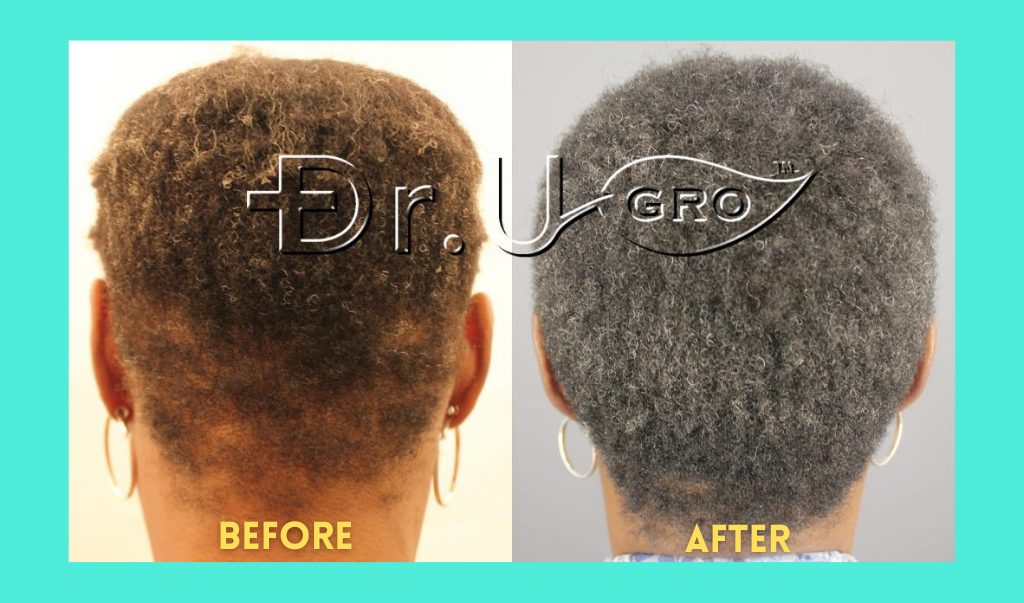 What an amazing feeling it was for Diane to see and feel her hair growing back fuller! After trying multiple products previously that did not work for her hair and her hair health, it was a completely refreshing feeling to be able to finally find a product that worked well for her hair and situation. According to Diane, "there was a striking difference in her hair in comparison to pictures she'd taken before using the products."
"There was a striking difference in my hair in comparison the [what it was] before using Dr.UGro Gashee Natural Hair Health Products!"
"It has changed my life."
"It has changed my life," Diane said with a smile. "In terms of how I see myself and how I am confident in appearing in the outside world."
For more of Diane's personal testimonial, of her story, her results, and her happiness and satisfaction with Dr. UGro GASHEE Natural Hair Growth Products, visit Diane's full interview here.
What Makes Dr.UGro Gashee Hair-Growth Products Different: Beeswax Infused & Other Powerful Natural Ingredients for Hair
Dr. UGro Gashee Products are uniquely formulated by Dr. Sanusi Umar, a double-licensed dermatologist, and pioneer of the FUE hair transplant method with over 25 years of experience in the field.
Unlike other hair health and hair improvement products in the market, Dr. UGro Gashee Products uses a powerful blend of natural plant-based ingredients that have been cold-formulated to maximize each plant's unique properties, delivery, and penetration, combining them to stimulate different pathways and functions within the body to maximize hair health. This is why GASHEE Products have been able to deliver hair health improvements with more significant results than other medicines, treatments, prescribed or over-the-counter.
If you are tired of trying products that do not help improve hair health and want to try an all-natural and healthy approach to improving your hair health, try Dr. UGro Gashee All-Natural Hair Care Products today.

Related Articles on Hair Loss & Hair Health
For additional information regarding hair loss and hair health-related ingredients that you may find useful, visit the new articles below.
---
References
Safaeian, Leila, et al. "Preparation and Evaluation of a Hair Wax Containing Propolis and Eruca Sativa Seed Oil for Hair Growth."

Advanced Biomedical Research

, vol. 5, no. 1, 28 Nov. 2016, p. 182., doi:10.4103/2277-9175.190985. 

Al-Waili, Noori S. "Topical Application of Natural Honey, Beeswax and Olive Oil Mixture for Atopic Dermatitis or Psoriasis: Partially Controlled, Single-Blinded Study."

Complementary Therapies in Medicine

, vol. 11, no. 4, 11 Dec. 2003, pp. 226–234., doi:10.1016/s0965-2299(03)00120-1.

Fratini, Filippo, et al. "Beeswax: A Minireview of Its Antimicrobial Activity and Its Application in Medicine."

Asian Pacific Journal of Tropical Medicine

, vol. 9, no. 9, Sept. 2016, pp. 839–843., doi:10.1016/j.apjtm.2016.07.003.
---
Further Reading
What peppermint oil does for hair growth