Published on November 23, 2021. Last Updated on January 14, 2022.
What is Syringa Oblata: Syringa oblata, also known as early blooming lilac or broadleaf lilac, is a type of flowering tree originating from the olive family, most commonly seen in China. It is a hardy flower that prefers hot summers and cold winters. In ancient medicine, lilac oils or lilac extracts have been used to treat parasites, malaria, and fevers due to their purifying and soothing properties. Additionally, lilac essential oils have been used to promote focus and relaxation. In modern medicine, lilac oil has also been used to help treat certain skin ailments such as rashes, sun damage, abrasions, and even hair loss. Today, modern medicine has explored and found potentially powerful benefits of lilac extract or lilac stem cells to help the growth and activation of new hair follicles, while also possibly contributing to promoting their lifespans.
Syringa Oblata AKA Lilac Extract Benefits for Hair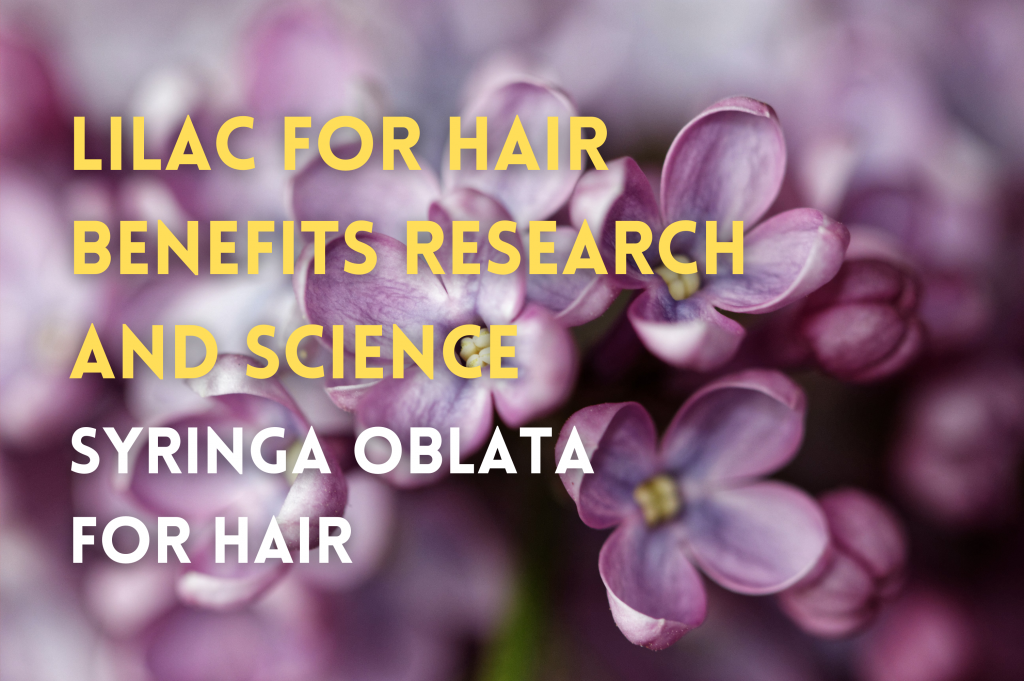 Syringa oblata can also refer to lilac or lilac extract.
Research shows that lilac extract has a multi-functional effect, acting on all three parts of the hair strand: the root, the scalp, and the shaft.
Lilac extract is known to have the greatest improvement in reducing inflammation, which can happen at the base of the bulb of the hair follicle.
It is known that some forms of alopecia, or hair loss, are triggered by an auto-immune system response against the body's own hair follicles. This triggered immune-system response can produce inflammation at the hair follicles, which directly causes weakening of the hair, as well as the falling of hair also known as hair loss.
Additionally, research also shows that lilac extract when applied to the hair and scalp can help the cuticle (outermost layer of the hair). By doing so, the cuticle is repaired, soothed, and protected against daily damage – from conditions of pollution, UV rays, and more.
Syringa Oblata Study: Results
Syringa oblata, also known as lilac, has also been studied in recent times for its benefits for hair health and hair growth.
In this 28 day study across 20 women with damaged hair aged 20-45, researchers applied a Lilac Extract formulation once daily to the scalp and the hair.
At the end of the study, 90% of the women who used the lilac extract formulation reported an increase in their hair shine, and 80% of the women had also reported that their hair was less damaged.
Test tube studies also found a complete rebalancing of the hair bulb, with decreased inflammation of the hair and scalp by 20-28%.
The study also showed a decrease in free radicals that included a 20% decrease in free radicals caused by the UVB rays.
Syringa Oblata Safety Profile
According to the EWG, syringa oblata was rated a 1 on its safety score sheet, which states that it poses no risk for cancer, developmental and reproductive toxicity, allergies, or immunotoxicity.
Harness the Syringa Oblata-Infused Power of Dr.UGro Botanical GASHEE Lotion!
Syringa oblata is one of the many powerful natural botanical ingredients found in Dr.UGro Gashee Pomade and Lotion for improved hair health. To help increase the feel and appearance of hair density, thickness, and volume, or to help regrow hair lost or aid hair growth, apply a pea-sized amount to fingers and rub directly on to scalp or targeted area once or twice daily.
VIDEO: Dr. UGro Gashee Pomade Infused with Lilac AKA Syringa Obalata: Before & After Results
Laura's hair journey towards better hair health was nothing short of a miracle.
Yet, it all began one day when she saw that the texture and thickness of her hair had changed.
One day, looking at the mirror, Laura ran her hairbrush through her hair and saw that her coarse, parched hair strands clung to the brush like magnets.
How Laura Overcame Her Menopause-Related Hair Issues
Laura believed that the loss of fullness, breakage, and dullness of her hair had come from her menopause. She remarked that her hair had "lost its luster," and more.
Her hair was beginning to grow more patchy, sparse, and brittle, and according to her, it has "lost its fullness and life" as the days had gone by.
Watching the piles of straggly hair fall off her brush, Laura noticed that something had to change.
"I was plagued by all the issues you can think of regarding unhealthy hair."
Some of the symptoms of hair loss Laura had experienced and at the time struggled with included:
Hair falling out
Hair thinning
Patchy hair
Exposed scalp
Brittle hair
Hair losing color
Yet, a miracle was about to happen.
Despite her age, Laura still longed for her hair to be shiny, reflective, and fuller – for longer hair that looked lush and healthy. She put in the work and scrolled through pages of medical journals, product websites, and tried several different home remedies, doctors, and specialists, but none of them seemed to have given her the results that she had wanted.
But one day, Laura found Dr.UGro Gashee Topical Hair Products.
After trying Dr.UGro Gashee Topical Hair Lotion for better hair health, she noticed drastic growth in her hair health and her hair growth.
As Laura noted, it was "incredible how fast it filled in!"
After using Dr.UGro Gashee Topical Hair Lotion, Laura remarked that her hair had totally transformed for the better. Some of these hair benefits included:
Stronger hair
Healthy hair
Hair did not stuck to brush as before
Her hair color sprung back to life
As you can see in the before and after picture results below, the changes to Laura's hair health were really nothing short of a miracle.
"I couldn't believe it. It was a miracle."
And the best part was that it "only takes a couple of minutes, for a few drops a day."
Laura only had to drop a few drops of the all-natural, plant-based lotion topical on her scalp once or twice per day.
"It's natural, has a good smell, reminds me of spices!"
After all the success that Laura had using Dr.UGro Gashee Natural Topical Lotion, she wanted to shout out to the world: "girl, use this product!"
Dr. UGro Gashee Botanical Topicals, Infused with Syringa Obalata AKA Lilac: Before & After Pictures – Hair Health Improvement Results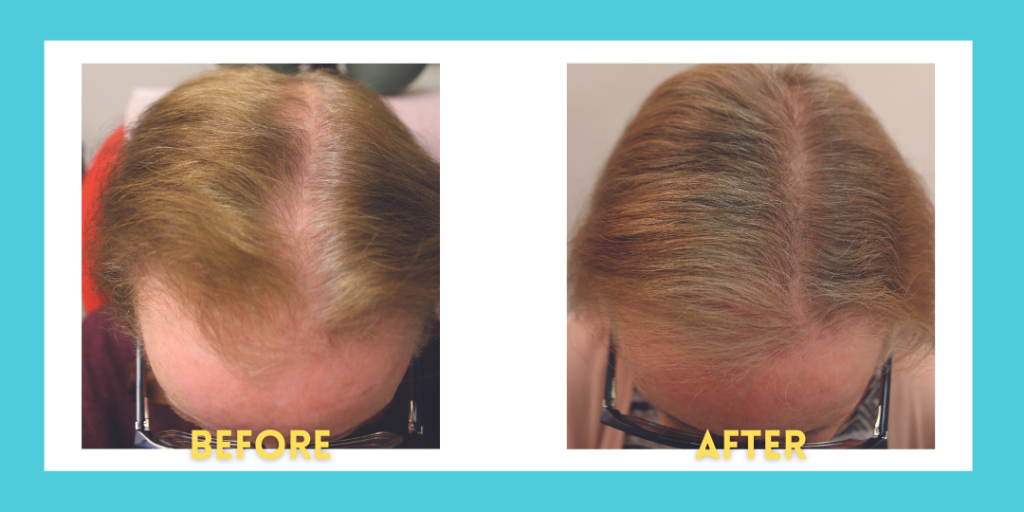 Within a few months, Laura's hair was fuller and she had noticed a remarkable difference. Laura continued to use the Dr.UGro Gashee Topical Lotion There was a striking difference in her hair in comparison to pictures she'd taken before using the products.
For more of Laura's personal testimonial on her happiness and satisfaction with Dr. UGro GASHEE Natural Hair Growth Products, visit Laura's full interview here.
Hair Growth & Hair Health Backed by Science: Gashee Topical Research Results
To add to the professional credibility of GASHEE Products, a study was conducted to test its effectiveness for hair health, and its possible use for improving hair growth, in comparison to traditional over-the-counter or prescribed medicine such as Minoxidil. The success of GASHEE Topical Lotion in several users can be further described below.
In a 2021 study published in the medical review journal, Hindawi, Dr. Sanusi Umar of Dr.UGro Gashee evaluated the efficiency, safety, and tolerability of Gashee all-natural topical lotion in stimulating hair growth.
The framework of this study was conducted on a diverse group of five patients (in terms of age, sex, race, and cause of hair loss). Every member-subject within the study exclusively used Dr.UGro Gashee Topical Lotion, and they all reported a "high satisfaction level and safety profile after using the topical cosmeceutical."
For example, one patient, a 68-year old Caucasian woman, had hair loss with significant hairline recession and thinning of the front, top, and crown. After 1 year of taking 2% topical minoxidil and other oral hair and nail growth supplements without noticeable results, the woman discontinued all of these treatments. She replaced them with the Dr.UGro Gashee topical lotion. The results of her hair growth can be seen in the picture, showing the below after results of 4 months of use of Gashee topical lotion.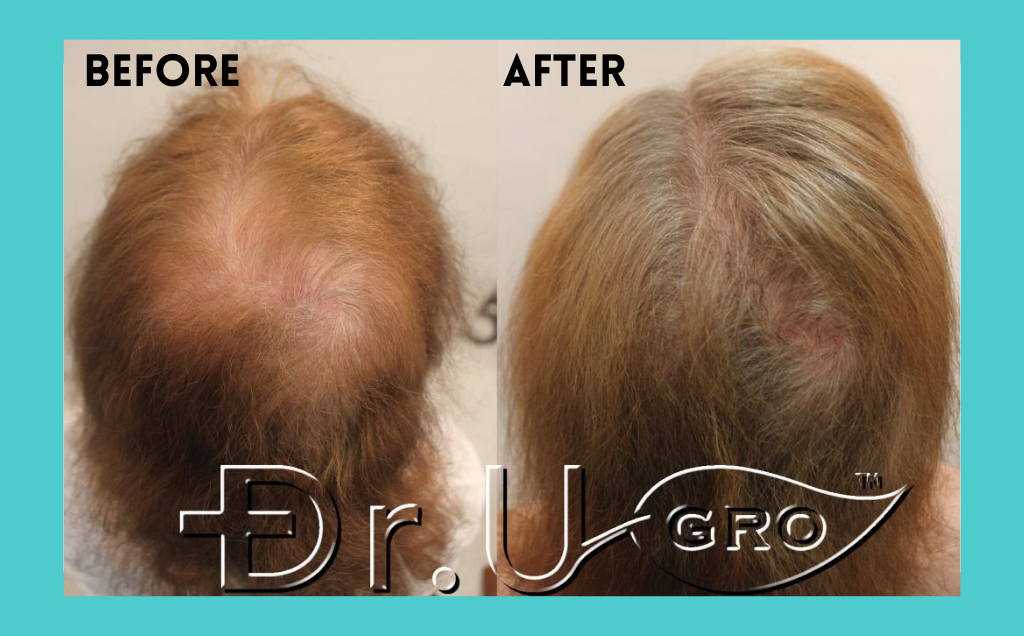 The woman applied the lotion to her scalp once at night for 3 months. After leaving the lotion on her scalp throughout the night, she washed her scalp each morning. In between washing, she noticed a reduction in the rate of hair shedding. After 3 months, new hair growth in the affected area was observable, and her hair loss completely stopped.
Lilac AKA Syringa Oblata Infused: Powerful Natural Cure for Alopecia or Hair Loss
Dr. UGro Gashee Botanical Topical Pomade and Topical Lotion are uniquely formulated by Dr. Sanusi Umar, a double-licensed dermatologist, and pioneer of the FUE hair transplant method with over 25 years of experience in the field.
Unlike other products dedicated to hair health and hair improvement, Gashee's powerful blend of natural plant-based ingredients containing syringa oblata has been cold-formulated to maximize each plant's unique properties, delivery, and penetration, combining them to stimulate different pathways and functions within the body to maximize your hair health, hair health improvement, and hair growth. This is why Gashee Products have been able to deliver hair health improvement results much more significantly and noticeably than other medicines, treatments, prescribed or over-the-counter.
If you are tired of trying products that do not help improve hair health and want to try an all-natural and healthy approach to hair health maintenance or optimization, try our Dr. UGro Gashee All-Natural hair products today.

Related Articles on Hair Loss & Hair Health Ingredients
For additional information regarding hair loss and hair health improvement ingredients that you may find helpful for your hair, check out the articles below.
References
2021. [online] Available at: <http://naolys.com/product_healthy_shine_lilac_en.php> [Accessed 23 November 2021].
EWG. 2021. EWG Skin Deep® | What is SYRINGA VULGARIS (LILAC) EXTRACT. [online] Available at: <https://www.ewg.org/skindeep/ingredients/706415-SYRINGA_VULGARIS_(LILAC)_EXTRACT-SYRINGA_VULGARIS_LILAC_EXTRACT-SYRINGA_VULGARIS_LILAC_EXTRACT-SYRINGA_VULGARIS_LILAC_EXTRACT-SYRINGA_VULGARIS_LILAC_EXTRACT-SYRINGA_VULGARIS_LILAC_EXTRACT/> [Accessed 23 November 2021].