Published on October 15, 2021. Last Updated on January 17, 2022.
What is Borage: Borage, also known as Borago officinalis, is a plant native to the Mediterranean region that has been used in food, drink, and medicine for centuries. Borage is easily recognizable for its beautiful blue and purple flowers in the shape of a five-pointed star. It has large, crumpled leaves, rough hairs, and a strong stem.
In 1600s Europe, wine made from borage leaves and flowers was used to "relieve boredom and dispel melancholy."
What is Borage Seed Oil
Borage oil is cold-press extracted from borage seeds. This cold-press extraction process preserves natural qualities and components within borage, which benefits skin, hair, and general health.
Today borage oil is commonly used as an omega-6 fatty acid supplement. 
In particular, borage oil is rich in GLA (Gamma-Linoleic-Acid), which can only be obtained from very few vegetable oils, such as borage seed oil.
As stated by this 2013 study, the "n-6 polyunsaturated fatty acid is used for prevention and treatment of various degenerative pathologies such as osteoporosis, diabetes, and cancer. Additionally, it has been shown to suppress in vitro tumor growth, improve oxygenation status, exert anti-inflammatory activity, and display beneficial effects in the early stages of sepsis."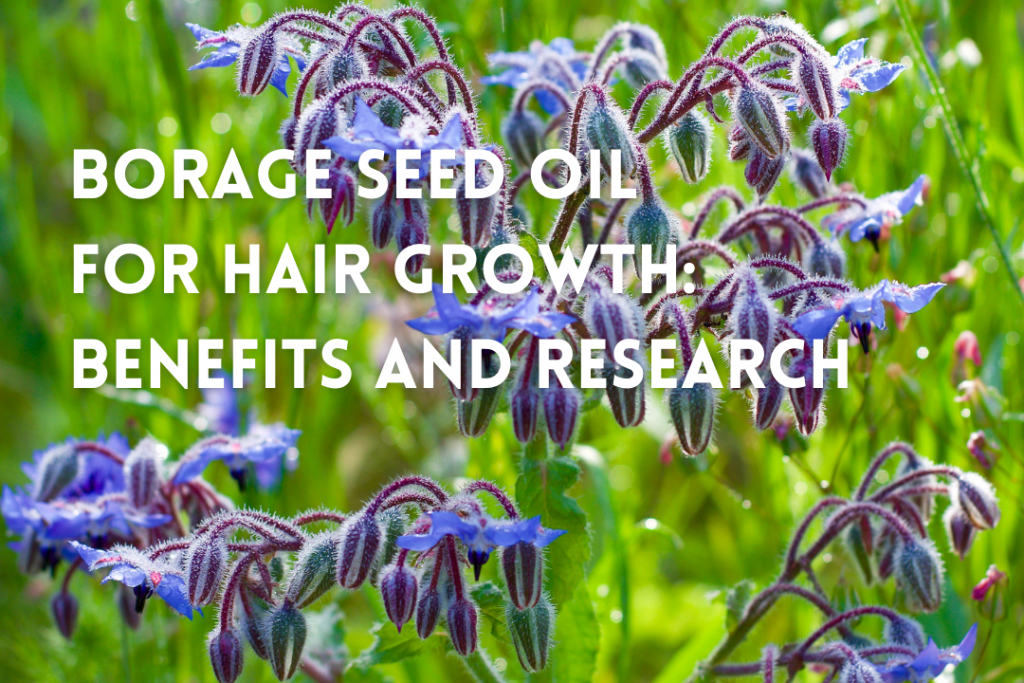 Borage Seed Oil Composition
Borage is known for its richness in fatty acids and vitamins. Borage seed oil is composed of many beneficial elements to the body:
Monounsaturated fatty acids with 18% – 19% oleic (Omega-9)

Saturated fatty acids with 12% – 22% palmitic acid and 77 – 88% stearic

Vitamins A, D, E, K

Polyunsaturated fatty acids:

35% – 40% linolenic 

18 % – 30% linoleic gamma (Omega-6)

 0.2% linolenic alpha (Omega-3)

Phytosterol

Pyrrolizidine

Alkaloid
Known Uses of Borage Seed Oil
Borage has medically been used to treat skin disorders and other issues such as:
Eczema (atopic dermatitis)

Red itchy rashes on the scalp (seborrheic dermatitis)

Neurodermatitis

Rheumatoid arthritis (RA)

Swelling of the gums

Stress

Premenstrual syndrome (PMS)

Diabetes

Attention deficit-hyperactivity disorder (ADHD)

Acute respiratory distress syndrome (ARDS)

Alcoholism

Pain and swelling (inflammation)

Asthma

Heart disease prevention

Stroke prevention
Additionally, WebMD states that borage oil has been used as an addition to infant formula in small amounts to provide necessary fatty acids crucial to the development of preterm infants.
Although there has not been much research focused on borage oil specifically for hair growth, borage boil is composed of many essential fatty acids and oils (such as keratin, which make up 95% of our hair and has been studied and proven to aid hair health and growth), as well as GLA (Gamma-Linoleic-Acid) and other components which have been tested to promote hair growth and health.
Benefits of Borage Oil for Hair Growth & Health
Borage seed oil has many benefits for both men and women.
Improve hair, skin, nails strength, and health

Prevent cardiovascular disease and reduce rheumatic pain
Health Benefits of Borage Oil For Hair
Borage seed oil is known to restore strength, shine, and radiance to dry, brittle, dull, and tired hair. Its composition, which has keratin, also makes it very effective in boosting hair growth and fight against hair loss. Due to its keratin content, borage oil can also help tighten the hair's scales to smoothen it and make it more flexible and resistant.
Health Benefits of Borage Oil For Nail Strength
Borage oil can be used internally to strengthen brittle and fragile nails due to its high keratin content. 
The Benefits of Borage Oil on the Skin
Borage oil also benefits the skin by softening, nourishing, and regenerating it. This skin-healing property is due to its high keratin content, as well as its high levels of essential fatty acids, vitamins, phytosterols, and antioxidants needed to rehydrate, repair, and regrow new skin cells. 
One interesting fact is that borage oil helps limit the skin's water loss by making it firmer and more elastic, reinforcing its lipid barrier.
Borage oil can be used as an anti-aging agent to help those with mature, wrinkled, fragile, or marked skin (stretch marks, scarring, etc.) due to its renewing properties. Borage oil prevents the appearance of wrinkles and fine lines, and other types of damage done by aging. 
Anti-Stretch Mark Oil
Borage oil is also an excellent natural ingredient for the prevention of stretch marks. The repairing and regenerative properties of borage seed oil previously mentioned helps to rehydrate skin and increase its elasticity.
For maximum stretch-mark prevention, it is recommended to use borage seed oil before the stretch marks appear on the body. Yet, although borage oil is excellent for stretch-mark prevention, it cannot make stretch marks that have already appeared disappear. Borage oil works best as a preventive measure – as soon as the first signs of stretch marks appear.
How Does Borage Oil Promote Hair Growth?
Borage has been known as a natural beauty product and is used in cosmetics and dietary supplements for that purpose.
As stated by Whole Health Chicago, borage oil can nourish nails, scalp, and hair. 
Borage oil is rich in essential fatty acids that help prevent nails from cracking. These essential fatty acids help keep the nails healthy. More so, these essential fatty acids nourish the scalp, making borage oil a possibly effective solution to many hair problems related to hair loss or hair health. More so, borage oil contains a high concentration of GLA (Gamma-Linolenic Acid), a unique and hard-to-find type of omega-6 fatty acid that is also shown to help hair health.
Gamma-Linolenic Acid from Borage Oil & How Does it Help Hair Growth
As stated by Mount Sinai, "Gamma-linolenic acid (GLA) is an omega-6 fatty acid." 
Omega-6 fatty acids are considered essential fatty acids that are necessary for human health and growth. 
The human body cannot produce omega-6 fatty acids on its own and needs to get them through food. 
Combined with omega-3 fatty acids, omega-6 fatty acids play an essential role in brain function and normal growth and development. 
These fatty acids are abundant in borage and its oil extract and are known to improve skin and hair growth, and that is why some may consider borage as a remedy for alopecia or thinning, lost hair. There have been studies, such as Whole Health MD, which claims that combining flaxseed oil and borage will make hair look "lustrous and softer."
GLA: More Than Your Typical Fatty Acids
Furthermore, borage is rich in essential fatty acids. In particular, borage oil is very rich in Gamma-Linolenic Acid (omega-6), a rare type of omega-6 fatty acid available only from a few and select sources. Besides borage oil, which is a good source of GLA, GLA can also be obtained from a few other vegetable oils such as evening primrose (Oenothera biennis), blackcurrant seed oil, and hemp seed oil.
It is important to note that there is a higher concentration of GLA found in every gram of borage oil versus evening primrose.
GLA can also be found in varying amounts from oats, barley, and spirulina.
Gamma-Linolenic acid (omega-6) can fight against skin aging and treat dry hair that lacks vitality.
Additional Health Benefits of Borage Oil
In addition to its virtues in beauty, borage oil also has many health benefits. It provides anti-inflammatory properties, able to reduce periodontally and gum inflammation.
The anti-inflammatory properties of borage oil are also of interest in rheumatic pain caused by arthritis or rheumatoid arthritis.
Indeed, a study conducted in 2011 has shown that treatments based on plants and especially borage oil were effective on this type of chronic disease. It helps to improve pain, stiffness, and sensitivity of the joints.
Borage seed oil is also a treatment against cardiovascular problems. Borage oil has a high content of polyunsaturated fatty acids and therefore is a great preventative measure against heart disease.
Finally, borage seed oil can be used as a remedy against cough. Borage oil can help users heal more quickly from the flu and eliminate toxins from the body. 
Health Benefits of Gamma-Linolenic Acid (GLA)
Also known as polyunsaturated fatty acids (PUFAs), these essential Gamma-Linolenic Acid helps the body in many ways:
Stimulate skin and hair growth

Maintain bone health

Regulate metabolism

Maintain reproductive system
What Makes Gamma-Linolenic Acid (GLA) Different
More so, it is essential to note that not all omega-6 fatty acids are similar. Linoleic acid and arachidonic acid (AA) tend to promote inflammation. GLA, on the other hand, may reduce inflammation. Some studies even suggest that GLA protects DNA.
The body converts much of the GLA taken as a supplement to a substance called DGLA that fights inflammation. Having enough of certain nutrients in the body (including magnesium, zinc, and vitamins C, B3, and B6) helps promote GLA conversion to DGLA.
For more information regarding Gamma-Linolenic Acid (GLA) and how it can potentially benefit your hair, see our article: Gamma-Linolenic Acid Hair Growth Research Findings.
Borage Seed Oil Safety Profile
According to the Environmental Working Group, gamma-linoleic acid shows little to no risk in promoting cancer development, toxins, or allergies. The organization gave the acid a 1 (green) score on its 10-point system, indicating low suspicion of toxicity. EWG deems that borage seed oil has no risks for cancer, developmental and reproductive toxicity, nor allergies, and immunotoxicity.
Borage Seed Oil Dosage Information
It is safe to take between 1,000 to 1,300 mg of borage oil daily for a majority of the ailments previously described, including hair loss.
GLA (Gamma-Linolenic Acid) Dosage Information
For 1,000 to 1,300 mg of borage oil, this equates to about 240 to 300 mg of GLA, the primary healing ingredient borage oil provides.
Avoid doses of GLA greater than 3,000 mg per day. High levels may increase inflammation in the body.
Borage Oil & Gamma-Linolenic Acid (omega-6) Precautions
Due to the potential side effects and interactions with medications, it is recommended to take dietary supplements under the supervision of a knowledgeable health care provider.
As stated by Mount Sinai, "DO NOT take omega-6 fatty acids if you have a seizure disorder." Several reports describe seizures in people taking EPO. Some of these seizures developed in people with a previous seizure disorder or in people taking an e-point combination with anesthetics. People who plan to have surgery requiring anesthesia should stop taking borage oil or GLA supplements at least 2 weeks ahead of time.
Pregnant women should not take borage seed oil and possibly other sources of GLA because they may harm the fetus and induce early labor. Consult with your physician for more information.
Additional Precautions for Gamma-Linoleic-Acid
In animal studies, GLA is reported to decrease blood pressure. Early results in human studies do not show consistent changes in blood pressure.
Additionally, laboratory studies suggest that omega-6 fatty acids, mainly from fat found in corn oil, promote the growth of prostate tumor cells. Until more research is done, health care professionals recommend not taking omega-6 fatty acids, including GLA, if you are at risk for or have prostate cancer.
Harness the Borage Seed Oil Infused Power of Dr.UGro All-Natural GASHEE Topicals
Borage seed oil is one of the many powerful all-natural and plant-based ingredients in Dr.UGro Gashee Pomade and Lotion for hair growth and hair health. To help increase the feel and appearance of hair density, thickness, and volume, or to help regrow hair lost or aid hair growth, apply a pea-sized amount to fingers and rub directly on to scalp or targeted area daily.
VIDEOS: Borage Infused Dr.UGro Gashee Topicals: Before & After Results
Hair health is a crucial part of our identity, of how we see ourselves and how others see us. If you are experiencing hair loss, hair thinning, bald patches, or other signs of declining hair health, there may be a natural solution that might work better for you than traditional over-the-counter or prescribed anti-hair loss medicine.
Meet Jovon: Jovon came in to see Dr.U because she noticed that her hairline wasn't what it used to be. Receding, with bald patches now on the back of her head, she noted that this has been a long-running issue.
Jovon saw that with her hair, there was:
Chunks of her hair that fell in the shower
Chunks of her hair that fell after combing
Growing bald patches on her scalp
Yet, the worst part of her situation was that she had tried many hair growth products, from the internet, prescribed by doctors, and more, and none of these had seemed to work. Fortunately, after running into what seemed to be a dead-end for her declining hair health, she stumbled upon Dr. UGro's Gashee Instagram page.
What Jovon experienced was something close to a "hair-miracle."
Using Dr.UGRO's GASHEE All Natural Hair Health Lotion & Oral Supplements, Jovon was able to grow back her hairline and improve her hair health. She now states that her hair is "a lot thicker" and that her hair had stopped "falling off." And yet there was more! As an added benefit, the keratin content found in her GASHEE Oral Supplements had also strengthened her nails: Jovon's nails grew "a lot faster and longer" while she was under GASHEE Oral Supplements.
Besides the benefits of thicker, fuller, and healthier-looking hair, Gashee oral hair supplements can also help your hairline and scalp health, and even nail health.
Dr. UGro Gashee Infused with Borage Seed Oil: Before & After Pictures – Hair Health Improvement Results
Dr. UGro Gashee all-natural hair growth results: before and after 4 months of consistent usage. Note the improved fullness, length, texture, sheen, and shine of her overall hair health.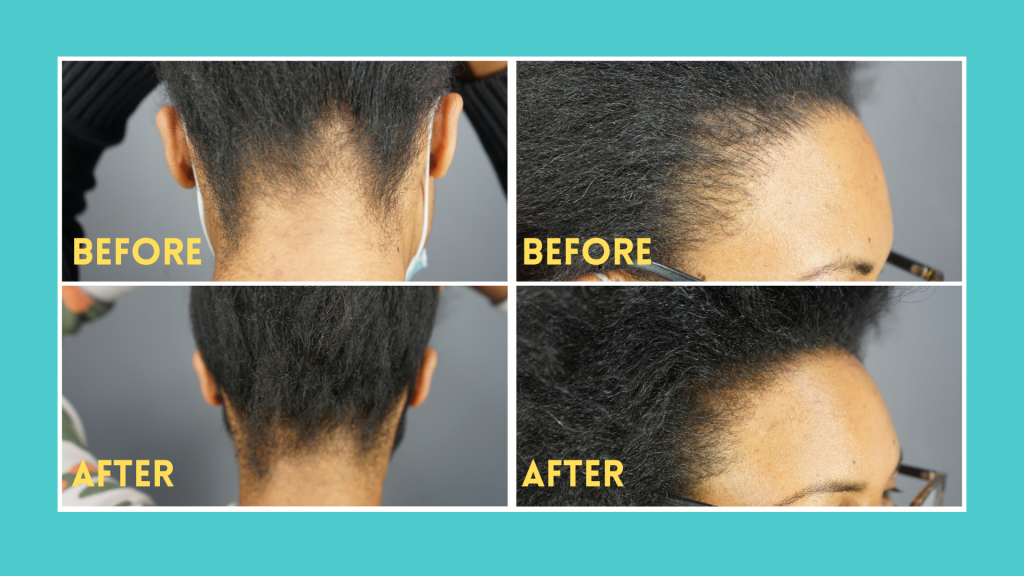 Hair Growth & Hair Health Backed by Science: Borage-Infused Gashee Topical Research Results
To add to the professional credibility of GASHEE Products, a study was conducted to test its effectiveness for hair health, and its possible use for improving hair growth, in comparison to traditional over-the-counter or prescribed medicine such as Minoxidil. The success of GASHEE Topical Lotion in several users can be further described below.
In a 2021 study published in the medical review journal, Hindawi, Dr. Sanusi Umar of Dr.UGro Gashee evaluated the efficiency, safety, and tolerability of Gashee all-natural topical lotion in stimulating hair growth.
The framework of this study was conducted on a diverse group of five patients (in terms of age, sex, race, and cause of hair loss). Every member-subject within the study exclusively used Dr.UGro Gashee Topical Lotion, and they all reported a "high satisfaction level and safety profile after using the topical cosmeceutical."
For example, one patient, a 68-year old Caucasian woman, had hair loss with significant hairline recession and thinning of the front, top, and crown. After 1 year of taking 2% topical minoxidil and other oral hair and nail growth supplements without noticeable results, the woman discontinued all of these treatments. She replaced them with the Dr.UGro Gashee topical lotion. The results of her hair growth can be seen in the picture, showing the below after results of 4 months of use of Gashee topical lotion.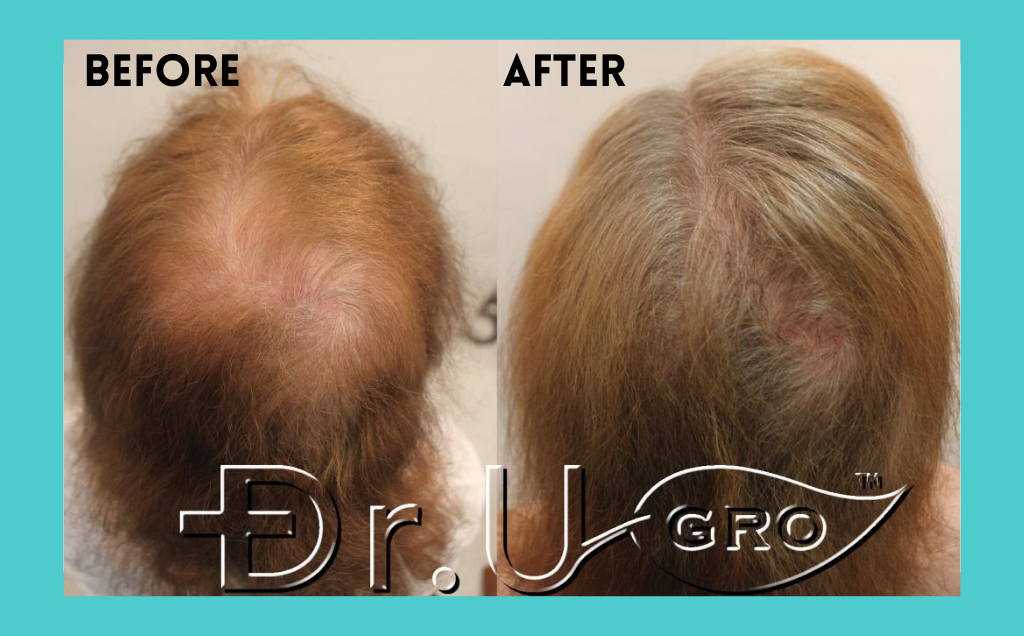 The woman applied the lotion to her scalp once at night for 3 months. After leaving the lotion on her scalp throughout the night, she washed her scalp each morning. In between washing, she noticed a reduction in the rate of hair shedding. After 3 months, new hair growth in the affected area was observable, and her hair loss completely stopped.
What Makes Dr.UGro Gashee Hair-Growth Products Different?
Dr. UGro Gashee topical lotion was uniquely formulated by Dr. Sanusi Umar, a double-licensed dermatologist, and pioneer of the FUE hair transplant method with over 25 years of experience in the field.
Unlike other "hair-growing" ingredients in the market, this powerful blend of all-natural plant-based ingredients has been cold-formulated to maximize each plant's unique properties, delivery, and penetration, combining them to stimulate different pathways and functions within the body to maximize hair health and hair growth.
If you are tired of trying products that do not give you noticeable effects on your hair health and want to try an all-natural and healthy approach to hair growth or maintain your hair health, try our Dr. UGro Gashee All-Natural hair products today.

Related Articles on Hair Loss & Hair Health Ingredients
For additional information regarding hair loss and hair health optimization ingredients that you may find useful, check out the articles below.
References
(COVID-19), C., Health, E., Disease, H., Disease, L., Management, P., Conditions, S., Problems, S., Disorders, S., Checker, S., Blogs, W., Answers, Q., Guide, I., Doctor, F., A-Z, C., A-Z, S., Drugs, C., Pregnant, T., Medications, M., Identifier, P., Interactions, C., Tool, D., Management, D., Obesity, W., Recipes, F., Exercise, F., Beauty, H., Balance, H., Relationships, S., Care, O., Health, W., Health, M., Well, A., Sleep, H., Teens, H., Pregnant, G., Trimester, F., Trimester, S., Trimester, T., Baby, N., Health, C., Vaccines, C., Kids, R., Cats, H., Dogs, H., Boosters, L., Work, W., Warning, C., Fear, L., COVID, P., Groups, S., Blogs, W., Center, N. and Risk, D., 2021. WebMD – Better information. Better health.. [online] WebMD. Available at: <https://www.webmd.com/vitamins/ai/ingredientmono-596/boragehttps://www.ncbi.nlm.nih.gov/pmc/articles/PMC3584109/> [Accessed 14 October 2021].

Tips, H., 2021. Structure and composition of the hair. [online] Activilong.com. Available at: <https://activilong.com/en/content/95-structure-composition-of-the-hair#:~:text=The%20hair%20is%20made%20up,%2C%20nails%2C%20etc.).> [Accessed 14 October 2021].

Dr.UGro Gashee. 2021. Keratin for Hair Growth and Nail Benefits, What the Research Shows. [online] Available at: <https://ugro.com/keratin-for-hair-growth-and-nail-benefits-what-the-research-shows-research-benefits-of-keratin-for-hair-restoration-and-hair-growth/> [Accessed 14 October 2021].

Webmd.com. 2021. BORAGE: Overview, Uses, Side Effects, Precautions, Interactions, Dosing and Reviews. [online] Available at: <https://www.webmd.com/vitamins/ai/ingredientmono-596/borage> [Accessed 14 October 2021].

Mount Sinai Health System. 2021. Gamma-linolenic acid Information | Mount Sinai – New York. [online] Available at: <https://www.mountsinai.org/health-library/supplement/gamma-linolenic-acid> [Accessed 14 October 2021].

WholeHealth Chicago. 2021. Borage Oil. [online] Available at: <https://wholehealthchicago.com/blog/2009/05/11/borage-oil> [Accessed 15 October 2021].

EWG. 2021. EWG Skin Deep® | What is BORAGO OFFICINALIS (BORAGE) OIL. [online] Available at: <https://www.ewg.org/skindeep/ingredients/700793-BORAGO_OFFICINALIS_(BORAGE)_OIL-BORAGO_OFFICINALIS_BORAGE_OIL-BORAGO_OFFICINALIS_BORAGE_OIL-BORAGO_OFFICINALIS_BORAGE_OIL-BORAGO_OFFICINALIS_BORAGE_OIL-BORAGO_OFFICINALIS_BORAGE_OIL-BORAGO_OFFICINALIS_BORAGE_OIL/> [Accessed 15 October 2021].

Dr.UGro Gashee. 2021. Gamma Linoleic Acid Hair Growth Research Findings. [online] Available at: <https://ugro.com/gamma-linoleic-acid-hair-growth-research-findings/> [Accessed 14 October 2021].

The Sybarite. 2021. Borage oil: the benefits for skin and hair. [online] Available at: <https://www.lesybarite.fr/en/blogs/complements-alimentaires/huile-de-bourrache-les-bienfaits-pour-la-peau-et-les-cheveux> [Accessed 14 October 2021].

Umar, S. and Carter, M., 2021. A Multimodal Hair-Loss Treatment Strategy Using a New Topical Phytoactive Formulation: A Report of Five Cases.