Published on October 13, 2021. Last Updated on January 17, 2022.
What is Olive Oil: Olive oil is a fixed oil derived from ripe olive fruits. Color-wise it ranges from pale yellow to a slight greenish tint, depending on the ratio of chlorophyll to carotene present. Today, olive oil hair products, olive oil leaf extract hair products, olive oil for hair growth, and olive leaf extract for hair growth are all currently being studied by modern science for their uses to help maintain, or possibly improve hair health.
Olive oil is mainly composed of "esters of oleic acid (an n-9 mono-unsaturated fatty acid), forming approximately 80% of the total fatty acid content. Linoleic acid (a polyunsaturated fatty acid) and saturated palmitic acid create the balance of the fatty acid content.
In addition, approximately 200 chemical compounds have been identified in the oil, including tocopherols, beta-carotene, phytosterols, pigments, terpenic acids, flavonoids (luteolin, quercetin, squalene), and phenolic compounds (e.g., oleuropein, tyrosol).
The oil composition depends on the cultivar, stage of drupe maturity, climate, and other factors. Olive oil is offered in several purity grades, including virgin oil (initial unrefined oil from first fruit pressing) or pure (lower quality from subsequent pressings). Chemically, the difference between extra virgin and virgin oils refers to the amount of free oleic acid permitted (4% free oleic acid in virgin; 1% in extra virgin).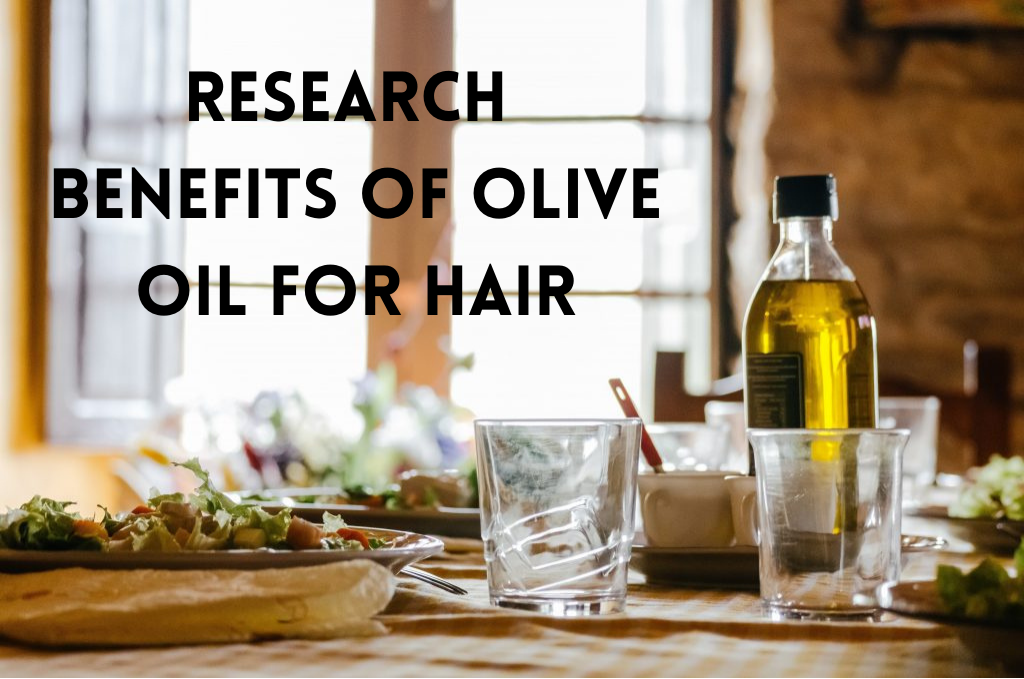 Olive Oil for Hair Growth & Hair Conditioning
Healthy, moisturized hair is an integral part of appearance, and it is essential to know what olive oil hair products and ingredients are best for your hair in the long run.
If you are going through hair loss or have problems with your hair health, such as dry hair, you may find yourself researching and trying different products with perhaps some unfulfilling results.
One promising and tried-and-tested way you can help improve the health and quality of your hair is by using olive oil, olive oil hair products, or olive leaf extract hair products.
Benefits of Olive Oil for Your Hair
Olive oil, used and beloved by Greeks for thousands of years to clean and moisturize the skin, offers many hair benefits:
Reduce hair loss & hair fall 

Prevent hair damage via antioxidants  

Nourish and condition hair

Reduce hair breakage via moisturization

Soothe the scalp

Help promote hair growth via improved blood circulation & more
Today, there are several olive oil hair products that you can purchase online to help you attain these spectacular benefits for your hair as well.
Can Olive Oil Help Hair Growth?
The short answer is yes! 
There are olive oil hair products you can purchase online to possibly help improve or maintain your hair health.
In a 2015 study, the topical application of oleuropein, a component found in extra virgin olive oil, has been concluded to accelerate hair growth induction and increase the size of hair follicles. 
In this study, researchers reported a hair-growth promoting effect that appears to be associated with the "stimulation of the Wnt10b/β-catenin signaling pathway and the upregulation of IGF-1, KGF, HGF, and VEGF gene expression found in the skin tissue." Although this study was done on mice, these hair-growing benefits of olive oil can perhaps be translated to humans as well.
Furthermore, in a study published in August 2020, researchers concluded that there were significant improvements in psoriatic alopecia when olive oil was used as a supplement to help stabilize hair shedding – 75% of hair regrowth was achieved three months after therapy. There was no recurrence in study participants at one year of follow-up.
How Does Olive Oil Help Hair Growth & Hair Strength?
As mentioned by Healthline, good oils play an essential function in protecting hair from regular wear and tear, whether it be due to the environment, such as low humidity or aging.
Oiling hair regularly reduces hygral fatigue, which is the repeated swelling and drying of hair.
This is especially important for frizzy and dry hair, more prone to damage than straight and smooth hair from hygral fatigue.
Another study that supports this can be found in a 2015 article published in the International Journal of Trichology, which states that "oils play an important role in protecting hair from damage. Some oils can penetrate the hair and reduce the amount of water absorbed in the hair, lowering swelling. This can result in lower hygral fatigue (repeated swelling and drying), a factor that can damage hair." The oil works to help condition and strengthen the hair, and this process helps fill gaps between the cuticle cells to prevent penetration of aggressive substances such as surfactants into the follicle."
In conclusion, the study states that "applying oil on a regular basis can enhance lubrication of the shaft and help prevent hair breakage," leading to a healthier hair strand.
What Hair Types are Olive Oil Good For?
Olive oil, when ingested, can be beneficial for all hair types.
When applied directly on the hair and scalp as a topical or as part of oil treatment, olive oil can benefit nearly all hair types – particularly those with curly or dry hair. Curly hair is especially vulnerable to dryness – therefore, direct application of olive oil on the scalp can be a great way to remedy this.
What is the Best Type of Olive Oil I Should Use For Hair Care?
The best type of olive oil for hair growth, hair health, and hair maintenance is organic extra-virgin olive oil, unrefined and untreated without any chemicals or heat.
Different Ways Olive Oil Can Be Used to Improve Hair Health
Olive oil can be used to improve hair health in two different ways:
Applied directly onto the hair and scalp, aka hair oiling

Taken orally via olive oil extract supplements or through an olive oil-based diet
Whether you are directly putting olive oil on your hair as part of an oil treatment or using olive oil as part of your diet, both of these methods can help improve your hair health and potentially combat hair loss or alopecia.
What is Hair Oiling?
As described by Healthline's article on olive oil hair oiling benefits, hair oiling is the "practice of pouring oil onto hair and massaging it into the scalp to increase moisture, luster, and shine."
Benefits of Hair Oiling with Olive Oil
Soften hair

Increase sheen, moisture, luster, and shine

Provide vitamins and minerals that may have been stripped from frequent washing

Prevent hair loss

Promote healthy hair

Promote hair growth
This practice has been used in ancient cultures such as India and Greece for hundreds, if not thousands of years before modern conditioners and is a part of a healthy, natural lifestyle.
Did you know that ancient Grecians bathed their hair and skin in olive oil? This well-known practice helps them moisturize both hair and skin, leaving a healthy, beautiful glow.
More so, the chemical composition of extra virgin olive oil is very close to that of human skin – and therefore, your skin and scalp can absorb olive oil much more easily than it would a commercial non-natural moisturizer.
How Often Should I Oil Hair?
If you have curly or dry hair, we recommend oiling your hair once a week or two times a week at most.
Precaution for Those With Naturally Oily Hair
If you have an oily scalp or oily hair, or thin silky hair, olive oil's conditioning properties may not be needed as the oils present in your scalp or hair may already be enough to help retain the moisture required for your hair.
How to Condition Hair with Olive Oil
Apply oil on the scalp 

Massage with fingertips using a circular motion

Apply oil left on palms to hair

Cover hair with towel or shower cap for 15 minutes

Shampoo hair thoroughly

Rinse oil thoroughly

You may have to shampoo again, depending on how much oil is left

Condition hair
The important part is to thoroughly massage the oil into your scalp to increase blood circulation to your hair follicles, as well as the base of your scalp.
Doing so can increase blood circulation, which may improve hair growth.
If you have particularly dry hair or frizzy and dry hair, it may be a good idea to leave the olive oil on your hair overnight and rinse in the morning, as it can particularly strengthen the hair shaft in this case.
If you have oily hair or an oily scalp, this is not required, although you can try it yourself to see if it does help or protect your hair for the better.
Additional Information: Olive Oil vs. Coconut Oil for Hair Oiling
As opposed to coconut oil, which can have drying properties on your hair and skin, olive oil contains oleic acid, also called Omega-9, which controls water loss in hair strands while making hair softer and more pliable.
The best part is that oleic acid found in olive oil is also produced within our bodies – it is a natural and healthy ingredient already inherent in our biological makeup.
Olive Oil Supplements for Hair Growth
As previously mentioned, olive oil can also be used in your diet to help stimulate hair growth, thicken hair, and reduce hair loss.
This is because ingesting these hair-strengthening and hair-growing compounds in oleic acid can also help transport these vital components to your scalp, from the inside, to fortify it.
Benefits of Ingesting Olive Oil
Besides the benefits of olive oil for your hair mentioned previously, ingesting olive oil has several health benefits for your whole body as well:
Prevent heart disease

Reduce cholesterol

Anti-cancer properties
Suppose you are serious about hair growth, hair health, or want to stop hair loss. In that case, it is good to understand that the best way to do so is through an all-natural, holistic approach where olive oil is combined with other natural ingredients to help synergize and support optimum hair health.
Olive Oil Safety & Dosage
As stated by EWG, olive oil is completely natural and healthy and poses no risks for cancer, developmental or reproductive toxicity, allergies, or immunotoxicity.
WebMD states that anywhere from 30-54 grams of olive oil per day is naturally healthy for the human heart. These are the olive oil daily dosage recommendations for preventing diabetes and high blood pressure.
Harness The Olive Leaf Extract Infused Power of Dr.UGro All-Natural GASHEE Oral Hair Supplements
Dr.UGro Gashee Hair Growth products combine natural ingredients such as essential oils, shea butter, hydrolyzed keratin, biotin, aloe vera, ginseng, and more for a holistic and plant-based approach for happier, healthier hair. To help increase the feel and appearance of hair density, thickness, and volume, or to help regrow hair lost or aid hair growth and hair health, take 4 capsules a day of Gashee ORAL supplements or apply a Gashee TOPICAL once or twice a day.
VIDEO: Dr. UGro Gashee: Before & After Results of Olive-Leaf Extract-Infused GASHEE
Like many other satisfied users of Dr.UGRO GASHEE Products, Ana's story is a powerful one. Although Ana survived breast cancer over a year ago, life threw another challenge at her. After months of chemotherapy, her hair did grow back, but the texture and tone of her hair had changed. She reported that her hair had "lost its luster" and was "breaking" much more easily than before. Due to this, she could not "build volume or grow it long," to her dismay.
Unsure how to address her frustrations with her hair, Ana began to hide her patchy hair by wearing hats, hair scarves, and headbands.
Eventually, Ana decided that it was time to get help. She consulted with many hair specialists over the course of six to eight months, who prescribed pharmaceutical medications, but nothing proved effective.
And that's when Ana decided to try Dr.UGRO GASHEE's Botanical Hair Lotion. From the power of the internet, her husband had found Dr.U's website and products, and they decided to give this natural and holistic product a try.
Within 2 months, Ana was already seeing noticeable results and differences in her hair. She was speechless! This topical lotion that she used was actually working.
Within a few months, Ana's hair came back to life. See results below: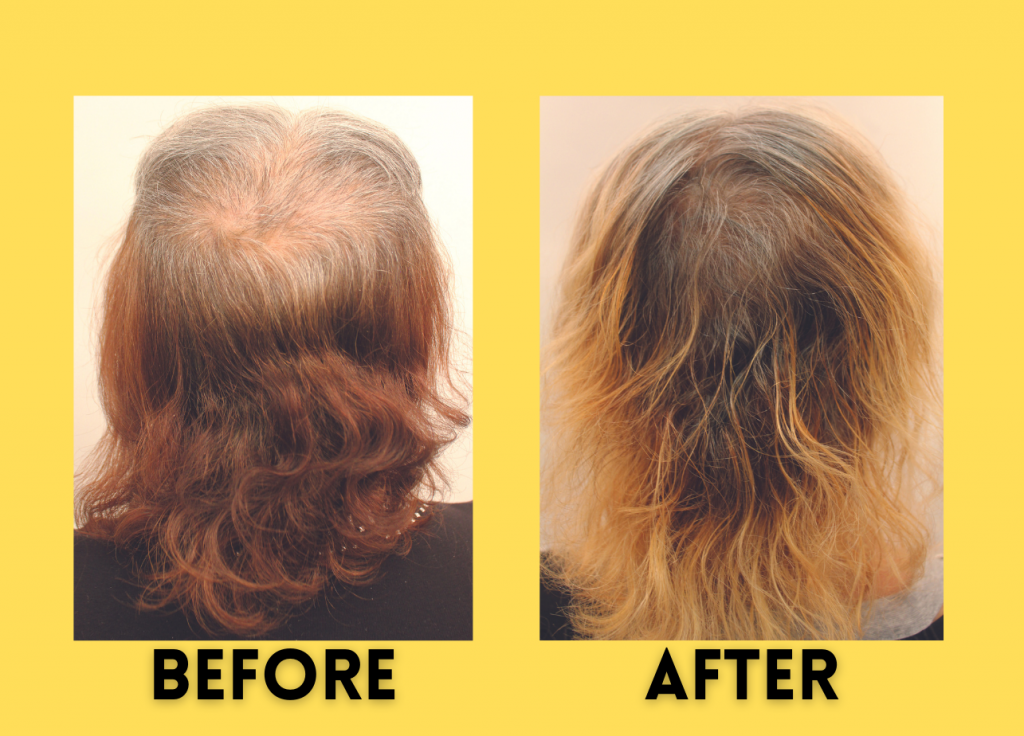 Dr. UGro Gashee Topical all-natural hair growth results: before and after several months of consistent usage. Note how after several months of consistent usage, Ana was able to regrow much of her hair at considerable length at thickness, achieving an improved volume of hair that was not possible before. Ana was happy and satisfied to note that within a few months, she saw noticeable developments and improvements in her hair health, including improved fullness, length, texture, sheen, and overall health of her hair. By utilizing the plant-based powers of Dr.UGRO GASHEE Hair Supplements or Topicals, you can achieve happier, healthier hair as well!
The Science Behind Dr.UGRO GASHEE Olive Leaf Extract Infused Hair Health Topicals – Research Study Findings
Additionally Dr.UGRO's Gashee Topical Hair Products has been studied and researched specifically for its possible hair growth properties, with significant findings. In these findings, Dr. U and his colleagues has found that the Gashee Topical Hair Products have had significant positive changes for hair health and hair growth, whether it be in thickness, volume, or density. For more information regarding Dr.U's published scientific and medical review on GASHEE Topicals, follow the link here.
Dr.UGRO GASHEE Topical User Before and After Picture Results: Olive Leaf Extract Infused for Improved Hair Health & Hair Volume
Below you can find one of the several users of Dr.UGro Gashee Topicals that the study focused on, after only 3 months of treatment only using Dr.UGro Gashee Topicals. Note how only in a few months, the user was able to drastically fill out the hair in previous balding spots. More so, her hair after the treatment is noticeably healthier and more voluminous in nature. If you are interested in what Dr.UGro Topicals, whether it be the Lotion or Pomade, can do for you, try them today to help optimize your hair health!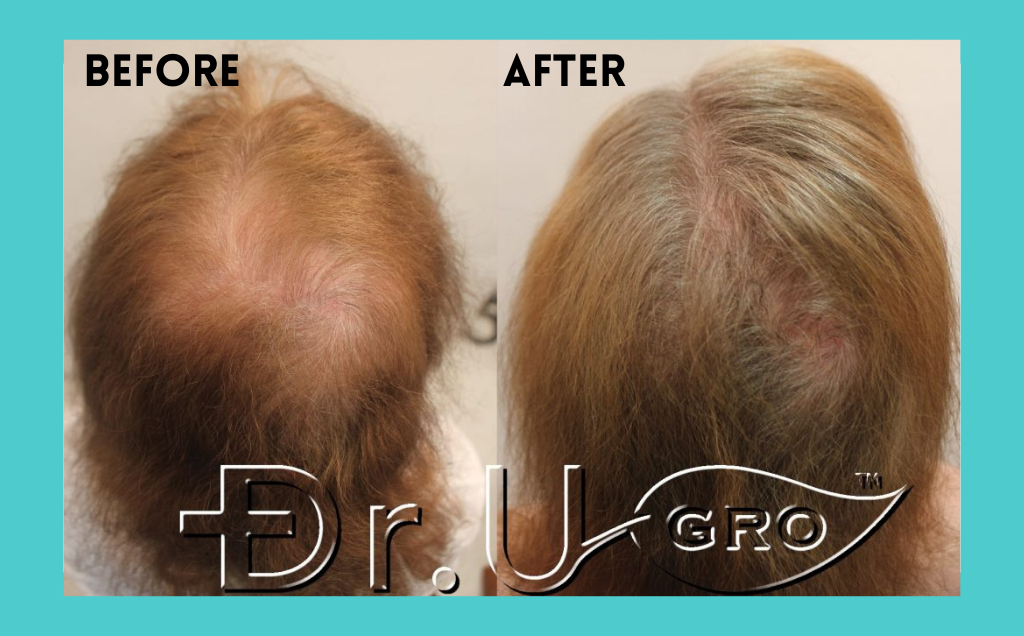 Related Articles on Hair Growth & Hair Health Ingredients
References
STYLECRAZE. 2021. 

How To Use Olive Oil For Hair Growth And Benefits

. [online] Available at: <https://www.stylecraze.com/articles/olive-oil-help-treat-hair-loss/> [Accessed 1 October 2021].

Byrdie. 2021. 

How to Use Olive Oil for Shiny Hair and a Healthy Scalp

. [online] Available at: <https://www.byrdie.com/olive-oil-hair-4843341#:~:text=%22I%20would%20recommend%20going%20for,%2C%22%20advises%20Chambers%2DHarris.> [Accessed 1 October 2021].

Sister Scientist. 2021. 

Oleic & Linoleic Acid: The Reason You Love Oils So Much — Sister Scientist

. [online] Available at: <https://sisterscientist.com/sister-scientist-blog/oleic-amp-linoleic-acid-the-reason-you-love-oils-so-much#:~:text=Oleic%20acid%20and%20linoleic%20acid,hair%20softer%20and%20more%20pliable.> [Accessed 1 October 2021].

Dr.UGro Gashee. 2021. 

The Research on Oleic Acid for Hair Loss

. [online] Available at: <https://ugro.com/the-research-on-oleic-acid-for-hair-loss/> [Accessed 1 October 2021].

Healthline. 2021. 

Hair Oiling Benefits, Choosing oil, and How to Do It

. [online] Available at: <https://www.healthline.com/health/hair-oiling-benefits-oil-and-how-to#how-to> [Accessed 1 October 2021].

Gavazzoni Dias, M., 2021. 

Hair cosmetics: An overview

.

Webmd.com. 2021. 

OLEIC ACID: Overview, Uses, Side Effects, Precautions, Interactions, Dosing, and Reviews

. [online] Available at: <https://www.webmd.com/vitamins/ai/ingredientmono-1614/oleic-acid> [Accessed 2 October 2021].

Morocco-gold.com. 2021. 

Discover the Benefits of Using Olive Oil on Your Skin

. [online] Available at: <https://morocco-gold.com/health/using-olive-oil-for-skin/> [Accessed 2 October 2021].

EWG. 2021. EWG Skin Deep® | What is OLEA EUROPAEA (OLIVE) OIL. [online] Available at: <https://www.ewg.org/skindeep/ingredients/704252-OLEA_EUROPAEA_OLIVE_OIL/> [Accessed 12 October 2021].

Webmd.com. 2021. OLIVE: Overview, Uses, Side Effects, Precautions, Interactions, Dosing, and Reviews. [online] Available at: <https://www.webmd.com/vitamins/ai/ingredientmono-233/olive> [Accessed 12 October 2021].