Updated December 9, 2020 by Sanusi Umar MD
If you've ever wondered about the science behind the benefits of shea butter for the hair, there are indeed studies and research-based literature which help explain how and why this creamy, ivory substance can improve the health and appearance of the tresses.
Shea butter is extracted from the nut of the Shea "karite" tree (Vitellaria paradox), which grows exclusively in the savannah region of West Africa. Here, it is revered as the "tree of life," held to be sacred, spiritual, and even a source of protection.
Shea butter has been cultivated for thousands of years for medicine, beauty, and food. In today's natural cosmetics world, it is widely extolled as a pure, natural, and healthy moisturizer for softer and more beautiful skin and hair. Now, the world of research can help provide support for the popularity of shea butter.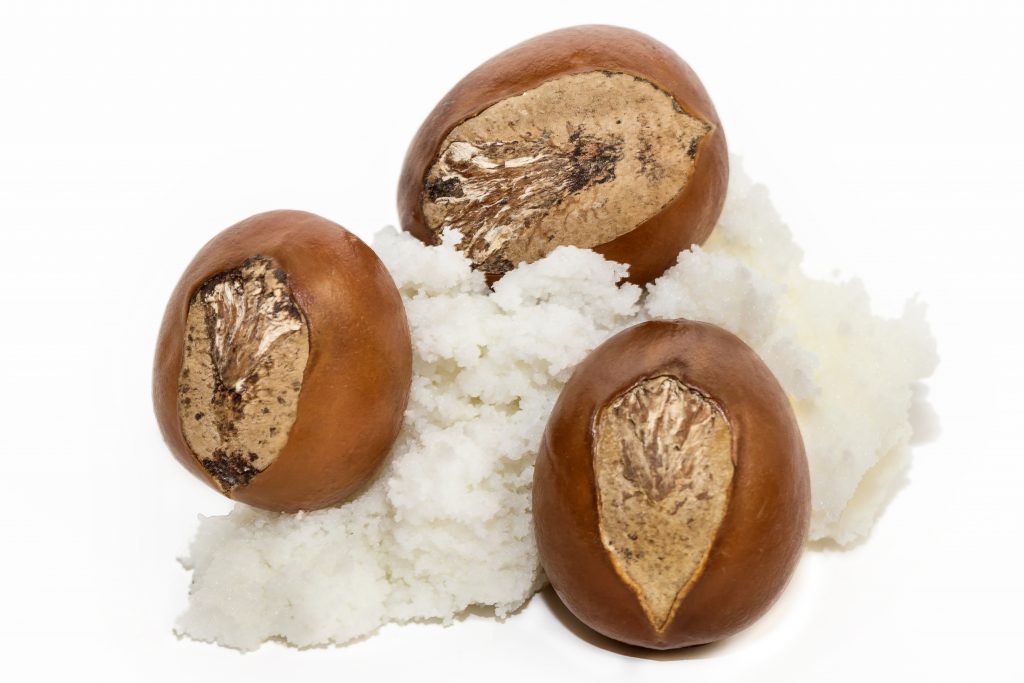 Considering Natural Shea Butter Hair Products for Moisture
Because hair strands are fibrous, the fact that they hold water is not extremely obvious. But in truth, our hair is actually made of 10-13% water. These molecules are held within the intricate protein structures of the hair shaft, particularly in the cortex.
A reduction or loss of moisture causes the hair to become dull and frizzy in appearance. Also, dry hair is subject to becoming brittle. Fine and tightly curled, natural hair types with small diameter hair shafts are most susceptible to this form of damage.
The rich moisturizing properties of shea butter are due to its high fatty acid content, including stearic and oleic acids and palmitic, linoleic, and arachidic acids (1). This makes it an optimal topically applied moisturizer for preventing water loss and even breakage. One study helps shed light on why this is the case.
The Research on Benefits of Shea Butter for the Hair
The research experiment used an oil extract of Synsepalum dulicificum (Miracle Fruit) to see if it could be used as an effective treatment for hair breakage in a group of women ages 19-63 (2).
Miracle Fruit oil has high fatty acid content, closely comparable to shea butter. Researchers found that the oil managed to improve the participants' hair condition significantly due to this property. They concluded that the fatty acids coated the shafts and penetrated the strands, helping to fortify them.
These findings seem to support the perspective of celebrity hairstylist, Mark Townsend who explains that the benefits of hair oils lie in "the fatty acids which replace the lipids in your hair when it starts to get really fine."
The ability of fatty acids to enter the hair shaft allows it to replenish regions like the hydro-lipid layer and the cortex beneath the outer cuticle layer.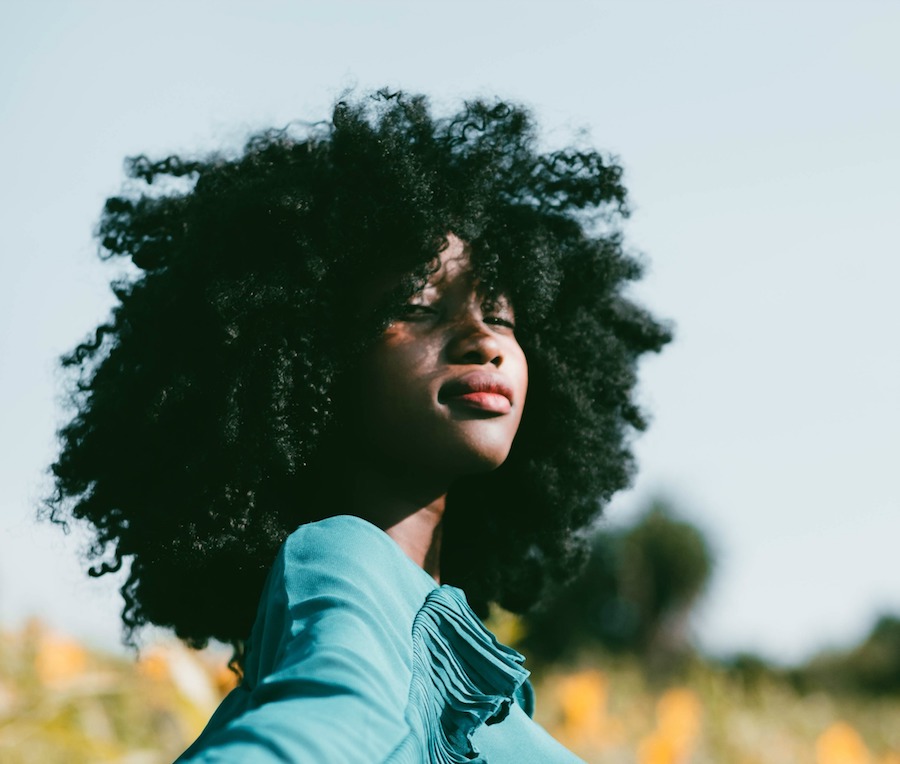 The Relationship Between Shea Butter and Hair Growth
Inflammation of the scalp not only causes itching but can also damage the hair follicles, causing hair loss and preventing them from being able to produce new hair strands. Our immune systems are designed to protect our bodies from whatever it recognizes as foreign bodies and substances.
Among a wide range of many different health applications, the benefits of shea butter for the hair include its ability to heal inflammation. Its anti-inflammatory capabilities have been supported by research.
In one study, scientists isolated eight individual constituents found in shea butter (3). These include four triterpene acetates and four triterpene cinnamates.
The researchers induced inflammation in mice and tested the eight compounds individually. They found that each one was able to inhibit inflammation in the animal models.
Shea butter is beneficial for the hair strands and the scalp and its ability to condition, moisturize, and alleviate inflammatory issues affecting the hair follicles.
The Sun Protecting Benefits of Shea Butter for the Hair and Scalp
In recent years, the sun's UV radiation's detrimental effects on the hair and scalp have started to gain widespread attention. This is partially evident by the increased availability of hair sunscreen products to consumers.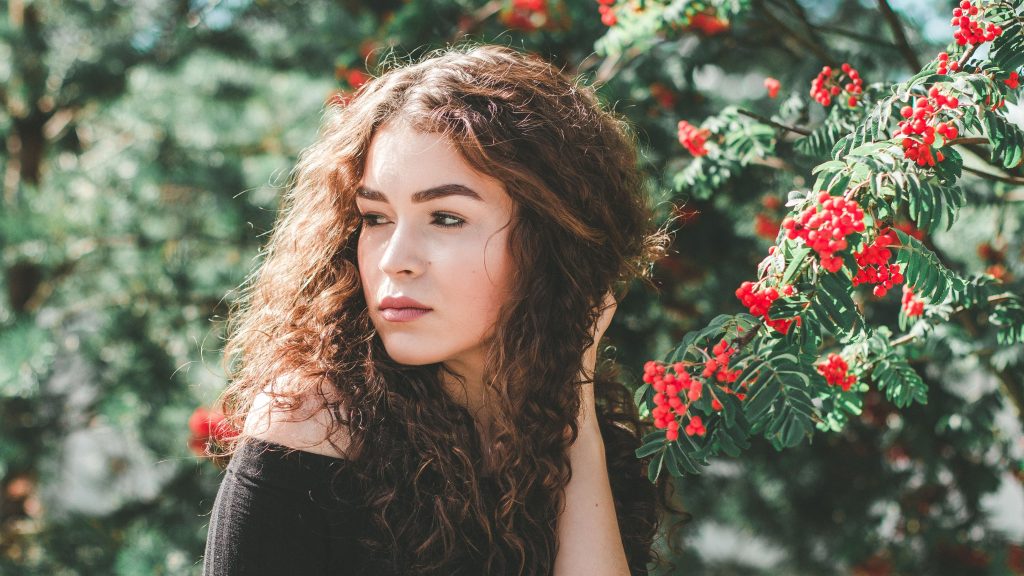 Research Evidence of The Deleterious Effects of Sun Damage on Hair
In a scientific review article, The Impact of Oxidative Stress on the Hair, the author, R.M. Trueb, points out that oxidative damage to the hair has received very minimal attention compared to the area of skin aging (4). Within the publication, he highlights UV radiation, among various other sources of oxidative stress.
Sun rays cause oxygen molecules to lose a single electron, turning them into free radical scavengers that cause oxidative damage to nearby tissues in a chain reaction as they attempt to regain the lost electron.
A study by Mahe et al. found that UV energy induces physiochemical stress, which affects the keratinocytes, causing them to produce free radicals (5). Additionally, this stress also promotes the release of cytokines by the immune system, leading to inflammatory processes. Both of these dynamics end up damaging the stem cells in the superficial regions of the hair follicle.
In another experiment, researchers observed a form of telogen effluvium resulting from sunburn on subjects who wore hairstyles that exposed much of the scalp area (6). The scientists discovered that cells in the hair shaft actually transmit UV light down into the hair follicles.
When the hair follicle is damaged by sun exposure, it may produce dry, damaged hair or no hair at all. The need for sun-protecting agents specifically for the hair can help prevent these types of consequences.
The Sun Protective Effect of Shea Butter On Hair
According to researchers, the benefits of shea butter for the hair include sun-protecting properties due to the constituents of cinnamate esters of triterpene alcohol which can absorb UVB radiation associated with the range of wavelengths between 250-300 nm.
A carefully formulated shea butter mixture for moisturizing hair but non-greasy can protect the shafts and scalp from much of the harmful effects of sun exposure.
Natural Shea Butter as a Source of the Vitamin E Anti-Oxidant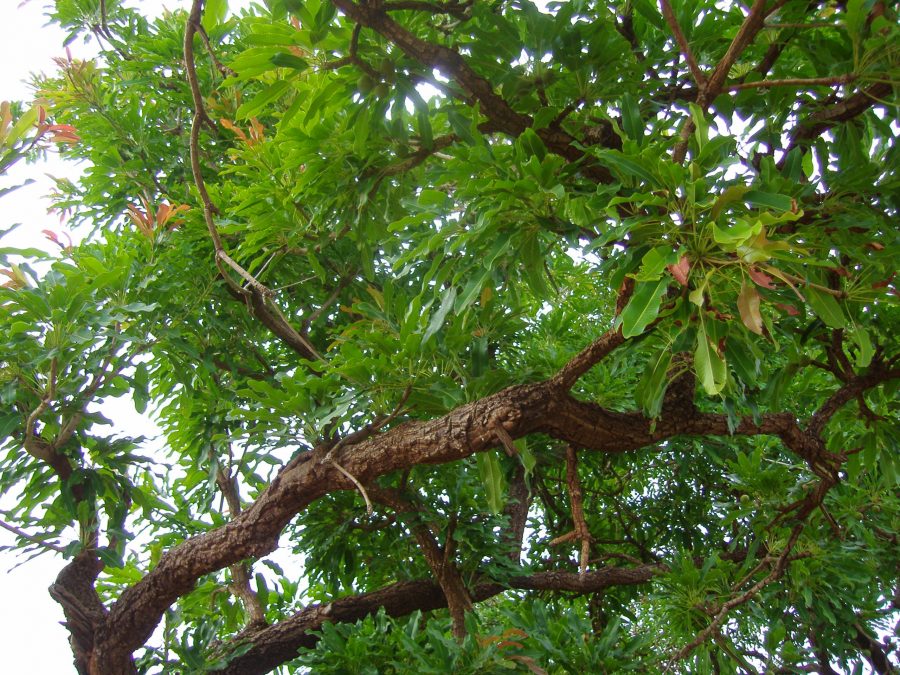 The sun is just one of many sources of oxidative stress, a primary cause of the body's aging processes which also affect the hair follicles. Additionally, other causes of oxidative stress that impact the hair include smoking, inflammation due to microbes, pollutants, other irritants, chemical toxicity, and oxidized scalp lipids.
In one research publication by Nishimura et al., scientists observed that in aging hair follicles observed in mice, stem cells' reproduction slows down, decreasing new hair production. This resulted in longer resting phases of the hair life cycle and shorter growth phases(7).
Shea butter is a rich anti-oxidant source due to its vitamin E content, with concentrations ranging from 2992 to 3788ppm (8). Applied topically to the skin or scalp, it can neutralize free radical compounds responsible for creating oxidative stress, preventing premature aging that may affect the hair follicles.
According to the Global Shea Alliance, the demand for shea butter has almost doubled, roughly between 2007-2017. The benefits of shea butter for the hair are certainly far-reaching. Beyond anecdotal accounts and lore, science can explain how and why shea butter is a quintessential ingredient for natural hair products.
However, it is necessary to process shea butter into a softer fluid consistency for topical product usage due to its hard texture. This would be necessary to penetrate the hair shafts and/or skin.
VIDEO Testimonial of Diane After Using Gashee a Pomade Consisting of a Shea Butter Base
FAQ – The Benefits of Shea Butter for the Hair
What are the benefits of a shea butter lotion for the hair?
A well-formulated topical hair product containing shea butter can offer a more direct route to hair and scalp moisturization and conditioning.
What should I look for in a shea butter mixture for the hair?
A good shea butter mixture for the hair will be minimally processed and include other natural ingredients that can benefit the follicles by suppressing hair loss factors such as DHT, TGF-B1, and inflammation. An effective blend will soften and condition the hair without leaving a greasy, heavy residue through carefully balanced proportions of ingredients.
Is it better to use raw or unrefined shea butter when it comes to the skin and hair?
In its raw or unrefined form, shea butter has undergone very minimal processing, so that much of its inherent healing properties remain intact to moisturize better, heal and nourish the skin and hair. While raw shea butter may be perfectly suitable for direct use on the skin, it can be quite heavy for the hair. As an ingredient for hair products, it is best used within a carefully formulated product that would leave the right amount of moisture to penetrate the hair shaft and the scalp without leaving behind an excessive amount of oil.
References
Malachi Oluwaseyi Israel. Effects of Topical and Dietary Use of Shea Butter on Animals. American Journal of Life Sciences. Vol. 2, No. 5, 2014, pp. 303-307. doi: 10.11648/j.ajls.20140205.18
Del Campo R, Zhang Y, Wakeford C. Effect of Miracle Fruit (Synsepalum dulcificum) Seed Oil (MFSO®) on the Measurable Improvement of Hair Breakage in Women with Damaged Hair, The Journal of Clinical and Aesthetic Dermatology. 2017;10(11):39-48.
Akihisa Tet al Anti-inflammatory and chemopreventive effects of triterpene cinnamates and acetates from shea fat, J Oleo Sci. 2010;59(6):273-80
R. M. Trueb The impact of oxidative stress on the hair, International Journal of Cosmetic Science, 2015, 37 (Suppl. 2), 25–30
Mahe.Y.F., Michelet J.F. Billlons. N.et.al. Androgenic Alopecia and Microinflammation. Int. J.Dermatol 29, 576-584 (2000)
Iyengar. B. The hair follicle: A Specialized UV Receptor In the Human Skin? Biol. Signals Recept. 7 188-194 (1998)
Nishimura. e.K. Granter, S.R. and Fisher, D.E., Mechanisms of hair greying: Incomplete Stem Cell Maintenance in the Niche, Science 307. 720-724
Megnanou RM, Niamke S. I>mproving the optimized shea butter quality: a great potential of utilization for common consumers and industrials. Springerplus. 2015 Nov 4;4:667. doi: 10.1186/s40064-015-1454-0. eCollection 2015.
Further Reading
Discover the reasons why you should be using hair oils, according to Forbes