Published on August 10, 2018. Last Updated on July 17, 2021.
Does shea butter improve the softness and quality of your hair? These days, it seems that this is a popular ingredient in all types of skin beauty products. Shea Butter is widely known as an ideal natural moisturizer for the face, hands, and body. But can it also help our hair look and feel its best? In recent years, the world of scientific studies and research publications reveal the compounds and chemical constituents associated with the benefits of shea butter for the hair.
The Shea "karite" tree (Vitellaria paradox) from West Africa is called the "tree of life" due to its health and healing properties. Its nuts have been harvested and processed for thousands of years to create skin balms, shampoos, medicine, lamp oil, and even food.
Today's Western scientists confirm its effectiveness in modern, everyday terms as anti-aging moisturizers and anti-inflammatory agents.
How Shea Butter Moisturizes Our Hair
The intricate fibrous nature of our hair is capable of holding a water content of about 10-13% within the cortex. When this moisture is lost, our hair becomes brittle, frizzy, and dull. Tightly curled Afro-textured hair is most vulnerable.  Though it is plant-based, there is now evidence that shea butter offers clinical efficacy for improving the moisture content of our hair.
This is due to its rich fatty acid content, which helps prevent breakage and water loss [1].  According to Healthline, shea butter acts as a sealant that allows the hair to retain its moisture for a softer feel. This property mainly benefits individuals with coarse or curly hair [2].
Fatty Acids Promote Hair Moisture
Fatty acids are a natural moisturizing agent for our hair. One experiment observed the effects of Miracle Fruit oil, whose fatty acid content is very similar to shea butter [3]. The scientists behind this study wanted to see if it could improve hair breakage in women (ages 19-63 years).
Their findings showed that the oil could significantly improve the look and feel of the hair for this group of subjects. Unlike other types of hair moisturizers, the fatty acids found in the Miracle Fruit oil were able to penetrate the strands beneath the outer surface of the strands.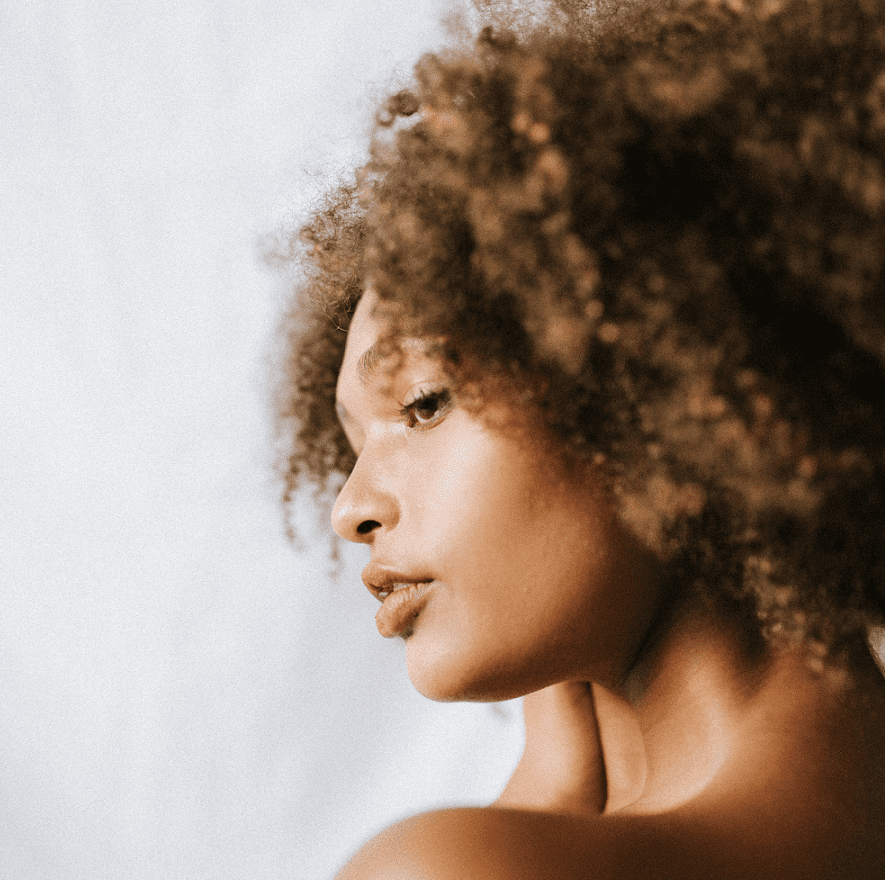 The Relationship Between Shea Butter and Hair Growth
Today's scientists now recognize Shea butter as an anti-inflammatory agent. As such, it may promote healthier forms of hair growth. Inflammation is a little-known contributor to hair loss. It occurs when the immune system mistakes our cells and tissues as foreign, invading threats. In the scalp, inflammatory processes may harm the harm follicles to the point where inflammation may undermine hair production processes.
Shea butter is a natural substance which researchers are now finding to help fight against inflammation. In one particular study, scientists deliberately induced inflammation in the mouse animal model [4]. They then applied eight isolated anti-inflammatory compounds to these rodents. Each constituent was able to inhibit inflammation successfully.
In humans, androgenic alopecia is also widely known as genetic hair loss or common baldness. Although researchers have attributed the leading cause to be DHT, there are also multiple other contributors, including inflammation. According to "Androgenetic alopecia and microinflammation" [5], scientists studied inflammation processes occurring in the pilosebaceous unit to improve or reduce symptoms associated with this form of hair loss.
The Sun Protecting Benefits of Shea Butter for the Hair and Scalp
Now, more so than ever, the health and medical community has become increasingly aware of the sun's potential to damage both the hair strands and scalp. This is the main reason why hair sunscreens are now available as a beauty product.
UV rays from sunlight can travel down the hair shaft and promote premature aging oxidative damage to the hair follicle cells, resulting in telogen effluvium [6]. More details on these processes are explained in a publication entitled "The Impact of Oxidative Stress on the Hair" [7].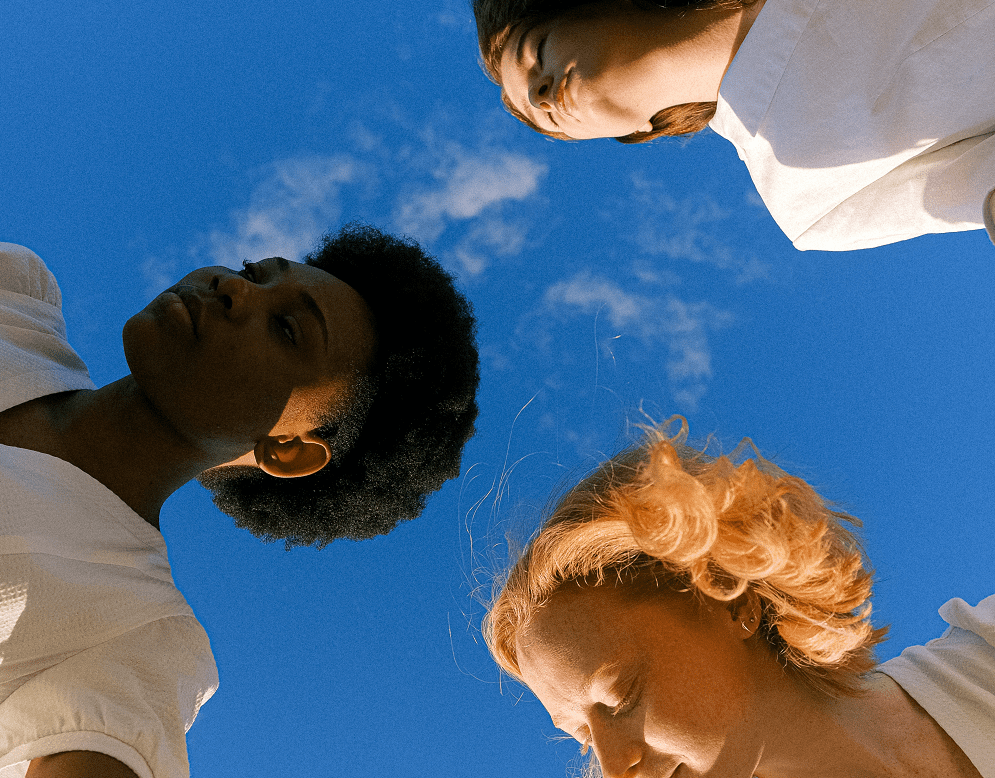 Sun damage to the hair and follicles is a reality that we must all become aware of. Hair growth becomes dry and damaged or completely absent in the worst cases.
Shea butter acts as a natural sun protectant due to a group of compounds (i.e., the cinnamate esters of triterpene alcohol) that absorb UV rays in the range of 250-300nm.
More than just a moisturizer, shea butter is now being included in well-crafted hair beauty and wellness products to promote healthier follicles and hair strand growth.
Benefits of Shea Butter For the Hair As An Antioxidant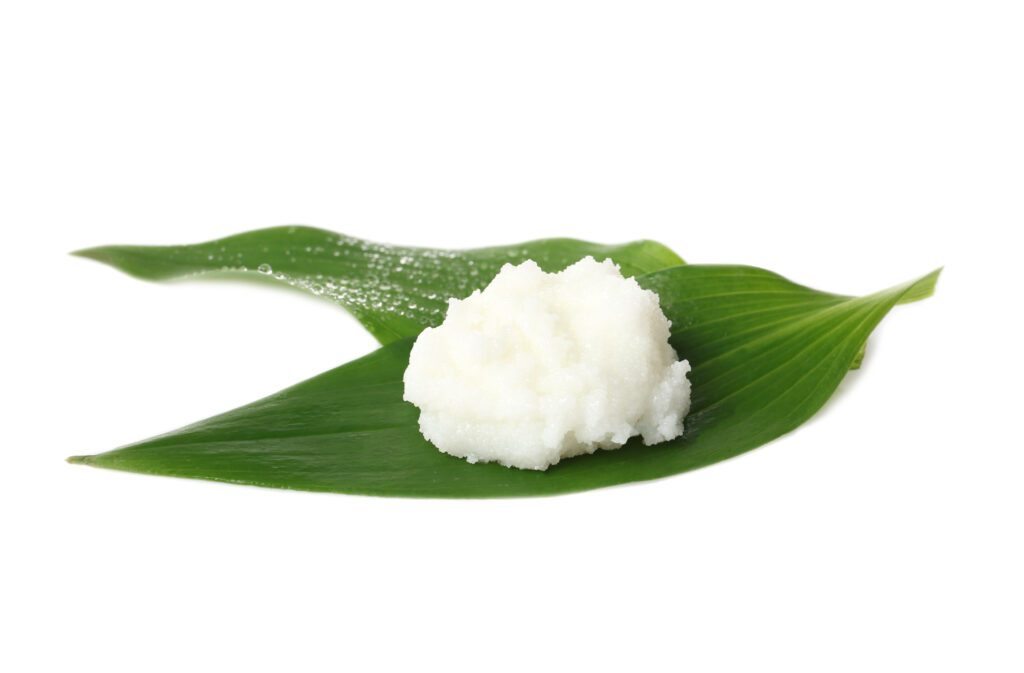 UV rays from sunlight are just one of many causes of oxidative damage which causes our tissues, including our hair follicles, to age prematurely. Other sources include:
pollution
microbial inflammation
smoking
chemical toxicity
One group of researchers studied aging hair follicles found in mice. They found that the rate of stem cell reproduction declines, slowing down the construction of new hair strands (9)
Shea Butter As Rich Source of Vitamin E
Shea butter is a highly concentrated source of vitamin E (10). As a gentle and natural topical moisturizer, it is, therefore, able to neutralize free radicals, the compound contributor to oxidative stress and premature aging.
Beauty Products Made With Shea Butter
Shea butter has become a trendy and in-demand natural beauty ingredient for skin and hair care products. Many brands choose it as a safe, cruelty-free, and effective moisturizing agent that also offers antioxidant, regenerative, and anti-inflammatory properties. Here is a sample list of consciously made products that contain shea butter for both the skin and the hair.
Facial Moisturizer/ Treatment Products
Rose Absolute Vital Cream by Aromatica
Refreshing Rice Milk Cream by Msekko
Timely Enriched Cream by Sonreve
All-Natural Styling And Hair Growth Treatment
Hair Shampoo Conditioner
Repair and Restore Creme Conditioner by Alaffia
Volume and Shape Conditioner by Beauty Counter
Beard Styling Products
Beard Oil by Maapilim
Men's Beard Butter by Koils By Nature
Shea butter is considered gentle enough for use on all ethnic skin and hair types. Most natural beauty products opt for the unrefined version of this ingredient without chemicals or preservatives.
Safety Profile
Shea butter has earned an overall EWG hazard score of 1, the highest rating possible for a natural product. The organization recognizes that the information and data furnished by the government and private companies are incomplete. EWG, otherwise known as the Environmental Working Group, is devoted to driving consumer choice by providing full research-based disclosure on personal care ingredients sourced from scientific databases.
According to EWG, Shea butter possesses absolutely no risk (i.e., highest possible score of green) within the following categories of health concerns:
Developmental And Reproductive Toxicity
Allergies ImmunotoxicityAccordingg to the Environment Canada Domestic Substance List, one of EWG's trusted sources for both information and data, Shea butter is presently not considered an environmental toxin.
Are There Any Cons To Using Shea Butter?
Shea butter is generally known to be safe. However, if you are allergic to nuts, you may want to consider another alternative to use for your skin and hair. Although it is known to do an excellent job at sealing in moisture, minimally processed shea butter tends to be very thick and greasy, requiring more time to penetrate the skin. It may not be the best choice for use under makeup during the daytime.
DIY Tips and Tricks – How-To Enhance Your Beauty Routine Using Shea Butter
As a popular moisturizer, shea butter is a versatile staple for your natural skin and hair care routine. Here are two DIY recipes that will take your beauty regimen to the next level.
Lip Balm
Make your own all-natural shea butter lip moisturizer. By itself, shea butter has a stiff consistency that can be difficult to apply smoothly on the lips, especially during cold weather. However, it is possible to melt it with almond or olive oil to create a soft balm. Applying a light layer beneath your favorite lipstick or lip pencil can help it glide on smoother.
Whipped Shea Butter
Did you know that it is possible to give your shea butter a texture and consistency like Cool Whip? In a small pot, melt one part with another amount of coconut oil about 40% less (i.e., less than half). Use a hand mixer to create a whipped consistency and store it in your favorite container.
Whipped shea butter can be used as an all-over moisturizer for the face and body. Get creative and combine other elements like sugar (for an exfoliating body scrub) and your favorite essential oils. Try out lavender, gardenia, orange, lemon, or rose to start.
"Clean Beauty" For Your Hair Starts With Shea Butter
Shea butter has earned a widespread reputation as a natural moisturizer for the skin. But now, researchers are finding new evidence that it offers immense benefits for the hair and even the scalp. Now, thanks to modern methods, it is possible to preserve the original botanical integrity of plant matter when producing natural health and beauty products. You can even combine Shea butter with other botanical extracts to create effective formulations that enhance your hair strands' health and quality. With no harsh chemicals or irritants, it truly is a staple for your clean beauty routine.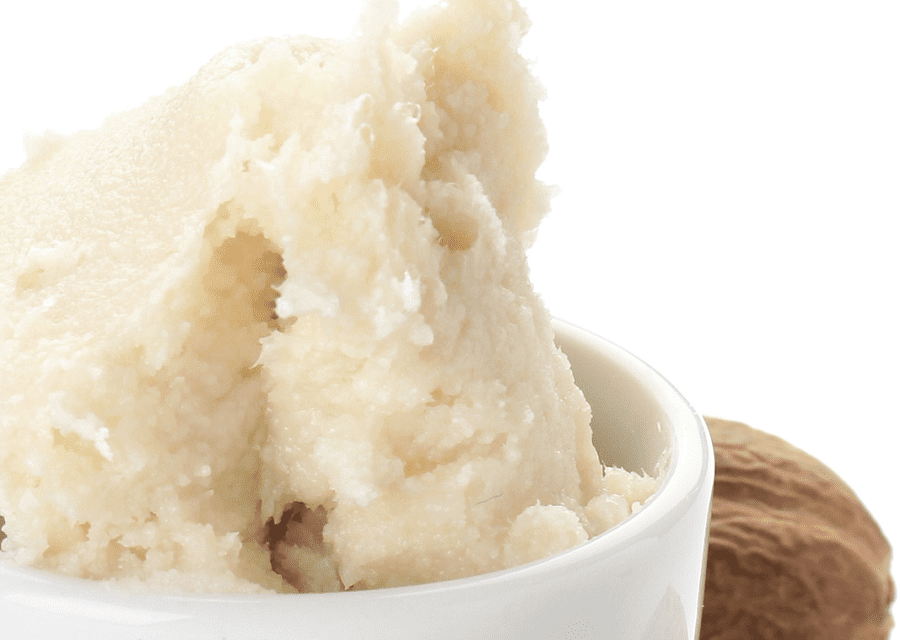 Shop Dr.UGro Gashee – A Hair Wellness Line That Embraces Shea Butter
Shea butter by itself is a  thick substance. Although it is carried in many health stores, it is best used on the skin. If you wonder how you can benefit from shea butter for your tresses, look no further than Dr.UGro Gashee. Click the image below to shop our product line.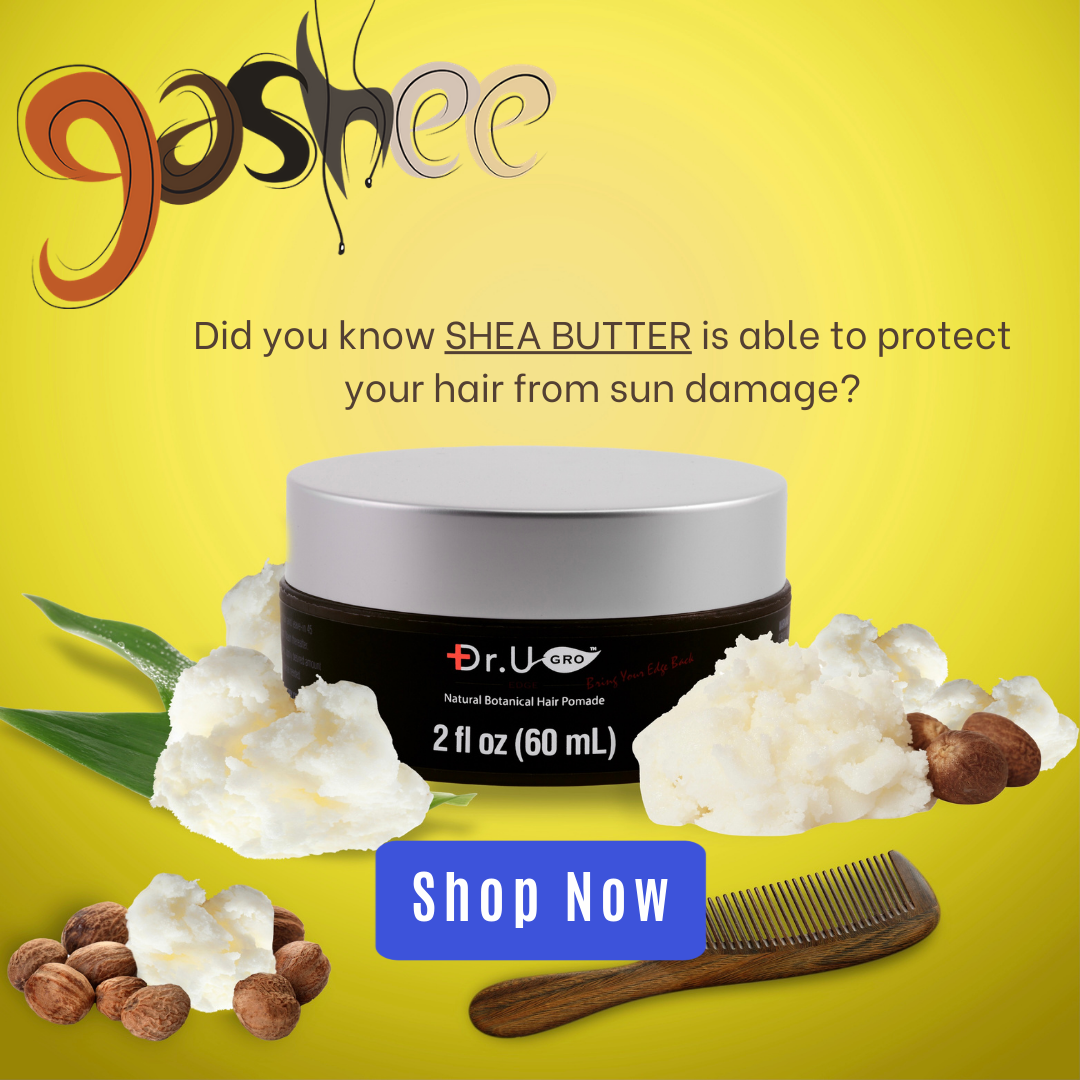 VIDEO: How Shea Butter Containing Gashee Hair Pomade Benefited this Chicago Woman
Meet Diane Llorens. She was interested in using a high-quality hair product to help restore her lost edges while improving the softness of her hair. She decided to try out our Dr.UGro Gashee product line, which is made using shea butter and other natural botanicals. Learn more about her experience in the video below.
A report published by Case Studies in Dermatological Medicine noted the effectiveness of Dr.UGro Gashee for producing hair improvements (10). Five individuals with different types of alopecia applied our topical for 3-15 months and noticed significant changes in the quality of their hair.
FAQ – The Benefits of Shea Butter for the Hair
What benefits can I expect from applying shea butter lotion topically to my hair?
When used in a lotion formula, shea butter has a more fluid consistency which can more easily penetrate the hair strands without leaving behind a greasy film or residue. Also, shea butter is good for the scalp. In a topical lotion, shea butter's compounds can more directly reach the hair follicles and their surrounding environment.
Are there different types of shea butter used in hair beauty products?
Some brands will process shea butter more heavily than others. It is best to look for raw, unrefined shea butter (i.e., minimally processed). Also, it is best to consider the other ingredients used and the benefits they offer, besides moisturizing and preservative roles. For example, natural, plant-based constituents can address issues such as DHT, TGF-B1, and inflammation with clinical efficiency.
I often come across the hard, thick, all-natural version of shea butter in health food and beauty stores. Is this ok to use in my hair?
This form of shea butter is raw and unrefined with very minimal processing. While it has retained much of its natural healing benefits, it is also very thick and heavy for the hair. It is probably better to choose a product that combines shea butter with other natural ingredients, blended into a thinner consistency, capable of imbuing just the right amount of moisture into the hair without making it look oily or greasy.
References
Malachi Oluwaseyi Israel. Effects of Topical and Dietary Use of Shea Butter on Animals. American Journal of Life Sciences. Vol. 2, No. 5, 2014, pp. 303-307. DOI: 10.11648/j.ajls.20140205.18
A. Rochaun Meadows-Fernandez, How Can Shea Butter Be Used on My Skin and Hair? Healthline, Mar.8, 2019
Roberta Del Campo, MD, Yu Zhang, Ph.D., Effect of Miracle Fruit (Synsepalum dulcificum) Seed Oil (MFSO®) on the Measurable Improvement of Hair Breakage Women with Damaged Hair, J Clin Aesthet Dermatol. 2017 Nov; 10(11): 39–48.
Akihisa Tet al Anti-inflammatory and chemopreventive effects of triterpene cinnamates and acetates from shea fat, J Oleo Sci. 2010;59(6):273-80
Mahe.Y.F., Michelet J.F. Billlons. N.et.al. Androgenic Alopecia and Micro inflammation. Int. J.Dermatol 29, 576-584 (2000)
Iyengar. B. The hair follicle: A Specialized UV Receptor In the Human Skin? Biol. Signals Recept. 7 188-194 (1998)
R. M. Trueb The impact of oxidative stress on hair, International Journal of Cosmetic Science, 2015, 37 (Suppl. 2), 25–30
Nishimura. e.K. Granter, S.R. and Fisher, D.E., Mechanisms of hair greying: Incomplete Stem Cell Maintenance in the Niche, Science 307. 720-724
Megnanou RM, Niamke S. Improving the optimized shea butter quality: a great potential of utilization for common consumers and industrials. Springerplus. 2015 Nov 4;4:667. DOI: 10.1186/s40064-015-1454-0. eCollection 2015
Umar S et al., A Multimodal Hair-Loss Treatment Strategy Using a New Topical Phytoactive Formulation: A Report of Five Cases, Case Reports in Dermatological Medicine / 2021