Published on October 4, 2021. Last Updated on January 17, 2022.
What is Keratin: As stated by Healthline's 2018 article on keratin, "keratin is a type of protein that makes up your hair, skin, and nails." Keratin can also be found in our internal organs and glands. It is a protective protein and therefore less prone to scratching or tearing than other types of cells. Keratin has several health benefits, in particular to the hair and the nails.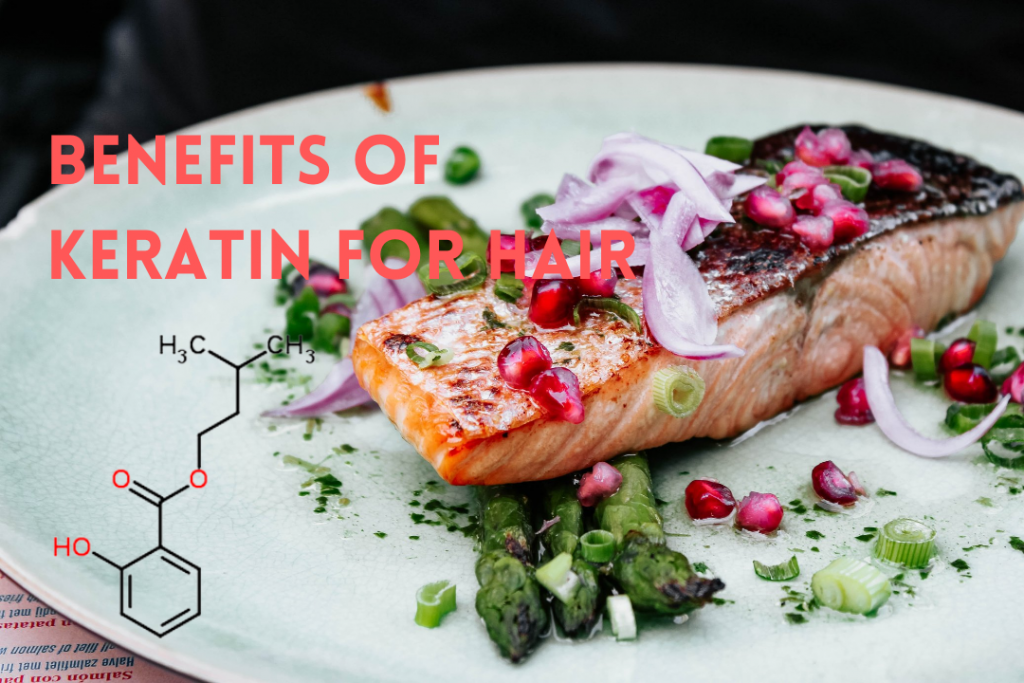 Benefits of Keratin for Hair
Keratin can help all hair types from curly, wavy, straight, and more in many ways:
Promote hair growth

Battle hair loss

Maintain hair health

Help restore damaged hair

Help achieve longer hair

Help fight thinning hair

Increase hair strengthening
No matter your questions or your specific hair type, keratin is an essential component of hair health in general. Even if you have healthy, beautiful, voluminous hair, keratin is still critical for combating the degeneration of hair that comes with age.
Using keratin for your hair have long-lasting beauty and health benefits that you'll thank yourself later for. Yet, it is also important to note that not all keratin supplements and topicals are created equal.
Benefits of Keratin for Nails
Keratin is also known to aid nail growth and nail strength.
In a 2021 study published in Trichology and Cosmetology OpenJournal, researchers tested the effectiveness of keratin hydrolysate in hair and nail growth on adult females. Researchers concluded that a "natural extensively hydrolyzed keratin" has improved hair and nails condition after a 3 month intake period.
Specifically, researchers in this study reported that "nails improved in condition after 45 and 90 days of treatment. After 90 days of use, 60% of the subjects showed an improvement in nails condition. This conclusion was demonstrated by an increase in nail growth by 0.14 mm / 14 days to show how successful keratin can be in improving nail health.
How Does Keratin Affect Hair Growth?
Keratin synergizes with other natural ingredients to strengthen hair at a cellular level by smoothening down outer cells that make up hair strands. As new keratin proteins reach the hair, these new proteins smoothen and fortify pre-existing keratin proteins found along or within damaged hair. This process fills and repairs gaps found along the rough or damaged exterior of hair strands, which results in a fuller and smoother hair strand that looks glossy and healthy. A person suffering from keratin-poor hair can expect hair breakage, low hair volume, and an inability to sustain a good hair length.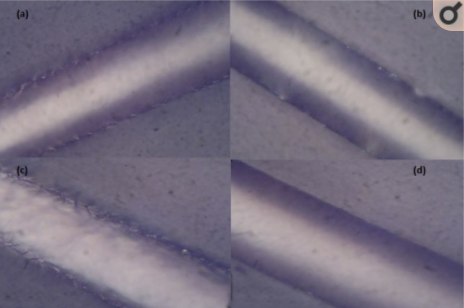 Research on Keratin for Hair Growth
In a 2018 study, researchers concluded that "K31, a type I acidic keratin, is a major protein of the human hair keratin complex and is essential in maintaining hair tensile strength."
More so, researchers found that keratin is a significant protein lost in damaged hair – and that by applying keratin K31 or hydrolyzed keratin peptides isolated from wool or chicken feathers, a cohesive film can be formed to fill the gaps produced in damaged hair. Researchers also found that when applied to hair, keratin increases the diameter of the individual hair strand by up to 49%.
Furthermore, other findings report that keratin applied to hair increased mechanical strength by up to 2 fold after a single treatment.
Keratin's effectiveness in improving hair and nail health is also discussed in this Journal of Biomaterials Applications study published in 2017. Researchers in this study concluded that "keratin extract topically applied" can significantly increase the number, shaft of hair follicles in the keratin extract-treated group in contrast to the control group, which was considered an indication of anagen phase induction."
Further Research Supporting Keratin for Hair Growth
More so, a different study published in Research Square in 2020 further supports this claim when researchers stated that "keratin exposure appears to be critical for dermal papilla cell condensation and hair germ formation – as immunodepletion and silencing keratin prevent dermal papilla cell condensation and hair germ formation.
Furthermore, silencing keratin in mice "resulted in a marked impression of anagen follicle formation and hair growth." Finally, another study that supports keratin's essential role in the development of new hair can be found in this 2006 study which states how keratin-null mice developed alopecia (hair loss or inability to grow hair) in the first-week post-birth, "correlating with hair shift fragility and untimely apoptosis in the hair bulb."
All of these findings support how keratin is a significant component of hair and an important component in hair growth and production.
These research and findings suggest that keratin application can be recommended as a possible solution for treating alopecia or hair loss or as a great way to maintain hair health and beauty.
How Can You Use Keratin for Your Hair?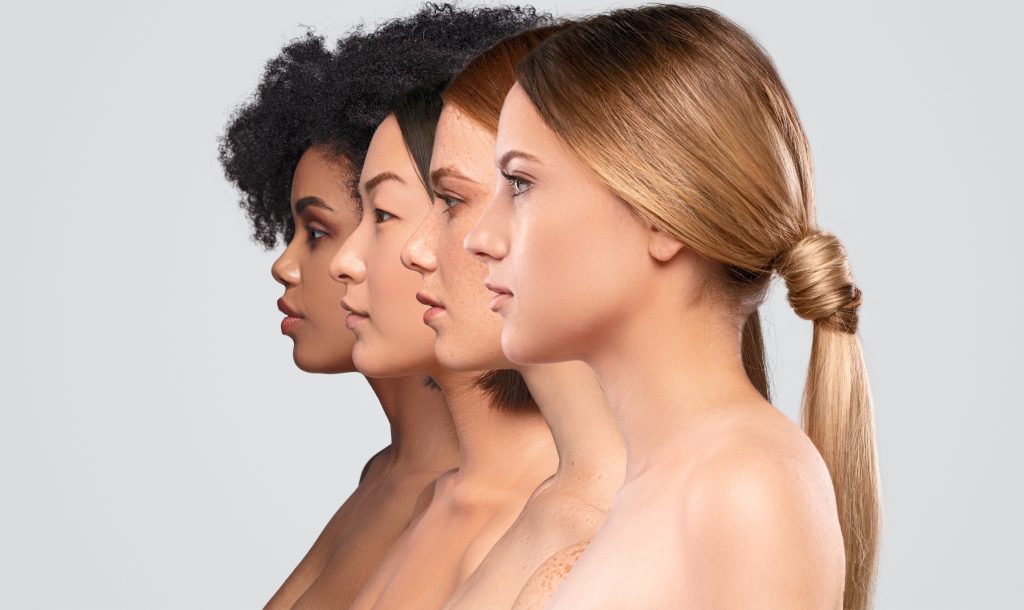 Keratin is popularly used in three different ways for hair. These include:
Keratin Chemical Hair Treatment (AKA Brazilian Blowout)

Keratin Topicals

Keratin Oral Supplements or Vitamins
What About Keratin Treatment aka Brazilian Blowout?
When you research the health benefits of keratin on the internet, several sources focus on "keratin treatment." As stated by Healthline, keratin treatment, also known as a Keratin chemical hair treatment or a Brazilian Blowout, is a chemically-based hair treatment generally done in hair salons, often with potentially toxic chemicals and mainly used to make hair look straighter temporarily.

The keratin treatment process involves a blow dry of the hair and then applying the treatment to dry hair. Then, a flat iron is used to seal the treatment within the hair.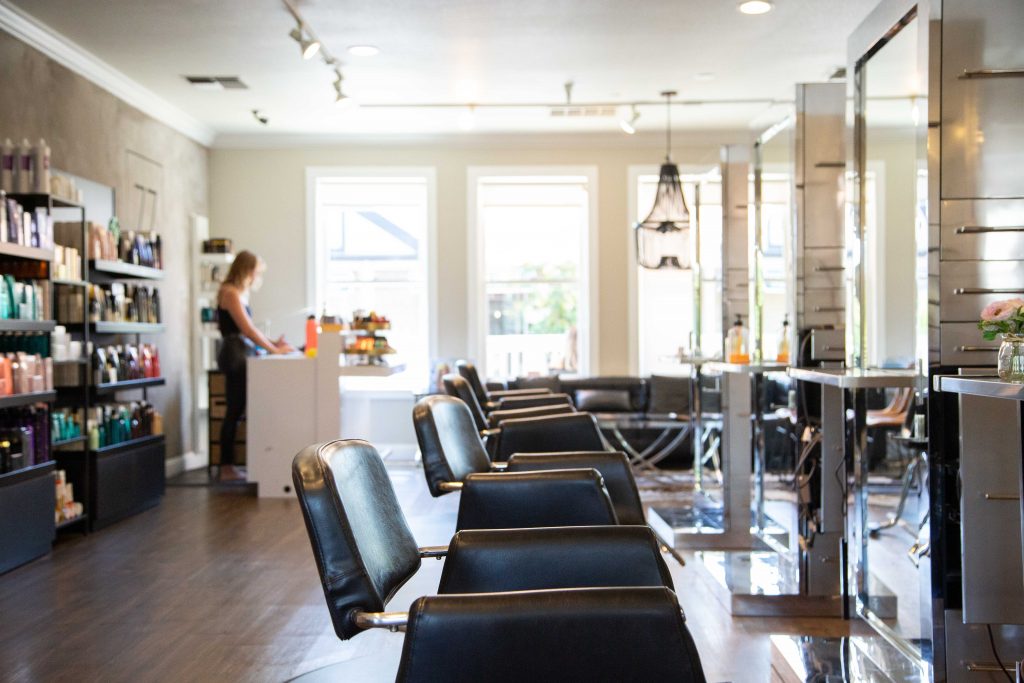 What are The Pros and Cons of Keratin Treatment?
There are many positive reasons as to why some people would want a keratin treatment.
To straighten and smoothen hair

To increase hair shine and glossiness

To keep your hair more manageable

To strengthen hair
Although keratin itself won't damage your hair, most keratin treatments use formaldehyde, a potentially toxic chemical, as part of the treatment to straighten the hair in preparation for keratin.
Dangers of Formaldehyde in Brazilian Blowout or Keratin Treatment
As stated by the CDC, formaldehyde is an eye, skin, and respiratory tract irritant and has many severe health risks and effects when inhaled or ingested. Children may be more susceptible than adults to the respiratory effects of formaldehyde, which includes:
Narrowing of bronchi (lungs)

Toxic accumulation of fluid in the lungs
The systemic effects of formaldehyde are due primarily to its metabolic conversion to formate and may include metabolic acidosis, circulatory shock, respiratory insufficiency, and acute renal failure. More so, formaldehyde is a potent sensitizer and a probable human carcinogen.
Workers and professionals who administer keratin treatments have reported damage to their bodies due to the toxicity of these chemicals used before applying keratin.
Keratin Treatment: Recommended or Not?
Although there are several hair benefits to keratin treatment, experts recommend a more natural approach because these methods can be done without the dangers associated with a keratin treatment.
Keratin Topicals
There are several topical products available on the market infused with keratin. To determine the accuracy of these products' claims, it is best to check product labels to determine keratin type and dosage, precautions, and warnings.
Keratin topicals, such as gels, creams, lotions, and ointments, can be used as hair masks to treat the hair in a much safer manner than Brazilian blowouts. Keratin-infused shampoos and conditioners can add the benefits of keratin to hair strands to combat hair frizziness and breakage.
For example, if you have brittle, damaged hair, keratin topicals or shampoos, pomade, lotion, or ointment can help replenish and protect your hair's natural keratin protein – reversing damage and preventing future breakage. As a bonus, keratin applied to the hair via a topical can dramatically improve your hair's elasticity for a healthier, more youthful bounce.
Health Benefit Differences Between Keratin Topicals and Oral Supplements
Generally, you can expect a keratin topical to have approximately the same benefits as a keratin oral supplement. The main difference is that if you choose only to use keratin topical, you may not receive the full holistic, whole-body benefits of ingesting keratin, such as improved skin and nail health in addition to better hair health. On the other hand, with a keratin topical, such as an ointment, lotion, cream, or pomade, you can choose and focus on the targeted area – such as specific balding spots on the scalp for a more targeted approach.
Keratin Oral Supplements
According to the EWG, keratin has an ingredient score of 1-2 which states that keratin has no cancer, developmental and reproductive toxicity, allergies, and immunotoxicity dangers for human consumption or application.
Keratin, under recommended doses, can be taken safely orally via capsule supplement as part of a dietary supplement. 
It is important to note that dosage should be considered carefully. Although keratin is a natural protein found in the human body, ingesting too much keratin can still lead to dangerous side effects such as excessive protein buildup. Experts do warn that taking an excessive amount of any protein is not recommended. If you are looking for keratin supplements, it is best to first talk to your doctor to see if this is right for you. It is also important to note that all-natural ingredients harmonize with the body better than non-natural ingredients.
Hydrolized Keratin & The Importance of All-Natural Ingredients
In this 2013 study, researchers found that protein hydrolysates, particularly those with low molecular weight, are known to "provide efficient protection and care to hair." These researchers reported that the lighter the keratin molecule, the more capable it is of penetrating the cortex of the hair fiber, and the better the molecule serves to promote a surface coating. These processes have "beneficial effects on hair structure, replacing lost keratin, and can also have an antiaging effect." These researchers concluded that keratin hydrolysates, also known as hydrolyzed keratin, have "increased the hydration of hair fibers," as well as "sealed cuticles in hair fibers treated," to present a "significant increase of the brightness and softness of hair."
Therefore, the quality and source of the keratin are all crucial factors to consider for maximizing its effectiveness in treating hair loss or promoting hair growth.
Whether you choose to use keratin oral supplements or topicals, both methods have been reported to work with similar results for hair growth or improved hair health.
Harness The Keratin-Infused Power of Dr.UGro All-Natural GASHEE Oral Hair Supplements
Hydrolyzed keratin, which is a broken-down form of natural keratin better suited for hair growth, is one of the many powerful, all-natural, and plant-based ingredients found in Dr.UGro Gashee Oral Hair Supplements. To help increase the feel and appearance of hair density, thickness, and volume, or to help regrow hair lost or aid hair growth, take 4 capsules a day.
VIDEOS: Dr. UGro Gashee: Before & After Results
Jovon came in for a consultation because she noticed that her hairline was receding. She noticed bald patches on the back of her head, as well as chunks of hair that fell out in the shower or whenever she combed her hair. Fortunately, after trying hair growth products that did not work, Jovon stumbled on Dr.UGro Gashee Instagram Page.
In 4 months of Gashee all-natural hair growth oral supplements, Jovon was able to grow back her hairline and reports that her hair is now "a lot thicker" and that her hair had stopped "falling off." More so, as an added benefit, the keratin found in her Gashee oral supplements was also able to strengthen her nails: she reports that her nails grew "a lot faster and longer" while she was under Gashee oral supplements.
Keratin Infused Dr. UGro Gashee: Before & After Pictures – Improved Hair Health Results
Dr. UGro Gashee all-natural hair growth results: before and after 4 months of consistent usage. Note the improved fullness, length, texture, sheen, and shine of her overall hair health.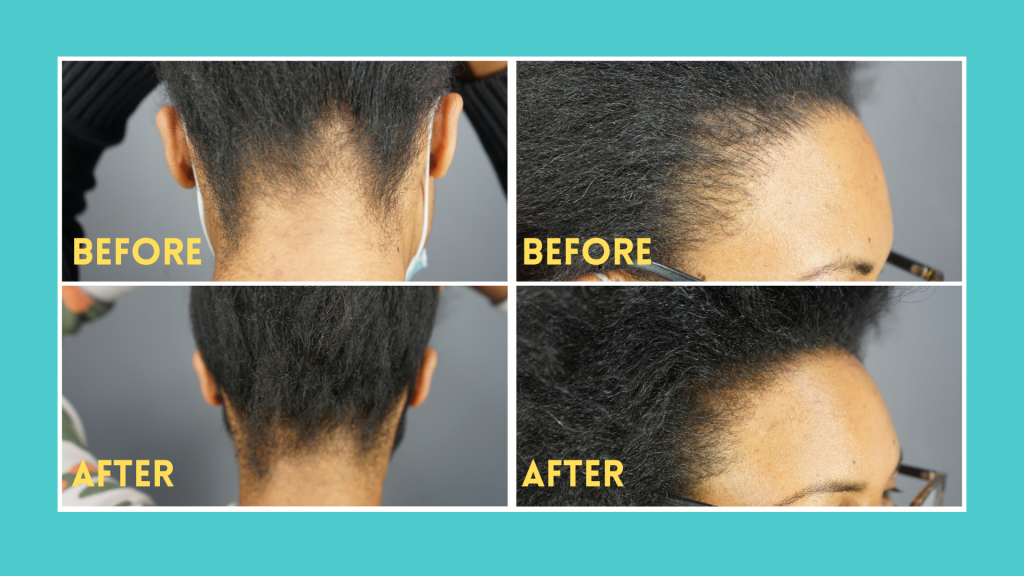 Dr.UGro Gashee Keratin-Infused Oral Supplements: Before & After Results for Nail Health
Dr.UGro Gashee oral supplements also offer powerful nail-strengthening qualities. In the before and after picture results below, Jovon was able to experience significant growth and lengthening of her nails.
Previously, she noticed that her nails would be brittle and weak, prone to breakage after a certain length – but after 4 months of using Gashee oral supplements, not only have her hair improved in health and strength, but her nails did so as well.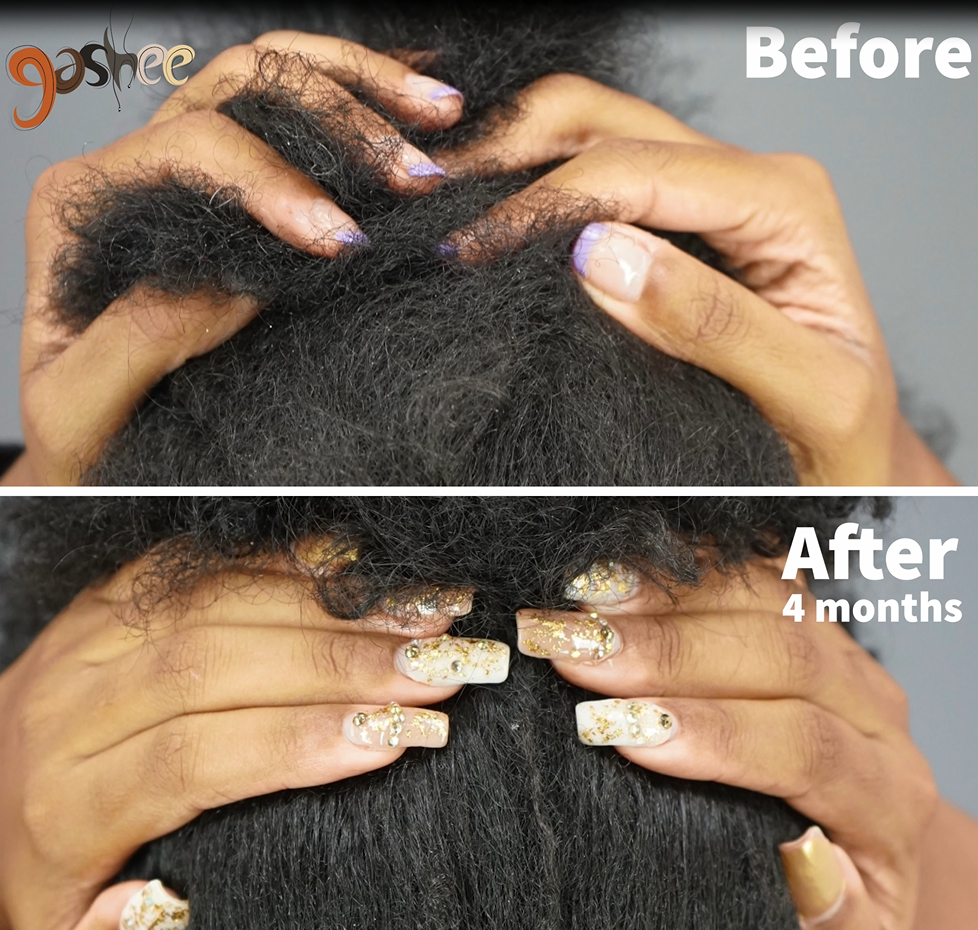 More so, besides spectacular hair growth, Dr.UGro Gashee oral supplements also helped Jovan grow and strengthen her nails. For more information, see the video interview below.
VIDEO: Dr.UGro Gashee Keratin-Infused Oral Supplements Before & After Results for Nail Health
Below is a video interview of Jovon – what she experienced in 4 months of using Dr.UGro Gashee oral supplements. Note the sheen and healthy look of her nails. In her words, her nails "grew really long and really fast. My natural nails have never grown this much in my life!" More so, "they did not break, and they just kept growing!"

Related Articles on Hair Loss & Hair Health
For additional information regarding hair loss and hair health ingredients that you may find useful, check out the articles below.
References
Healthline. 2021. Keratin: Benefits and Uses for Hair. [online] Available at: <https://www.healthline.com/health/keratin> [Accessed 1 October 2021].
Openventio.org. 2021. [online] Available at: <https://openventio.org/wp-content/uploads/The-Effects-of-the-Oral-Supplementation-with-a-Natural-Keratin-Hydrolysate-Kera-Diet-on-Hair-and-Nails-Randomized-Placebo-and-Benchmark-Controlled-Clinical-Trial-on-Healthy-Females-TCOJ-1-115.pdf> [Accessed 13 October 2021].
Healthline. 2021. Keratin Hair Treatment Pros and Cons. [online] Available at: <https://www.healthline.com/health/keratin-treatment-pros-and-cons> [Accessed 1 October 2021].
Wwwn.cdc.gov. 2021. Formaldehyde | Medical Management Guidelines | Toxic Substance Portal | ATSDR. [online] Available at: <https://wwwn.cdc.gov/TSP/MMG/MMGDetails.aspx?mmgid=216&toxid=39> [Accessed 4 October 2021].
SAGE Journals. 2021. Hair growth promoting activity of discarded biocomposite keratin extract – Md Rashedunnabi Akanda, Hak-Yong Kim, Mira Park, In-Shik Kim, Dongchoon Ahn, Hyun-Jin Tae, Byung-Yong Park, 2017. [online] Available at: <https://journals.sagepub.com/doi/10.1177/0885328217717076> [Accessed 13 October 2021].
An, S., Choi, E., Kim, S., Van, S., Kim, H., Lee, J., Han, S., Kwon, I., Lee, C., Do, S. and Hwang, Y., 2021. Keratin is not only a Structural Protein in Hair: Keratin-mediated Hair Growth.
Tong, X., 2021. Keratin 17 modulates hair follicle cycling in a TNF -dependent fashion.
Basit, A., asghar, F., Sadaf, S. and Akhtar, M., 2021. Health improvement of human hair and their reshaping using recombinant keratin K31.
Healthline. 2021. Synthetic vs Natural Nutrients: Does it Matter?. [online] Available at: <https://www.healthline.com/nutrition/synthetic-vs-natural-nutrients#TOC_TITLE_HDR_4> [Accessed 1 October 2021].
Villa, A., Aragão, M., dos Santos, E., Mazotto, A., Zingali, R., de Souza, E. and Vermelho, A., 2021. Feather keratin hydrolysates obtained from microbial keratinases: effect on hair fiber.
Hair?, W. and Ravi, A., 2021. Why Hydrolyzed Keratin Can Be Great For Your Hair?. [online] SkinKraft. Available at: <https://skinkraft.com/blogs/articles/hydrolyzed-keratin-for-your-hair> [Accessed 1 October 2021].
EWG. 2021. EWG Skin Deep® | What is KERATIN. [online] Available at: <https://www.ewg.org/skindeep/ingredients/703313-KERATIN-KERATIN-KERATIN-KERATIN-KERATIN-KERATIN-KERATIN-KERATIN-KERATIN-KERATIN-KERATIN-KERATIN-KERATIN-KERATIN-KERATIN/> [Accessed 12 October 2021].