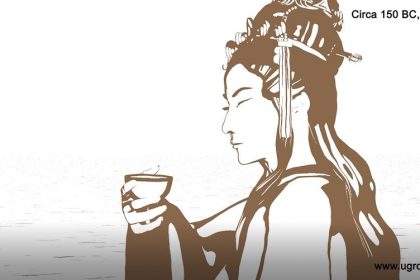 Green Tea For Hair Health: How The Ancient Chinese Unlocked The Secret Science of Green Tea: Many are beginning to consider the benefits of green tea for hair health. The ancient Chinese first used green tea for medicinal purposes in Southwest China. As far back as 1100BC and 200BC, the society recommended drinking tea to maintain health. Traditional Chinese Medicine (TCM) says that tea can help refresh the mind, increase alertness, and intensify concentration. The drink also can promote body fluid production, clear phlegm, and encourage digestion and urination. The ancient Chinese also added the leaves to their food to offer nutrients or provide an antidote for poison. In this article, Dr.UGro Gashee pays homage to our Chinese ancestors who unlocked the secret sciences and hidden benefits of green tea thousands of years ahead of modern science:
VIDEO: How The The Ancient Chinese Unlocked The Secret Science of Green Tea
For thousands of years, the Chinese have used the drinking of tea to mark important moments such as pacts between warring generals, weddings, happy and sad events. Ancient Chinese sages have written about the multiple health benefits of green tea. Recently, modern scientists have found that components of green tea have exhibited antioxidant effects as well as inhibit DHT, which causes hair loss in some. But the ancient Chinese always knew.
Green tea has become a household staple across the globe thanks to the many health benefits it boasts. The caffeinated beverage consists of the leaves and buds of the Camellia sinensis tree. Unlike oolong and black teas, the leaves of green tea are not withered and oxidized. For this reason, it's chock-full of the most antioxidants and valuable polyphenols. Green tea has its roots in China, but its production has spread across East Asia in the 5,000 years since its discovery. Read on to find out how this superfood reached the spotlight.
The Accidental Discovery of Green Tea
The story of green tea began in southwest China close to five millennia ago. Revered Chinese emperor and herbalist Shennong was the first to make its discovery known around the year 2737 B.C. Legend has it that while Shennong was on the road one day, he took a break to rest with a piping hot cup of water. A few green tea leaves accidentally fell into the cup, darkening the water. Intrigued, Shennong still took a sip and felt refreshed right away. Soon, he commanded his soldiers to drink tea daily.
Religion, Ceremony and Green Tea 
The ancient Chinese believed that gods of agriculture cut their teeth on leaves, roots, and stems of plants to introduce new herbs to society. When any of the gods would accidentally eat a poisonous plant, the story goes that they would eat green tea leaves to rid themselves of all toxins. Some even believe that Buddha was the first to discover green tea as a gift from the gods.
During the Tang Dynasty, the ceremonial drinking of tea became common. The traditional Chinese tea ceremony blends the principles of Confucianism, Taoism, and Buddhism to establish rituals many continue to practice today. Monks believed that tea ceremonies stood for a sense of humility and respect for nature. All involved are encouraged to take three sips of tea each—one for happiness, another for good luck, and one last for long life.
As the popularity of tea increased, society considered tea drinkers cultural elites. Subsequently, this upped the demand for Chinese tea-ware made of porcelain, also known as fine china. These delicate accessories are at the center of the Chinese wedding tea ceremony. The tea ceremony is the most noteworthy wedding tradition every Chinese couple must carry on when they tie the knot.
Modern Science and Green Tea
Modern science has proven that the ancient Chinese were indeed onto something. A 1997 study suggested that green tea may reduce the risk of cardiovascular disease (1). And in 2009, researchers found that green tea consumption can inhibit the formation and development of cancerous tumors (2). They credited the effects of tea to the polyphenols it contains—EGCG in particular. Moreover, researchers discovered in the year 2000 that consuming green tea can protect against weight gain (3). You can credit this to the catechins found in tea, which metabolize lipids in the body.
Green tea might have even contributed to the thick, vibrant hair the ancient Chinese were known for. In a study conducted in 2005, researchers found that the polyphenols found in tea had a correlative relationship with hair regrowth (4) over the course of six months. During a small study conducted two years later, researchers applied topical green tea-derived EGCG extract to the scalps of three participants with alopecia. Within four days, the participants saw notable increases in hair growth activity, further demonstrating the strength of this wonder ingredient (5). Researchers have also found that green tea contains inhibitors of the baldness-causing hormone DHT (6).
So, you've now considered green tea for hair health. Chinese history proves that sometimes, it can pay off to look back to your ancestors for guidance. Once you consider green tea for hair health, you've unlocked a world of good for your hair.
Dr. UGro™ products are enriched with green tea that your scalp will soak right up. Shop them here. 
References
Yang, T.t.c., and M.w.l. Koo. "Hypocholesterolemic Effects Of Chinese Tea." Pharmacological Research, vol. 35, no. 6, 1997, pp. 505–512., doi:10.1006/phrs.1997.0176.
Yang, Chung S., et al. "Cancer Prevention by Tea: Animal Studies, Molecular Mechanisms and Human Relevance." Nature Reviews Cancer, vol. 9, no. 6, 2009, pp. 429–439., doi:10.1038/nrc2641.
Wang, Li, et al. "Green Tea Polyphenols Modulate Colonic Microbiota Diversity and Lipid Metabolism in High-Fat Diet Treated HFA Mice." Journal of Food Science, vol. 83, no. 3, 2018, pp. 864–873., doi:10.1111/1750-3841.14058.
Esfandiari, Adeleh, and Paul Kelley. "The effects of tea polyphenolic compounds on hair loss among rodents." Journal of the National Medical Association vol. 97,6 (2005): 816-8.
Kwon, O.s., et al. "Human Hair Growth Enhancement in Vitro by Green Tea Epigallocatechin-3-Gallate (EGCG)." Phytomedicine, vol. 14, no. 7-8, 2007, pp. 551–555., doi:10.1016/j.phymed.2006.09.009.
Zhou, Jin-Rong, et al. "Soy Phytochemicals and Tea Bioactive Components Synergistically Inhibit Androgen-Sensitive Human Prostate Tumors in Mice." The Journal of Nutrition, vol. 133, no. 2, 2003, pp. 516–521., doi:10.1093/jn/133.2.516.