Published on December 3, 2021. Last Updated on August 3, 2022.
Men's Hair Loss: Hair speaks volumes, even before we do. This is why hair loss, regardless of sex or gender, can significantly impact someone's self-confidence – such as this man with male-pattern baldness.
One Man's Fight Against Male Pattern Baldness: After several years of trying hair products to no avail, he found Dr.UGro Gashee Natural Hair Products online. He had hair thinning on his front hairline and the crown of his head. Fortunately, he showed remarkable improvements in hair health after using Dr. UGro GASHEE Natural Topical Lotion twice daily.
Continue below to view his results, success story, and other important information.
Article Update August 2022
What is Male Pattern Baldness: According to Penn Medicine, Male Pattern Baldness, also known as Androgenetic Alopecia, is baldness or hair loss in men related to genes and the male sex hormones [1]. It often follows a pattern of receding hairline and hair thinning on the crown. The first sign of male pattern baldness is the recession of the front hairline, creating an "M" balding shape. This pattern can be seen in the GASHEE patient below.
Before & After Results: GASHEE Topical Lotion for Hair Health
Below you can find clear before and after picture results of the natural hair health improvements after using Dr.UGro GASHEE Natural Topical Lotion.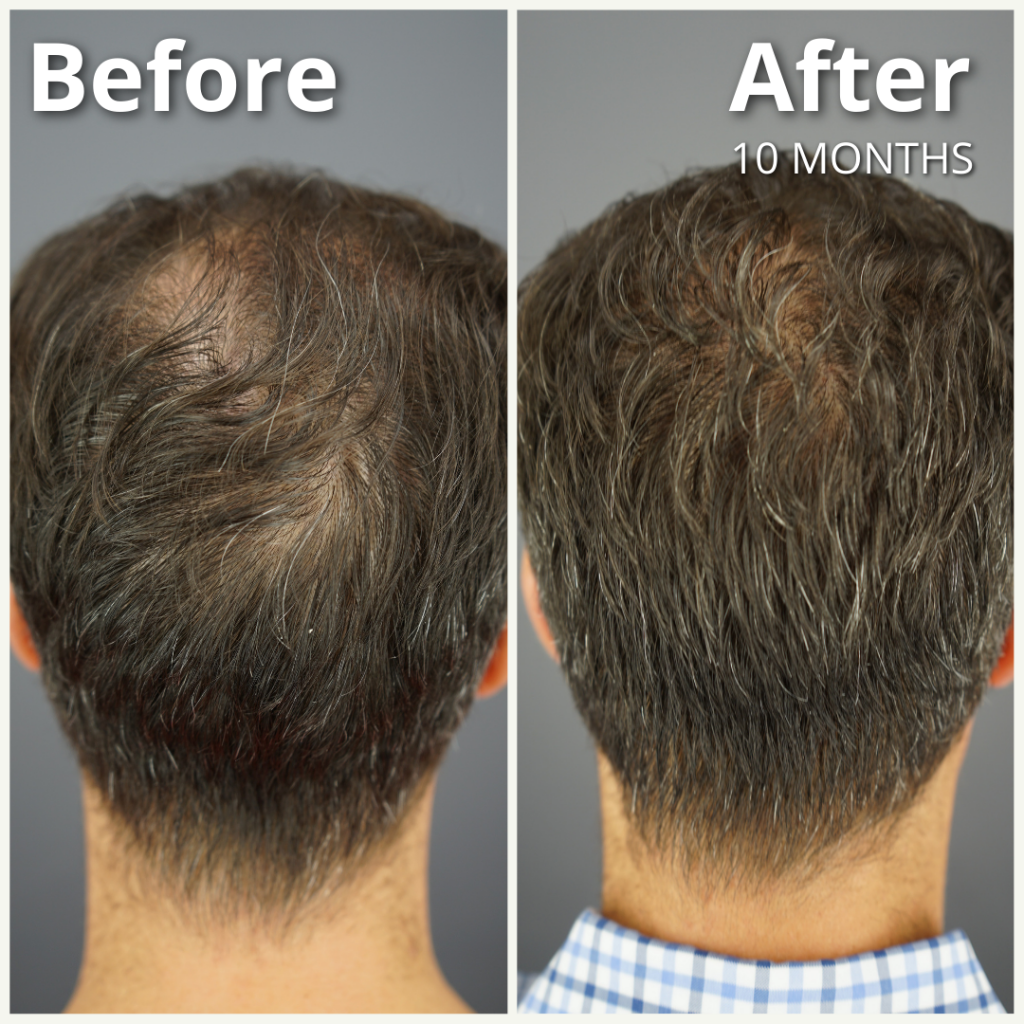 After 10 months of use, this man experienced improvements in the thinning hair on the back of his scalp. He shows a much thicker, fuller, healthier-looking scalp on the right-hand side. But even more profound than his appearance, he reports a "level of joy and satisfaction" that he didn't know he was "able to feel again." Now, feeling his best, he has one less thing to worry about.
VIDEO: GASHEE Before & After Natural Hair Health Results – Men's Hair Loss Patient
Below you can find a YouTube video with more before and after picture results of Dr.UGro GASHEE Topical Lotion for this patient – additional angles and sides included. Notice how hair had filled out where it was previously thinned. It is possible to see the "M" male-pattern baldness indicator that he had before using the GASHEE Topical Lotion.
What Makes GASHEE Unique
GASHEE's natural ingredients are processed using a new proprietary process invented by Dr. Umar. This entirely new industrial process helps GASHEE retain and deliver potent natural compounds in their most natural, whole, and effective state.
What about other natural products with the same ingredients?
Natural hair products may possess one or several plant ingredients used in GASHEE. Still, the effect and efficiency of these ingredients in delivering improved hair health can depend significantly on how these ingredients are processed.
For example, studies show that whole plant ingredients can deliver more powerful results when taken in their whole-plant form or whole-plant compounds, as opposed to extracted plant compounds [3].
Retaining the Most From Natural Product Ingredients Using Heat-Avoidant Processing Methods
Additionally, Dr. Umar's new industrial process uses heat-avoidant processing methods, enabling these whole-plant compounds to retain their bonds and compounds without being destroyed by heat processing. This is a significant and unique step in the natural product creation stage. Many natural hair products or even regular natural health products utilize heat to process their ingredients, destroying many essential natural components and compounds.
For more in-depth information regarding GASHEE natural hair products and their reported effects on certain types of hair loss, be sure to visit the peer-reviewed GASHEE Hindawi Medical Journal based on GASHEE Topical Lotion, conducted by Dr.UGro GASHEE AKA Dr. Sanusi Umar and his peers, linked and summarized below.
New GASHEE Hindawi Published Peer-Reviewed Study on Hair Health
Dr.UGro Gashee's Natural Topical Lotion for hair health has been studied in a recently published peer-reviewed medical publication.
This study, published in 2021 Hindawi Medical Journal, reports how 5 patients used Dr.UGro GASHEE Topical Lotion to attempt to improve their hair health and loss conditions [3].
Previously, 4 out of the 5 subjects in the study had used Minoxidil, a popular FDA-approved hair loss pharmaceutical drug-based medication. All 4 of these subjects had used Minoxidil for over a year, with minimal or ineffective results.
All patients used the topical GASHEE lotion treatment as the only therapy for at least 3 months before documenting outcomes.
2021 GASHEE Hindawi Medical Journal Publication Results: The study reported that "in all patients, we observed significant improvements in hair regrowth in the nape, crown, vertex, and temple areas after 3–15 months of treatment. All patients were delighted with their results and reported no unwanted side effects. Although the use of botanicals in the treatment of hair loss is in an infant stage, the new formulation used in this study demonstrated a good efficacy related to hair growth, warranting further evaluation."
Do Natural Products Guarantee No Side Effects?
Although some people may believe that natural products often mean "no side effects," this is not always the case.
Although none of the patients featured in the GASHEE Lotion Hindawi Study reported no side effects, some people have allergic reactions to certain plants; even the most advanced pharmaceutical drugs all started from plant extractions.
Yet, GASHEE natural hair products may be preferable for some who do not have these plant allergies to take as opposed to current popular hair loss medications such as Minoxidil.
Minoxidil which was ineffective for 4 out of 5 patients in the GASHEE Study, is known to induce unwanted side effects such as:
Acne
Burning of scalp
Facial hair growth
Increased hair loss
Inflammation or soreness
Reddened skin
Swelling of face
Swelling of ankles
Dizziness
Drowsiness
Tiredness
For some, having a natural plant-based ingredient list can be preferable to taking pharmaceutical drugs such as Minoxidil to help improve hair health.
Although a prescription is not needed to purchase and use GASHEE Natural Hair Products, it is always recommended to first talk to your doctor or dermatologist before taking any new supplements or medications.
Join the Fight Against Men's Hair Loss: Invest in Your Hair Today for a Better Tomorrow
Hair health matters. It can speak volumes, even before we do.
Try Dr.UGro GASHEE Products using the shop now button below.

Other Satisfied GASHEE User Testimonials
For more happy GASHEE user testimonials and hair growth results, and to see how their hair had transformed for the better after using GASHEE products, visit the articles and videos below.
Men's Hair Loss Frequently Asked Questions (FAQ)
Do you need a prescription to purchase GASHEE Natural Hair Products?
A prescription is not needed to purchase and use GASHEE Natural Hair Products.
It is always recommended to talk to your doctor or dermatologist before taking any new supplements or medications.
How common is male pattern baldness? Am I the only one?
Male pattern baldness affects over half of men over the age of 50. Most men will experience male pattern baldness at some point during their life, but early prevention can be done to help preserve as much natural hair as possible.
Does testosterone affect male pattern baldness?
Testosterone is involved in male pattern baldness, but its relationship is complicated and still under study.
This relationship stems from the body's natural mechanisms, in which testosterone is naturally converted in the body to dihydrotestosterone (DHT), a related sex hormone. This process induces the growth of facial and body hair and some interactions with the prostate gland.
There now lay evidence that male pattern baldness is somehow related to the over-sensitivity of scalp hair follicles to DHT.
Does smoking cause hair loss?
Studies have shown a possible link between smoking and hair loss.
One 2020 smoking and hair loss study reported that 425 out of 500 smokers had some degree of hair loss while only 200 out of 500 nonsmokers showed signs of hair loss [4].
References
Pennmedicine.org. Published 2022. https://www.pennmedicine.org/for-patients-and-visitors/patient-information/conditions-treated-a-to-z/male-pattern-baldness#:~:text=Male%20pattern%20baldness%20is%20related
Mayoclinic.org. 2021. Minoxidil (Topical Route) Side Effects – Mayo Clinic. [online] Available at: <https://www.mayoclinic.org/drugs-supplements/minoxidil-topical-route/side-effects/drg-20068750?p=1> [Accessed 3 December 2021].
Umar, S. and Carter, M., 2021. A Multimodal Hair-Loss Treatment Strategy Using a New Topical Phytoactive Formulation: A Report of Five Cases.
Salem AS, Ibrahim HS, Abdelaziz HH, Elsaie ML. Implications of cigarette smoking on early‐onset androgenetic alopecia: A cross‐sectional Study. Journal of Cosmetic Dermatology. 2020;20(4):1318-1324. doi:10.1111/jocd.13727