Published on December 8, 2021. Last Updated on August 9, 2022.
Dealing With Women's Hair Loss: For many women, having women's hair loss is no minor issue.
Hair is a significant part of our identity and sometimes our self-worth. Hair is what makes us unique. If you experience hair loss, whether you are a man or a woman, it can be a brutal hit to your self-confidence and self-worth to see yourself losing hair. Such was the story of this nurse, who had dealt with consistently thinning hair. Yet, she improved her natural hair health using GASHEE, a natural dermatologist-formulated hair health product.
Continue below to see the natural hair transformation results of this happy and satisfied GASHEE user and how these natural hair health products have helped her achieve her new look.
Article Update August 2022: Female Hair Loss Statistics
Did you know that more than 50% of women will experience some degree of hair loss during their lifetime?
Female pattern hair loss affects up to 1/3 of women and affects about 30 million women in the United States alone [1].
One Nurse's Powerful Story of Hair Transformation From Women's Hair Loss
Before she met Dr.U or tried any GASHEE Products, this woman reported that she spent a whole year looking for and trying hair products that did not work.
Before using GASHEE Natural Hair Products, she reported hair loss symptoms such as:
Hair Loss
Hair Thinning
Hair Falling
Bald Patches
Now, as one of many satisfied and happy GASHEE users, who used the GASHEE Botanical Topical Lotion and GASHEE Natural Oral Hair Supplements to significant effect, she has plenty of things to say; regarding her experience with GASHEE!
"After 7 months of use, I felt completely wonderful, and happy, because my hair had stopped falling."

"I have this area in my hair where it was consistentyly thinning – and now [after using GASHEE Hair Products] hair is coming out!"

"This product does help – I'm very happy and I do recommend it!"
See her excellent 7-month natural hair transformation results below.
Before & After Picture Results: GASHEE Topical Lotion & GASHEE Natural Oral Hair Supplements Results for Improved Hair Health
Below you can find a clear before and after picture of the natural hair transformation results this woman obtained using Dr.UGro GASHEE Natural Topical Lotion and GASHEE Natural Oral Hair Supplements.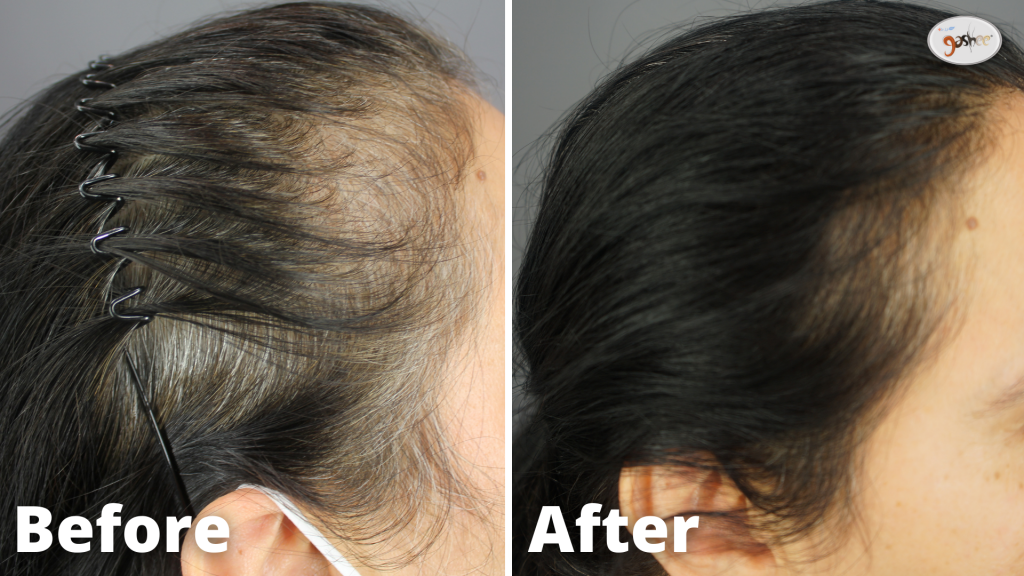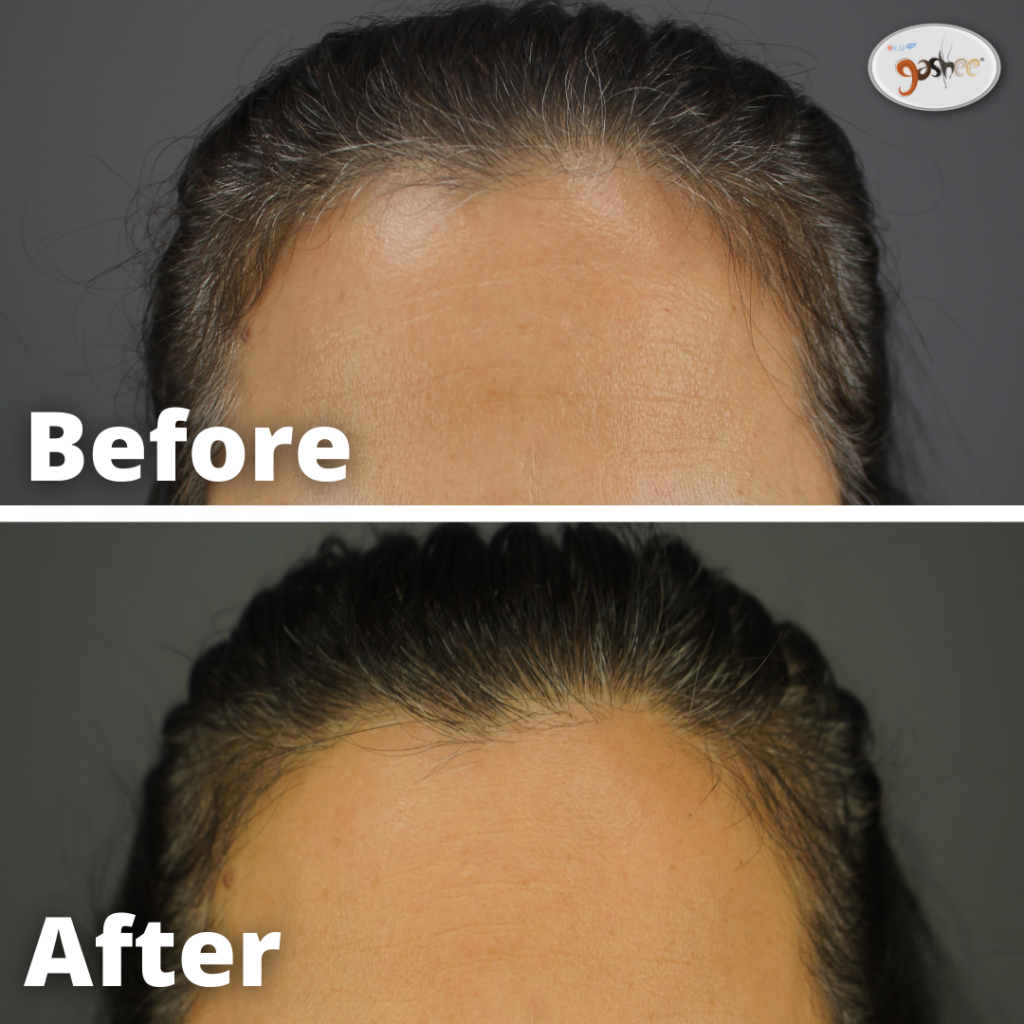 After 7 months of use, this woman improved her hair health conditions to regrow thinning hair all along and on her scalp. Notice how her gray hairs had naturally reversed into her darker, natural hair color. All this now satisfied GASHEE user had to do was use the GASHEE Topical Lotion applied on the scalp once or twice a day and take GASHEE Natural Oral Hair Supplement twice daily.
VIDEO: GASHEE Before & After Natural Hair Transformation Results
Below you can also find a YouTube video with more before and after picture results of Dr.UGro GASHEE Topical Lotion and GASHEE Natural Oral Hair Supplement – with additional angles and sides included.
Notice how her hair had filled out where it was previously lost, falling, or thinning, and how some of the graying she had was able to reverse into her natural, darker hair color.
Women's Hair Loss: Post-Hair Transformation Patient Review
When asked about her experience with Dr.U Hair & Skin Clinic and Dr. Umar, she stated, "Dr. Umar has been beneficial, and he has answered all of my questions regarding hair health."
This satisfied woman was so happy regarding her hair health results that she had plenty more to say about GASHEE Hair Products:
"I do recommend this product."

"If [anyone] has any doubts, just try it – it works!"

"I do recommend this GASHEE natural treatment for hair health, and I do recommend this clinic. It was a bit far for me but it was worth the drive!"

"The [GASHEE] supplements and lotion has helped a lot."
For her, it took about 1 month of continuous use of Dr.UGro GASHEE Natural Hair Lotion and Natural Oral Hair Supplements daily to see significant results for her hair. The before and after results in pictures and videos show the real 7-month progress of hair transformation she experienced while using only Dr.UGro GASHEE Products.
Now she reports that:
"I'm very happy that my hair's not falling."

"Just come and visit Dr. U – you will be very happy!"
WHY GASHEE: Natural Hair Lotion Published Peer-Reviewed Medical Study
GASHEE Natural Hair Lotion is a new, proprietary topical formulation that uses over 12 different botanicals and vitamins from whole plant extracts.
GASHEE Lotion vs. Oral Supplement: What's the Difference?
Because it is used as a topical formulation, applied on the scalp and hair, the GASHEE Natural Hair Lotion Topical minimizes possible adverse or toxic side effects that are sometimes experienced after the digestion of plant-extract natural health products. Additionally, due to the concentrated, topical nature of the lotion, it may offer a potent, focused delivery of ingredients.
On the other hand, for those who are not allergic to the plant ingredients found in GASHEE, users report that the GASHEE Natural Oral Hair Supplement may sometimes have a holistic, whole-body effect, with patient reports saying that they have had increased hair growth on their eyebrows, eyelashes, and nails.
If you are serious about maximizing the beneficial hair health effects of GASHEE Products, you may want to try both GASHEE Lotion and Oral Supplements together.
Minimal Processing: More Powerful Ingredients
Additionally, GASHEE's ingredients are processed minimally using Dr. Umar's self-invented, unique proprietary formulation methods, which minimizes factors such as heat that may destabilize or deactivate the many heat-sensitive phytochemicals within these natural ingredients.
This is a significant difference between GASHEE and other natural hair health products.
Although other natural hair products may use one or two similar ingredients as GASHEE, GASHEE's ingredients are processed through much more natural and hands-off processes that enable the survival and effective delivery of these potent whole plant compounds.
This is one reason why GASHEE Natural Hair Health Results show much more remarkable progress than other hair health products.
Additionally, even the preservatives used in GASHEE products are derived from sustainable and natural ingredients.
For more information regarding these differences, visit the information below detailing a peer-reviewed medical journal based on GASHEE Topical Lotion, conducted by Dr.UGro GASHEE AKA Dr. Sanusi Umar and his peers.
GASHEE Hair Lotion – In-Depth Hindawi Journal Study
Dr.Uro Gashee's Natural Topical Lotion has been studied for its beneficial hair health effects for various hair loss patients compared to topical over-the-counter alternatives such as Minoxidil. It is important to note that 4 out of 5 of the patients within this study previously used topical Minoxidil, a popular FDA-approved hair loss medication, for at least a year with no significant improvement.
The peer-reviewed medical study was published in Hindawi Medical Journal, 2021. The study reports that Dr.UGro's Gashee Topical Lotion had indicated "meaningful improvement" for various hair loss conditions of several hair loss patients, with all patients reporting no side effects or adverse results [2].
GASHEE Natural Hair Products – A Discussion on Side Effects
One reason why people with hair loss may not want to use popular hair loss medication such as Minoxidil continuously is due to its side effects:
Acne
Burning of scalp
Facial hair growth
Increased hair loss
Inflammation or soreness at the root of hair [3]
Some Minoxidil side effects may be rarer than others, but they should be considered before a patient opts for topical Minoxidil long-term use.
Although the GASHEE Lotion Study reports that all patients experienced increased hair growth without side effects from GASHEE, it is essential to note that GASHEE's natural ingredients do not mean that it is side effects-free for everyone. Everyone is unique, and certain people may have plant allergies or reactions to any one of GASHEE's natural plant ingredients.
Yet, suppose you do not have any plant allergies related to GASHEE Natural Hair Products. In that case, GASHEE may be much more preferable due to its more optimal profile for long-term use due to the natural plant's biocompatibility with the human body.
It is always recommended to talk to your doctor or dermatologist before adding a new supplementation, topical, or medication to your routine.
More Information Regarding Dr.UGro AKA Dr. Sanusi Umar: Over 25+ Years of Hair Restoration Expertise
For more information regarding Dr.U, visit his page to see a published list of his medical journals.
Dr. Sanusi Umar Medical Journals on Google Scholar.
Women's Hair Loss: Invest in Your Hair Today for Renewed Confidence Tomorrow
Our hair matters. If you want to experience the relief and satisfaction of having your best hair day again, try Dr.UGro GASHEE Products with the shop now button below to see how nature and modern science can help.

Other Satisfied GASHEE User Testimonials
For more happy GASHEE user testimonials and hair growth results, and to see how their hair had transformed for the better after using GASHEE products, visit the new articles and videos below.
Frequently Asked Questions – Women's Hair Loss FAQ
How common is women's hair loss?
According to MayoClinic, women's hair loss is seen in about 55% of women by the age of 70 [4].
What is the most common cause of women's hair loss?
The most common cause of women's hair loss is female pattern baldness, also known as androgenetic alopecia.
What are female pattern baldness and its symptoms, causes, and conditions?
Female pattern baldness is an inherited condition characterized by gradual thinning of your hair, which may be noticeable in the widening part, or a ponytail that is lighter than it used to be.
An example of female pattern baldness can be seen below:
References
Hair loss in women: Causes, Treatment & prevention. Cleveland Clinic. https://my.clevelandclinic.org/health/diseases/16921-hair-loss-in-women. Accessed August 9, 2022.
Umar, S. and Carter, M., 2021. A Multimodal Hair-Loss Treatment Strategy Using a New Topical Phytoactive Formulation: A Report of Five Cases.
Minoxidil (Topical Route) Side Effects – Mayo Clinic. www.mayoclinic.org. https://www.mayoclinic.org/drugs-supplements/minoxidil-topical-route/side-effects/drg-20068750?p=1
Lawrence E. Gibson MD. Tips for keeping the hair you have. Mayo Clinic. https://www.mayoclinic.org/diseases-conditions/hair-loss/expert-answers/preventing-hair-loss-in-women/faq-20452842. Published November 3, 2021. Accessed August 9, 2022.