Published on December 1, 2021. Last Updated on August 12, 2022.
Improving Men's Hair Health – A Success Story: This man was on a mission. After struggling with men's hair loss for more than 12 years, using commonly prescribed hair loss medications such as Minoxidil and Finasteride with little to no effect,  he came to Dr. U's office due to a trusted friend's recommendation. After he visited Dr. U AKA Dr.UGro GASHEE's clinic in Manhattan Beach, CA, he took home GASHEE Natural Hair Lotion for improved hair health.
Continue below to see how this happy GASHEE user overcame 12+ years of hair health struggles with GASHEE.
Article Update August 2022
What are some of the most common reasons for hair loss in men?
Men's hair loss can be caused or influenced by several factors such as [1]:
Genetics
Diet
Medications
Stress
Shock
Infection
Immune system
Tight Hairstyles
For example, some cancer, arthritis, depression, gout, high blood pressure, and heart medications may trigger temporary hair loss.
If you believe you are experiencing significant hair loss or feel any pain in your scalp, it is best to visit a board-certified dermatologist.
Continue below to see this young man's fantastic hair results using GASHEE Natural Hair Products.
Improving Men's Hair Health: Success After A 12+ Year Struggle
At 35 years of age, this man had suffered from hair loss for 12+ years. Some of the hair troubles that this man had included:
Patchy hair loss
Thinning hair
Scarring and inflammation of the scalp
Before using Dr.UGro GASHEE Natural Hair Products, he used Minoxidil and Finasteride for 12 years with minimal effects on his hair health. With the guidance provided by Dr. U AKA Dr.UGro GASHEE, he brought home some GASHEE Natural Hair Lotion and applied it to his scalp twice daily.
Continue below to see his incredible before and after improved men's hair health results.
Dr.UGro GASHEE Topical Lotion: Before & After Picture Results
After 5 months of using the Dr.UGro Gashee Natural Botanical Lotion, he reported several men's hair health improvements:
Decreased scarring and inflammation of the scalp
Increased hair density in areas where he applied GASHEE Lotion formulation
Increased "filling out" of his previously patchy hair loss
He reported no side effects during his 5 months using GASHEE [2].
Within 5 months of using Dr.UGro Gashee Natural Botanical Lotion, he effectively transformed his hair health – from patchy to pleasing with dramatic results. With the help of time and GASHEE's powerful array of natural hair health ingredients, this man's patchy spots had filled out beautifully.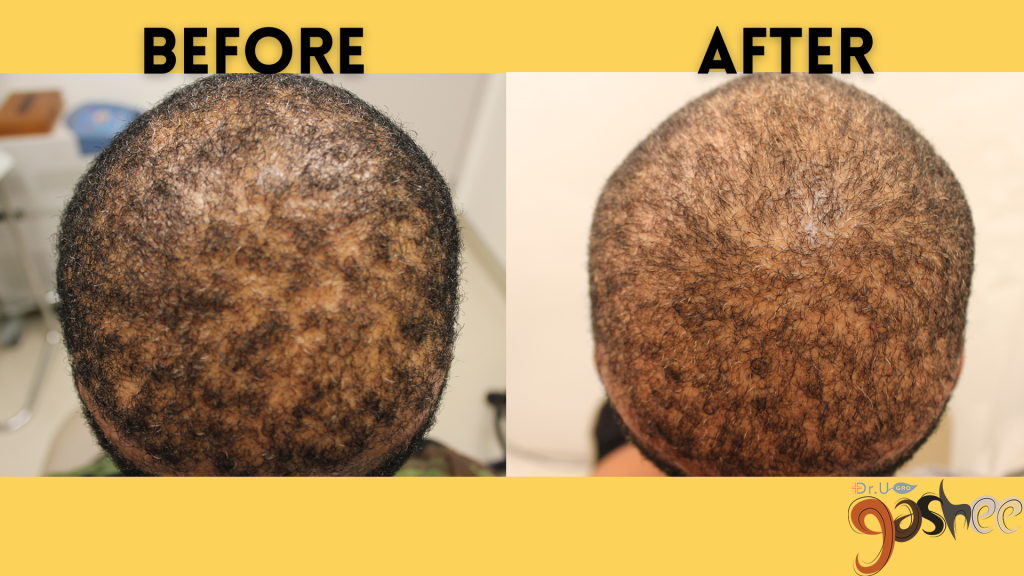 Although you can see that his hair has been cut shorter on the right "after" side, notice that his hair had filled out the bald patches that he had previously on his "before" picture on the left.
For more angles and photos of his hair transformation, see the GASHEE user video below.
Dr.UGro Gashee Topical Lotion: Before & After Video Results
Men's Hair Health Transformation: From "Patchy" to "Pleasing!"
From "patchy to pleasing," and now full of confidence!
This man had come a long way from his 12+ years of struggle with hair health. For more information regarding this specific GASHEE user, check out the GASHEE Natural Hair Lotion Topical medical study summarized and linked below.
GASHEE Natural Hair Lotion Peer-Reviewed Medical Study: Effects on Hair Health on Various Hair Loss Conditions
Dr.UGro GASHEE Natural Hair Topical Lotion has been featured in a recently published medical study. This study, published in Hindawi Journal 2021, focuses on 5 subjects, 4 women and 1 man, who all had various hair loss conditions, such as androgenetic alopecia. GASHEE Natural Hair Health Lotion was given to all 5 subjects as "sole therapy for at least 3 months" before documentation of results [2].
4 out of 5 of these subjects had previously used topical minoxidil, a popular pharmaceutical-based hair loss medication, for at least a year before the study with no success. Unfortunately, all 4 subjects reported little to no effect regarding hair health improvements and considered their minoxidil treatment a failure.
What Does The GASHEE Natural Hair Lotion Study Results Report?
The study reports that "all patients" had "significant improvements in hair regrowth" in several critical areas after 3- 15 months of GASHEE Natural Hair Lotion:
Nape
Crown
Vertex
Temple
Furthermore, all subjects reported being thoroughly "satisfied" with the hair health improvement results and reported no side effects [2]. For complete information regarding the full GASHEE Natural Topical Hair Lotion Study, visit the full journal linked above.
GASHEE Natural Hair Products: Does Natural Products Guarantee No Side Effects?
Although some may believe that "natural" products equate to no side effects – this is not true.
Natural products are produced from plants, and it is a fact that some people have specific allergies or reactions to certain plants. Therefore not everyone will be free of side effects or reactions from GASHEE Natural Hair Products. If you have an allergic reaction to any of the multiple plant ingredients found in GASHEE, it is not recommended to take GASHEE.
On the other hand, if you do not have any allergies or reactions with GASHEE Natural Hair Products, then you may find yourself experiencing a much more reduced and safer side effect profile – particularly for long-term use – as opposed to popularly used pharmaceutical drugs for hair loss – as explained further below.
How Do Side Effects Play a Role in Deciding Between Popular Pharmaceutical Drug-Based Hair Loss Medication vs. Natural Hair Health Products?
One major fallback to popular pharmaceutical-drug-based medications is their extensive list of unwanted side effects. Furthermore, the risks of these side effects may be increased due to prolonged use of said drug-based medications.
For example, Finasteride, also known as Propecia, is a popular drug-based hair loss medication for men. It is consumed as a tablet taken by mouth.
According to MayoClinic, Finasteride is known to cause a list of possible side effects such as [3]:
Chills
Cold sweats
Confusion
Dizziness
Decreased sex drive
Erectile dysfunction
Runny or stuffy nose
Sleepiness
Sneezing
Bloating
Swelling
Breast enlargement
Breast tenderness
Hives
Welts
Itching
Skin rash
Rapid weight gain
Redness of skin
Swelling of lips and face
Tingling of hands or feet
Unusual weight gain or loss
Back pain
Diarrhea
This long list of possible side effects ranges from most common on top to less common or rare on the bottom. For a complete list of Finasteride's possible side effects, visit MayoClinic's webpage on Finasteride Side Effects [3].
Invest in Your Hair Health with GASHEE Today
If you are interested in improving your hair health, try Dr.UGro Gashee Natural Hair Health Products now with the shop button below.

Other Satisfied GASHEE User Testimonials
For more happy GASHEE user testimonials and how their hair had transformed for the better after using GASHEE products, visit the articles below.
Frequently Asked Questions – Men's Hair Loss & Improving Men's Hair Health
How common is men's hair loss?
Approximately more than half of men aged 50 or older have experienced some hair loss.
By the time men reach 70, 4 out of 5 men will experience hair loss [1].
What is the most commonly found men's hair loss condition?
Male pattern baldness, also known as androgenetic alopecia, is the most common source of men's hair loss.
In androgenetic alopecia, specific genes are passed down through the family. The exact cause of hair loss from androgenetic alopecia is still being studied, but it is believed that something along the passed genes triggers hair loss.
How early can male pattern baldness or androgenetic alopecia begin?
For some men, the first signs of male pattern baldness or androgenetic alopecia can begin as early as their teens.
What are the first common signs of male pattern baldness or androgenetic alopecia for men?
The first signs of male baldness can be seen with a thinning of the hairline above the temples and crown.
What are other symptoms of male pattern baldness-related hair loss?
Other hair loss symptoms of male pattern baldness include:
Thinner hair
Softer hair
Finer hair
Shorter hair
References
Aumann M. Causes of Hair Loss in Men. WebMD. Accessed August 12, 2022. https://www.webmd.com/skin-problems-and-treatments/hair-loss/men-hair-loss-causes
Umar S, Carter MJ. A Multimodal Hair-Loss Treatment Strategy Using a New Topical Phytoactive Formulation: A Report of Five Cases. Szepietowski JC, ed. Case Reports in Dermatological Medicine. 2021;2021:1-12. doi:10.1155/2021/6659943
Finasteride (Oral Route) Side Effects – Mayo Clinic. www.mayoclinic.org. Accessed August 12, 2022. https://www.mayoclinic.org/drugs-supplements/finasteride-oral-route/side-effects/drg-20063819