Published on December 3, 2021. Last Updated on August 10, 2022.
GASHEE Hair Testimonial – Holiday Hair Stress No More: In this GASHEE Hair Testimonial, one satisfied and happy GASHEE user was able to help improve her hair health conditions using GASHEE Natural Topical Hair Lotion and GASHEE Natural Oral Hair Supplements – just in time for the holidays!
Continue below for her story and to see her unique before and after hair results.
Article Update August 2022: Is Holiday Hair Loss Real?
The holidays are supposed to be a time of joy, gift-giving, and great times! But what about holiday hair loss – is this a real thing?
Significant hair loss can happen due to stress. Although the holidays can be warm and joyful, they can lead to stress in preparation and meeting friends and family, amongst other things. As a result, too much stress can trigger a period of massive hair shedding. This type of stress-induced hair loss is known as telogen effluvium.
How to Prevent Telogen Effluvium
To prevent massive hair loss or hair shedding from telogen effluvium, it is recommended to follow these tips from WebMD [1]:
Manage your stress levels
Eat a full and healthy diet: zinc, vitamin D, protein, fatty acids, and more.
Take care of your hair gently
Continue below to see how GASHEE helped with her holiday hair stress.
Holiday-Hair Success Story: No More Bald Patches
The holidays are a great time to shine. With warm gatherings of loved ones and cheer, everyone wants to look and present their best.
In the case of this 55-year-old African American woman with a family history of hair loss, she reported that due to stress, age, and chronic use of a flat iron and hot comb for hair straightening, she had experienced hair loss symptoms such as:
Hair Thinning
Hair Shedding
Growing Bald Spots
She had been experiencing these hair loss symptoms for 5 years and has tried several drug-based pharmaceutical treatments:
Different oral nutraceuticals
Topical Minoxidil 5% foam
Clobetasol 0.05% ointment
Unfortunately, none of these treatments worked, and she was later diagnosed with a scarring alopecia condition known as central centrifugal cicatricial alopecia (CCCA).
Therefore, she discontinued all previous treatments and used GASHEE Natural Hair Lotion twice daily, with four daily capsules of GASHEE Natural Oral Hair Supplements.
After 13 weeks of Dr.UGro GASHEE Topical Hair Lotion and GASHEE Oral Hair Supplements, she improved her hair health considerably.
See her hair health results below:
GASHEE Hair Testimonial: Natural Topical Hair Lotion & Oral Hair Supplements Before & After Results
Below you can see different angles of her before and after hair health results after 13 weeks of Dr.UGro GASHEE Topical Lotion and GASHEE Oral Hair Supplements.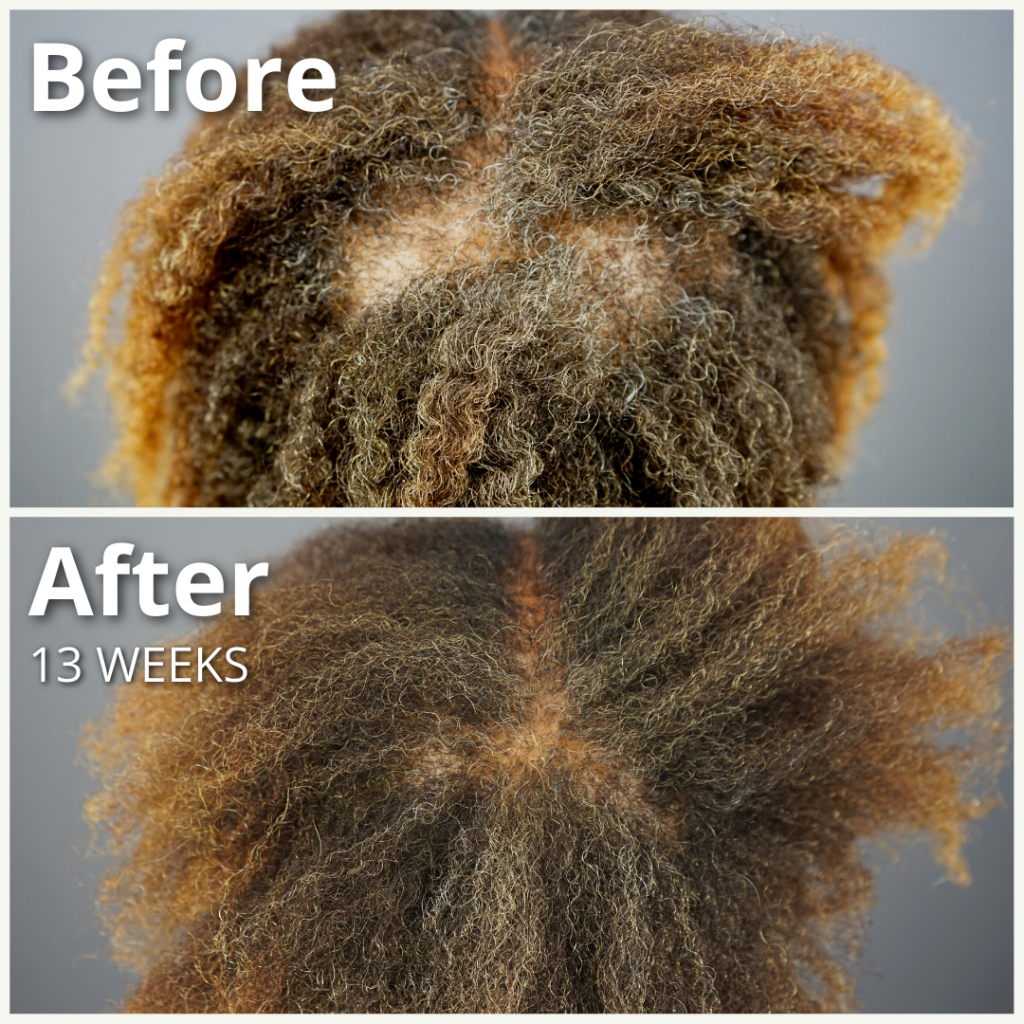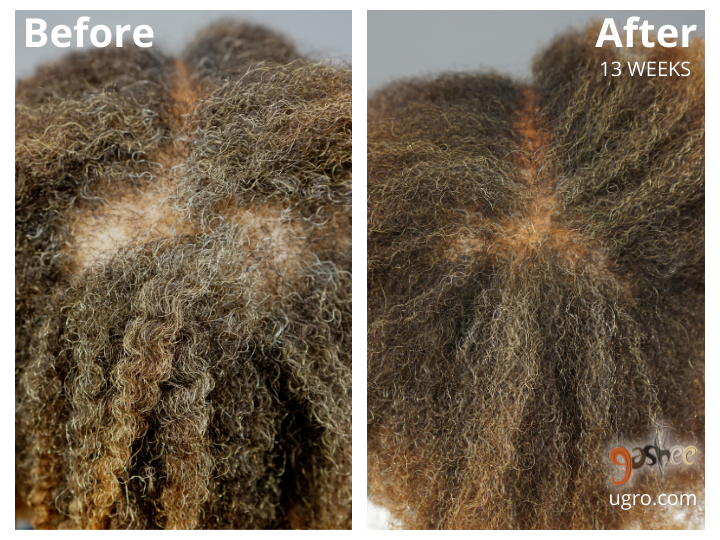 If you have had issues or frustrations with hair loss, imagine what it would feel like to have your hair returned to normal, or possibly even better than before. Hair is a natural blessing, and what we do to take care of it can have a long-lasting impact on determining how long we enjoy it.
For more before and after results of this now satisfied and happy GASHEE patient, visit the YouTube video below.
VIDEO: GASHEE Hair Testimonial Before & After Pictures: Hair Health Improvement Results
Dr.UGRO GASHEE Natural Hair Health Results – Apply a Drop or Two a Day for Better Hair Health
All she had to do to get better hair health for the holidays was to use GASHEE Natural Hair Lotion Topical applied twice daily to the scalp, combined with GASHEE Natural Oral Hair Supplements, taken twice daily.
The Difference in Results: Natural vs. Non-Natural Means
Hair health is a complex topic determined by many factors. Many products claim to improve hair health but offer little to no results.
As opposed to many hair products that do not work and may come with unwanted side effects, Dr.UGro GASHEE products, such as the Topical Hair Lotion and Oral Hair Supplement this woman used, is one way to help improve hair health naturally.
What are the advantages of natural hair products?
Natural hair products may have several advantages compared to pharmaceutical drug-based hair products.
For example, a popular hair growth medication, Minoxidil, often prescribed to treat hair loss, comes with these possible side effects:
Itching
Skin Rashing
Acne
Inflammation
As stated by MayoClinic, there are possibly more unwanted side effects of Minoxidil recorded. For a complete list, visit MayoClinic's side effects of Minoxidil information page here [2].
Although some of these side effects may be rarer than others, there is a higher chance of adverse side effects appearing with prolonged use of pharmaceutical-based drugs.
This can be a significant issue for some hair loss conditions; some are chronic, long-term, or lifelong.
Therefore, there is a growing need for effective hair products that can be used continuously without the side effects commonly found from prolonged use of pharmaceutical-based drugs.
If you are not allergic to the plant ingredients found within GASHEE, one advantage of it is that it can be used continuously, with no added risk of side effects due to prolonged use.
Does natural hair product mean free of side effects?
Although most people will react less to a natural product, some individuals may experience side effects or reactions from natural products.
Everybody is unique, and many people may have certain allergies to specific plants found within GASHEE's natural ingredients.
If this is the case, GASHEE may not be the right choice.
On the other hand, if you do not have any plant allergies to any of the GASHEE ingredients, GASHEE may be preferable.
Suppose you do not have any reactions or allergies to GASHEE and its ingredients. In that case, GASHEE's natural ingredients will allow the user to continuously take GASHEE as long as needed, for whatever hair condition that needs to be managed.
For more information regarding GASHEE, its ingredients, and medically-reviewed reports on its effectiveness for hair health and various hair loss conditions, be sure to visit the recently published peer-review medical study on Dr.UGro GASHEE Topical Lotion linked and summarized below.
Dr. Sanusi Umar Peer Review Study: Hair Health Effects of GASHEE Topical Lotion
Dr.UGro Gashee's Natural Topical Lotion for hair health has been studied and reviewed for its beneficial hair health improvement effects for several hair loss patients with various hair loss conditions such as androgenetic alopecia. The study revolved around 5 patients, 1 man, and 4 women. 4 out of 5 subjects within the study had previously used topical Minoxidil, an over-the-counter popular FDA-approved medication for hair loss, for at least a year with little to no results in terms of hair health.
All patients in the study used GASHEE Natural Hair Lotion exclusively during the study period.
What Does the GASHEE Hair Lotion Study Say?
The study, published in Hindawi Medical Journal, 2021, reported that "significant improvements in hair regrowth in the nape, crown, vertex, and temple areas" were observed, "after 3 – 15 months of treatment [3]."
The study reported that "all patients were delighted with their results and reported no adverse events [or side effects from GASHEE Natural Hair Lotion [3]."
Finally, the study concluded that "the new formulation used in this study demonstrated a good efficacy related to hair growth, warranting further evaluation [3]."
GASHEE Central Centrifugal Cicatricial Alopecia Study
This GASHEE user was also featured in a recently published peer-reviewed medical journal detailing the effects of GASHEE Natural Hair Products for central centrifugal cicatricial alopecia (CCCA). Archived in the National Library of Medicine in 2022, view the full GASHEE Central Centrifugal Cicatricial Alopecia peer-reviewed medical journal here [4].
A Final Note: What Makes GASHEE Unique?
The natural, whole-plant ingredients in GASHEE are derived from a unique, heat-free processing method invented and developed by Dr. Umar, inventor of GASHEE.
This new method allows processing whole-plant ingredients without destroying essential hair health compounds generally lost through heat processing.
Heat processing is one of the most common ways many natural health and hair products distill and process their natural ingredients. Yet doing so may destabilize or deactivate the heat-sensitive phytochemicals and fragile connections between plant compounds and, as a result, may not deliver the optimal hair-improvement capabilities of those ingredients.
This is precisely the problem that GASHEE is created to solve.
GASHEE's unique heat-free processing methods retain the full power of active plant compounds, delivering a much more comprehensive and effective hair health improvement.
GASHEE also uses whole plant extracts instead of plants' isolated compounds.
As stated in the study, "there is evidence suggesting that at comparable doses and concentrations, industrially isolated [or extracted] compounds do not have as much activity as the unrefined plant due to the absence of interacting substances present in the extract."
2 Ways GASHEE is Different than the Rest
In summary, GASHEE natural hair products utilize a new, unique, and proprietary heat-free processing method that allows GASHEE products to retain their optimal plant compound structure for hair health improvement.
In addition, the natural ingredients used in GASHEE are derived from whole plant extracts to retain as many of its beneficial hair health compounds as possible.
For more information regarding this, please review the published GASHEE Natural Hair Lotion peer-reviewed medical study linked above.
Experience Your Best Hair Day Now with GASHEE!
If you want to experience the relief and satisfaction of having your best hair day again through natural and non-surgical means, try Dr.UGro GASHEE Products with the shop now button below.

Other Satisfied GASHEE User Testimonials
For more happy GASHEE user testimonials and hair growth results, and to see how their hair had transformed for the better after using GASHEE products, visit the articles below.
Holiday Hair Loss & Telogen Effluvium Frequently Asked Questions (FAQ)
What are the known causes of Telogen Effluvium?
Multiple factors are known to trigger telogen effluvium, such as: possibly
Stress
Diet
Medications
Autoimmune conditions
Postpartum
Chronic illness
What are some medications that may be linked to telogen effluvium?
Telogen effluvium is one of the most common types of drug-induced hair loss, as reported by WebMD [5]. Medications that can cause telogen effluvium to include:
Oral contraceptives
Androgens
Retinoids
Beta-blockers
ACE inhibitors
Anticonvulsants
Antidepressants
Anticoagulants
What are some key nutrients essential for hair growth?
The body requires ongoing nutrition and fuel not just to live but also to grow hair. Some of the most important nutrients for hair growth include:
Protein
Essential fatty acids
Iron
Vitamin D
Biotin
This is why some people diagnosed with a vitamin D deficiency or who eat a poor diet should first look at improving their diet to help with hair loss conditions.
References
How To Prevent Telogen Effluvium: 3 Tips From Experts. WebMD. Accessed August 10, 2022. https://www.webmd.com/connect-to-care/hair-loss/how-to-prevent-telogen-effluvium-according-to-experts#:~:text=Take%20Care%20of%20Your%20Hair&text=According%20to%20Grant%2C%20hair%20follicles
Mayoclinic.org. 2021. Minoxidil (Topical Route) Side Effects – Mayo Clinic. [online] Available at: <https://www.mayoclinic.org/drugs-supplements/minoxidil-topical-route/side-effects/drg-20068750?p=1> [Accessed 3 December 2021].
Umar, S. and Carter, M., 2021. A Multimodal Hair-Loss Treatment Strategy Using a New Topical Phytoactive Formulation: A Report of Five Cases.
Umar S, Kan P, Carter MJ, Shitabata P. Treatment-Refractory Central Centrifugal Cicatricial Alopecia Responsive to a Novel Botanical Treatment. Clinical, Cosmetic and Investigational Dermatology. 2022;15:609-619. doi:10.2147/CCID.S358618‌
What Causes Telogen Effluvium? WebMD. Accessed August 10, 2022. https://www.webmd.com/connect-to-care/hair-loss/what-causes-telogen-effluvium