Published on December 1, 2021. Last Updated on December 3, 2021.
GASHEE Topical Before & After Results: From Patchy to Pleasing!
This man had a mission. He came to Dr.U's office from a trusted friend who had recommended him Dr.UGro's Gashee Hair Care Products, after trying it out with great success himself. Continue below to read more of this happy patient's Gashee Topical Patient Testimonial.
Some of the hair troubles that this man had wanted to fix with his hair included:
Patchy Hair
Thinning Hair
Dr.UGro Gashee Topical Lotion: Before & After Picture Results
Within 5 months of using Dr.UGro Gashee Natural Botanical Lotion, he was able to effectively regrow his hair health – to go from patchy to pleasing with dramatic results. With the help of time and these natural ingredients, this man's patchy spots had begun to grow back and filled out beautifully.
For a more complete look at this satisfied and happy Gashee user's hair transformation, see the before and after picture results and before and after video results of the user below.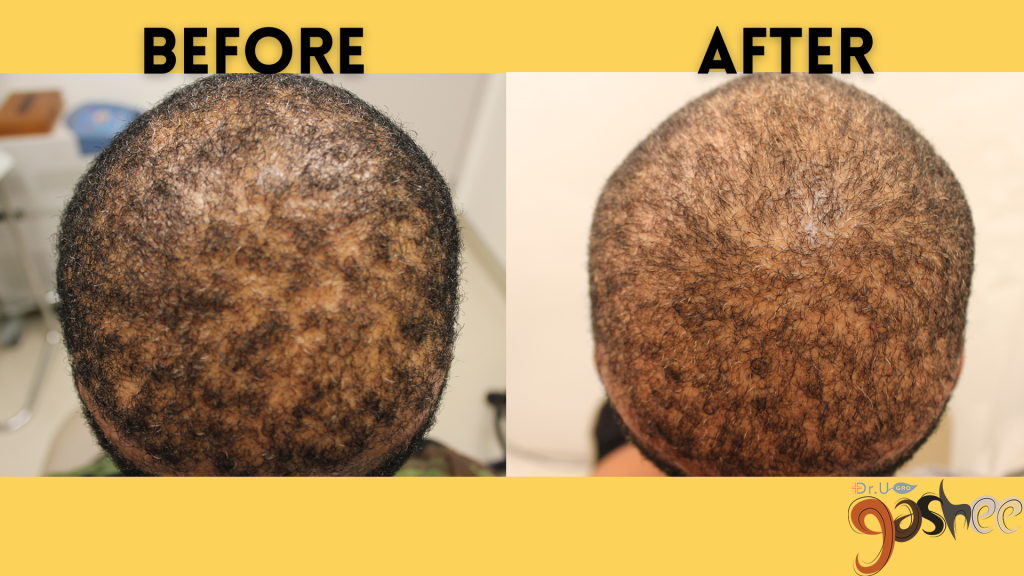 Although you can see that the Gashee Topical Lotion user's hair has been cut shorter on the right hand "after" side, notice that his hair had filled out the bald patches that he had previously on his "before" picture found on the left-hand side.
Dr.UGro Gashee Topical Lotion: Before & After Video Results
From "patchy to pleasing," and now to full of confidence!
If you are interested in thickening or filling out your hair, take a look at Dr.UGro Gashee Natural Hair Health Products now to see what nature's solution can do for your hair.

Dr. Sanusi Umar Peer Review Study: Hair Growth Effects of GASHEE Topical Lotion
Did you know that Dr.UGro Gashee's Natural Topical Lotion for hair health has been studied and reviewed successfully for its beneficial hair growth effects?
In 2021, this hair growth study was published in Hindawi Medical Journal. For more information regarding the statistical facts and evidence of Dr.UGro Gashee Topical Lotion, continue to the link here.
Other Satisfied GASHEE User Testimonials
For more happy GASHEE user testimonials, and to see how their hair had transformed for the better after using GASHEE products, visit the articles below.