Published on December 3, 2021. Last Updated on August 9, 2022.
Even Doctors Can Have Hair Problems: In the case of this GASHEE user, this doctor had reported signs of minor hair loss in her roots and thinning in some areas. Yet, with the help of Dr. UGro GASHEE Topical Lotion, she was able to achieve natural hair health improvements with significant results in her hair roots, hair length, hair density, and more. Continue below to find the before and after picture results of her natural hair growth.
Article Update August 2022: What are some factors of female androgenetic alopecia?
Although the factors of female androgenetic alopecia are still being studied, genetics plays a significant role in women's risk of androgenetic alopecia. You may have a high chance of inheriting Female AGA if you have a family history.
Other possible factors related to female androgenetic alopecia include:
Abnormal levels of androgens in the blood
Heavy loss of blood during menstrual periods
Certain medications such as estrogenic oral contraceptive
Aging
Dr. UGro GASHEE: Natural Topical Lotion Before & After Hair Results
Below you can see a clear before and after picture of natural hair improvements this doctor obtained using Dr. UGro GASHEE Natural Botanical Hair Lotion for improved hair health. Notice how her hair had thickened and filled in the middle and the improved hair length she obtained.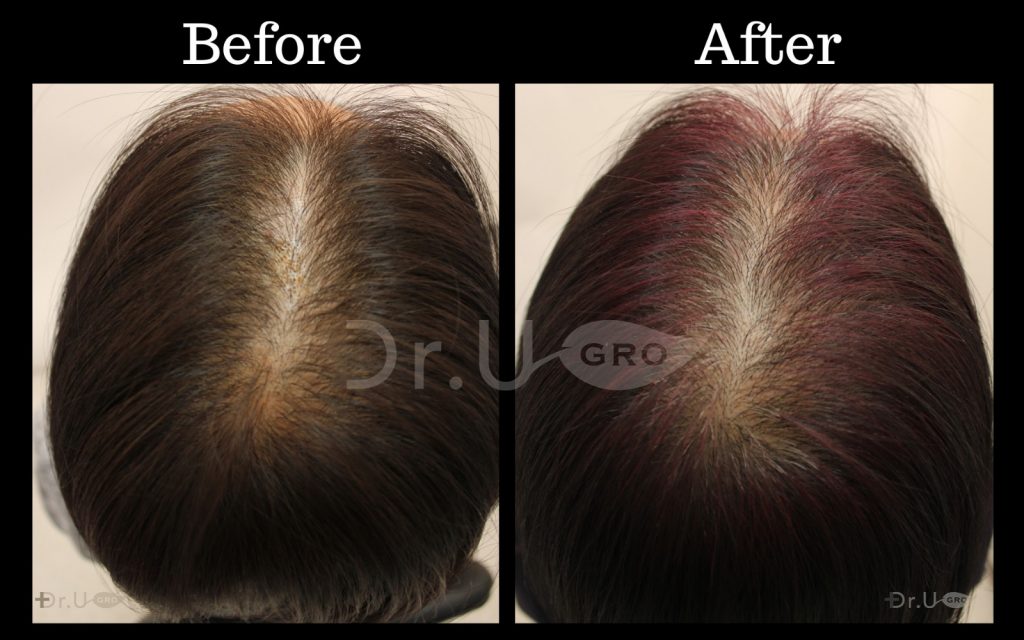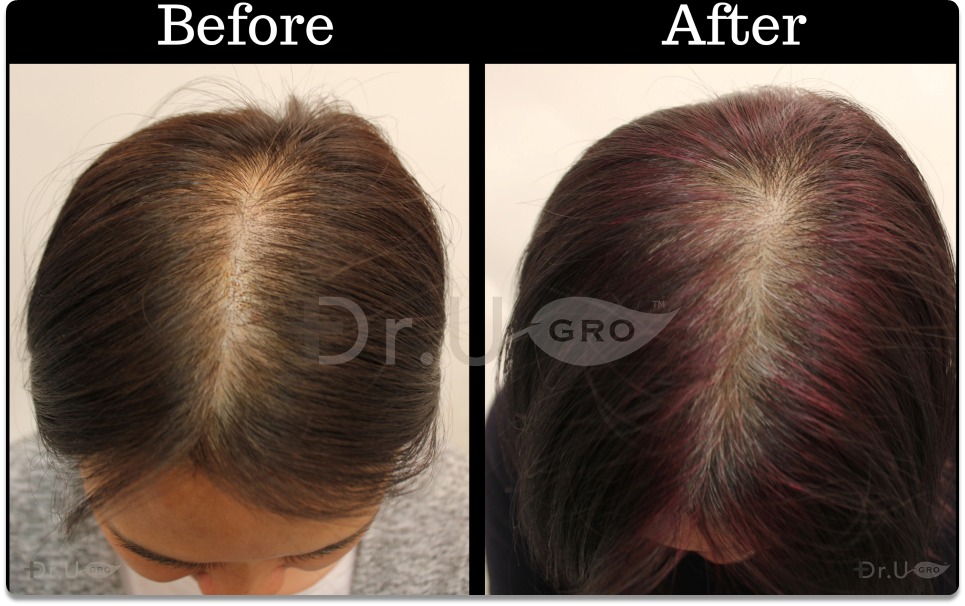 Dr. UGro GASHEE Topical Hair Lotion has succeeded where other hair health products failed. Just ask this now; happy doctor!
More information regarding GASHEE, its unique whole plant ingredients, its unique processing method, and the power of its whole-plant compounds can be seen in this published, peer-reviewed medical journal featuring GASHEE Natural Hair Lotion Topical in terms of its effects on hair health improvement and hair growth for various hair loss patients [1].
Natural vs. Non-Natural in Terms of Side Effects: What Does it Imply?
Although some may believe that natural products will always be better than non-natural products, it is not as clear-cut as it seems.
Although FDA-approved hair loss medications such as Minoxidil exist, there have been many user reports of ineffectiveness, as well as possible unwanted side effects [2]:
Itching
Skin Rashing
Acne
Inflammation
As stated by MayoClinic, there are possibly more unwanted side effects of Minoxidil that have been recorded.
Another point to consider is that the risk of these side effects can drastically increase with continued use – a significant problem to deal with as many hair loss conditions are chronic and require long-term treatment.
Side Effects: Does GASHEE's Natural Ingredients Guarantee No Side Effects?
Although the 2021 GASHEE Lotion Hindawi Medical Journal reported that all 5 GASHEE Patients reported no side or adverse effects from using GASHEE Natural Hair Lotion, it does not mean that all GASHEE Natural Hair Products are free of side effects for every user.
Many people may react to specific plants, and many whole-plant ingredients are found in GASHEE. Plants have had a long history in medicine and toxins and have been used for both. It is common to expect that not everyone will be compatible with the ingredients found in GASHEE Natural Hair Products.
Yet, suppose you do not have any reactions to GASHEE's ingredients. In that case, GASHEE's natural ingredients open the possibility of long-term use of GASHEE to help improve hair health for the long term.
Due to the biocompatibility of natural ingredients with the human body, consistent use of GASHEE – if you do not have any reactions to GASHEE's ingredients – can be much more preferable than the side effect profiles of pharmaceutical-based hair loss medications such as Minoxidil that may have an increased risk of side effects, particularly for long-term use.
It is recommended to talk with your doctor or dermatologist before trying a new supplement, medication, or topical medication.
More Information Regarding Dr.UGro AKA Dr. Sanusi Umar
For more information regarding Dr.U, visit his page to see a published list of his medical journals.
Dr. Sanusi Umar Medical Journals on Google Scholar.
Published Peer-Review Medical Journal on Dr.UGro GASHEE Topical Lotion.
Formed From Mother Nature – Simple and Easy to Use for Improved Natural Hair Health
Hair loss eventually affects a large majority of the population, both men and women.
Even if you are not experiencing significant hair loss symptoms, understand that hair loss is often a continuous process that worsens with age and other factors such as time and environment.
To keep most of your hair at its best, it is essential to minimize these hair loss factors through natural means such as Dr. UGro GASHEE Hair Lotion or other GASHEE products as early as possible. Shop now with the button below to grow your roots with GASHEE!

Other Satisfied GASHEE User Testimonials
For more happy GASHEE user testimonials and hair growth results, and to see how their hair had transformed for the better after using GASHEE products, visit the articles below.
Frequently Asked Questions – Androgenetic Alopecia Hair Loss FAQ
How fast does androgenetic alopecia hair loss progress?
According to Dermnet NZ, many men or women with androgenetic alopecia have reported that it is not uncommon to have rapid phases of hair loss for 3 – 6 month periods, followed by periods of stable hair loss lasting 6 – 18 months [3].
If androgenetic alopecia goes untreated, hair loss tends to worsen over time.
It is not uncommon to have accelerated phases of hair loss for 3–6 months, followed by periods of stability lasting 6–18 months. Without medication, it tends to progress in severity over the next few decades of life.
Is it common for androgenetic alopecia for women or female pattern baldness patients to experience complete balding?
Unlike androgenetic alopecia for men, also known as male-pattern baldness, female-pattern baldness does not regularly result in complete baldness.
Fortunately for women, a woman's hairline rarely recedes, and women rarely become bald, but significant hair thinning and hair loss may be expected.
What are women's first signs of female pattern baldness or androgenetic alopecia?
Female androgenetic alopecia begins with gradual thinning at the part line, followed by increasing hair loss radiating from the top of the head.
References
Umar, S. and Carter, M., 2021. A Multimodal Hair-Loss Treatment Strategy Using a New Topical Phytoactive Formulation: A Report of Five Cases.
Mayoclinic.org. 2021. Minoxidil (Topical Route) Side Effects – Mayo Clinic. [online] Available at: <https://www.mayoclinic.org/drugs-supplements/minoxidil-topical-route/side-effects/drg-20068750?p=1> [Accessed 3 December 2021].
Female pattern hair loss | DermNet NZ. dermnetnz.org. https://dermnetnz.org/topics/female-pattern-hair-loss