Published on December 8, 2021. Last Updated on December 8, 2021.
GASHEE Hair Growth Results: Amazing 7 Month Natural Hair Growth Journey
Stop Women's Hair Loss: Hair is a significant part of our identity, and sometimes our self-worth. Hair is what makes us special. If you happen to experience hair loss, no matter the severity, do not lose hope. No matter if you are a man or a woman, it can be a hard hit to your self-confidence and self-worth to see yourself with thinning hair or lost hair, but there has been a new and natural solution to hair loss or alopecia that may give you the hair results you are looking for, that specifically other products may not be able to provide. Continue below to see the natural hair growth results of this happy and satisfied GASHEE user, as well as how these hair health products have helped her achieve fast natural hair growth – in 7 months' time.
A Possible Solution for Hair Loss
Using a specially formulated combination of natural and plant-based ingredients, Dr.UGro GASHEE Hair Care Products has had amazing results in terms of hair growth and even hair restoration – for many different hair types and hair conditions of alopecia.
Meet One Nurse's Powerful Story of Hair Restoration
This woman has struggled with hair loss, hair thinning, and hair falling, for about a year before she came into Dr.U's office for a hair consultation, and used GASHEE Products to great effect towards her hair growth.
Hair Loss Symptoms She Had to Deal With:
Hair Loss
Hair Thinning
Hair Falling
Bald Patches
Before she met Dr.U or tried any of his GASHEE Products, this woman reported that she spent a whole year, looking and trying hair health or hair growth solutions that have not worked.
Now, as one of many satisfied and happy GASHEE users, who used the GASHEE Botanical Topical Lotion and GASHEE Natural Oral Hair Supplements to great effect, she has plenty of things to say regarding her experience with GASHEE!
After 7 months of use, she reports that she felt completely "wonderful, happy, because my hair had stopped falling."

"I have this bald area – and now [after using GASHEE Hair Products] hair is coming out!"

"This product does help – I'm very happy and I do recommend it."

"Before I was getting depressed because my hair would fall out so much."

"I am very happy with this product!"
See her amazing 7-month natural hair restoration and hair growth results below, and see what she has to say about her transformative experience.
Before and After Picture Results: GASHEE Topical Lotion & GASHEE Natural Oral Hair Supplements for Improved Hair Health, Hair Growth
Below you can find a clear before and after picture of the natural hair growth results this woman was able to obtain using Dr.UGro GASHEE Natural Topical Lotion and GASHEE Natural Oral Hair Supplements.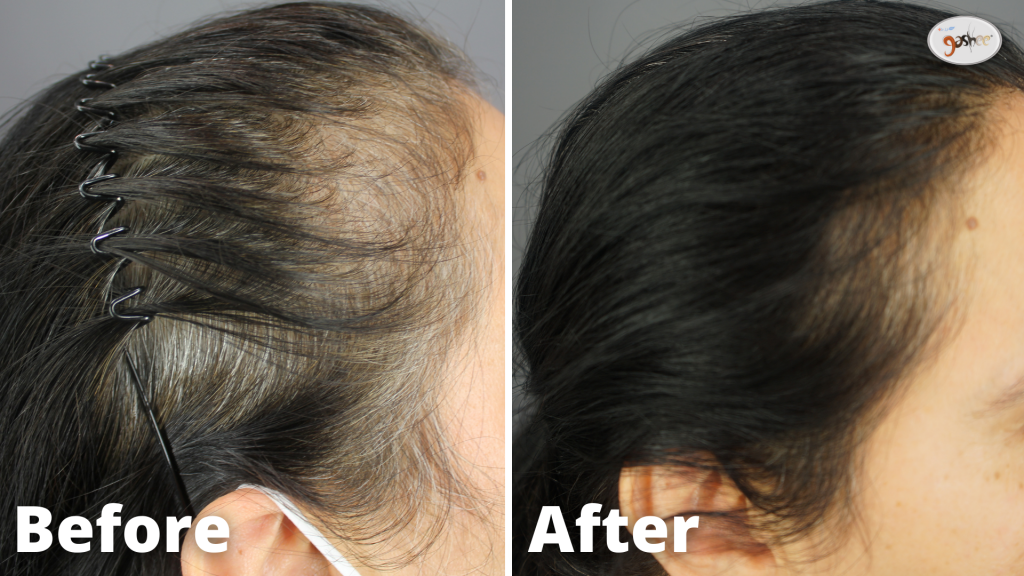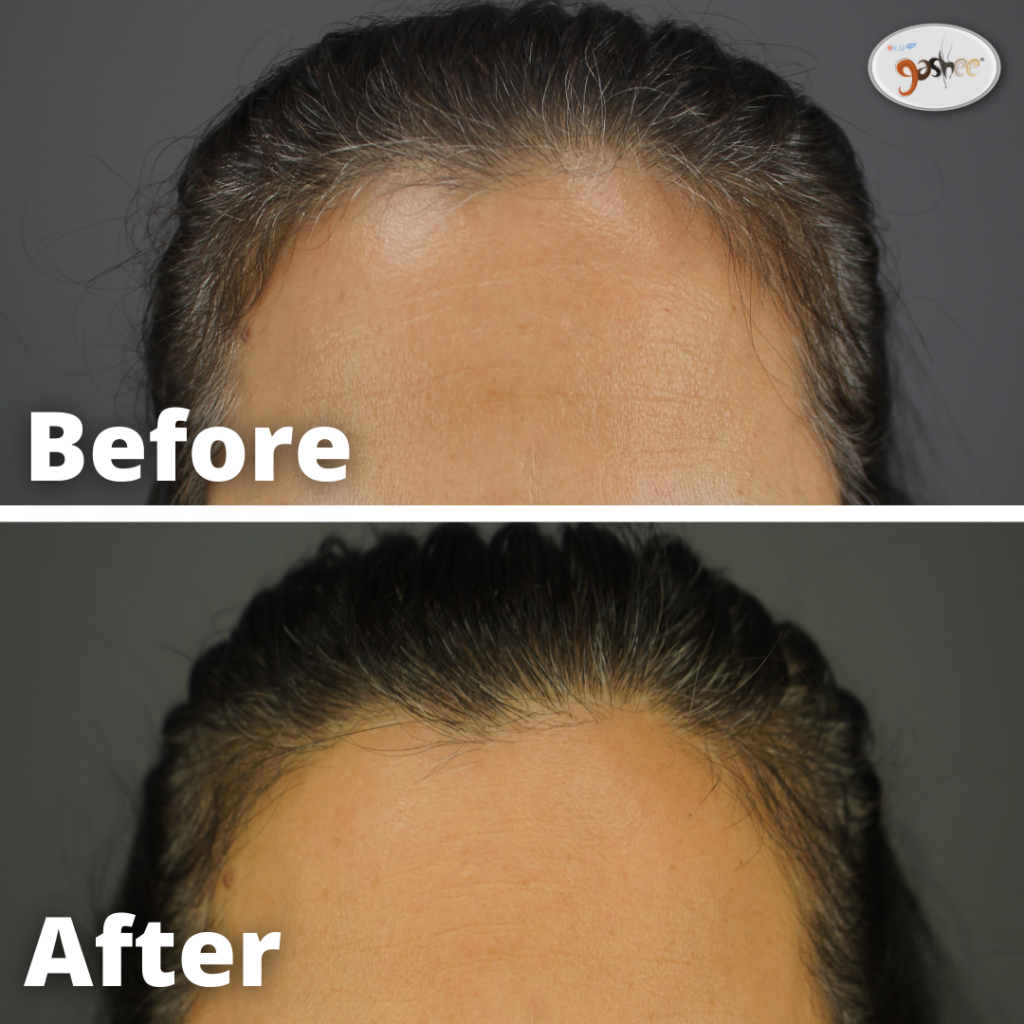 After 7 months of use, this woman was able to regrow thinning hair all along and on her scalp. Notice how her gray hairs had naturally reversed into her darker, natural hair color. All this now satisfied GASHEE user had to do was use the GASHEE Topical Lotion applied on the scalp once or twice a day, and take 4 capsules of GASHEE Natural Oral Hair Supplement daily.
VIDEO: GASHEE Before and After Natural Hair Growth Results
Below you can also find a YouTube video with more before and after picture results of Dr.UGro GASHEE Topical Lotion and GASHEE Natural Oral Hair Supplement for women's hair loss – with additional angles and sides included.
Notice how her hair had filled out where it was previously lost, falling, or thinning, and how some of the graying she had was able to reverse into her natural, darker hair color.
Consult With Someone Who Knows Exactly What You Are Going Through
When asked regarding her experience with Dr.U Hair & Skin Clinic, as well as Dr. Umar himself, she states that "Dr. Umar has been very helpful, and he has answered all of my questions regarding hair health."
This satisfied woman was so happy regarding her hair restoration and hair transformation, that she had plenty more to say about GASHEE Hair Products:
"I do recommend this product."

"If [anyone] things that they have this problem [hair loss], just try it – it works!"

"I do recommend this GASHEE natural treatment for hair health, and I do recommend this clinic. It was a bit far for me but it was worth the drive!"

"The [GASHEE] pills and lotion has helped a lot."
For her, it took about 1 month of continuous use of Dr.UGro GASHEE Natural Hair Lotion and Natural Oral Hair Supplements daily for her to see significant results for her hair. The before and after results shown in pictures and videos show the total, 7-month progress of hair growth that she experienced while using only Dr.UGro GASHEE Products.
Now she reports that:
"I'm very happy that my hair's not falling."

"Just come and visit Dr. U – you will be very happy!"
WHY GASHEE: The Natural Difference & Results as Clear as Night and Day
Due to GASHEE's natural ingredients, GASHEE Products are able to provide optimal or near-maximum hair growth where other hair products could not.
Although there are other hair growth products available in the market such as Minoxidil, Rogaine, or Finaestride, GASHEE is different in the sense that GASHEE Products are full of natural and plant-based botanical ingredients, which are natural and easier for the human body to digest.
This is why GASHEE products can often deliver the same results of hair growth, in a healthier and smoother way that does not come with the many side effects that often come with chemical-based hair growth products such as Minoxidil, Rogaine, or Finasteride.
For more information regarding these differences, be sure to visit the information below detailing a peer-reviewed medical journal based on GASHEE Topical Lotion, conducted by Dr.UGro GASHEE AKA Dr. Sanusi Umar and his peers.
Dr. Sanusi Umar Peer Review Study: Hair Growth Effects of GASHEE Topical Lotion
Particularly, Dr.UGro Gashee's Natural Topical Lotion for hair health has been studied and reviewed successfully for its beneficial hair growth effects compared to topical over-the-counter alternatives such as Minoxidil.
In 2021, this hair growth study was published in Hindawi Medical Journal. In the study, Dr.UGro's Gashee Topical Lotion had reportedly helped subjects grow hair at an equal or greater rate in terms of length, volume, density, and thickness compared to Minoxidil, a pharmaceutical-grade hair growth drug, albeit without the many unwanted side effects that may possibly appear with Minoxidil.
Due to Dr.UGro Gashee Topical Lotion's natural, botanical ingredients, subjects reported far fewer side effects than Minoxidil. For more information regarding the statistical facts and evidence of Dr.UGro Gashee Topical Lotion, continue to the link here.
More Information Regarding Dr.UGro AKA Dr. Sanusi Umar: Over 25+ Years of Hair Restoration Expertise
For more information regarding Dr.U, visit his page here to see a published list of his medical journals.
Dr. Sanusi Umar Medical Journals on Google Scholar.
Save Your Hair Health Today for Better Hair & Renewed Confidence Tomorrow
Our hair matters. It provides a statement, even before we speak.
If you would like to experience the relief and satisfaction of having your best hair day again, through natural and non-surgical means, be sure to try Dr.UGro GASHEE Products with the shop now button below to see how nature and modern science can help you succeed with confidence in happy, healthy hair.

Other Satisfied GASHEE User Testimonials
For more happy GASHEE user testimonials and hair growth results, and to see how their hair had transformed for the better after using GASHEE products, visit the new articles and videos below.
References
Umar, S. and Carter, M., 2021. A Multimodal Hair-Loss Treatment Strategy Using a New Topical Phytoactive Formulation: A Report of Five Cases.