Published on December 22, 2021. Last Updated on December 22, 2021.
Restored Edges in 6 Weeks
Quick Natural Hair Growth Results: If you have had to deal with hair loss or the frustrations of having hair loss, you may be familiar with searching for these terms: fast natural hair growth, fast natural hair growth products, how to increase hair growth fast naturally, or natural fast hair growth secrets.
Perhaps you have been losing hair along your edges, or have growing bald spots that you wanted to take care of immediately. Fortunately, there is a natural solution available.
The Secret Lies in GASHEE's Natural Hair Health Ingredients: There are many hair products or hair growth products that claim to help with hair growth, but if you have had extensive experience trying many of these products, you will find that these products often do not deliver the hair growth results promised or expected.
With Dr.UGro GASHEE Natural Hair Products formulated by Dr. Sanusi Umar, many GASHEE users have reported hair growth results and satisfaction that they could not attain using other hair growth methods or improved hair growth products.
6 Weeks Was All It Took: For this one remarkable GASHEE user, she had reported fast hair growth, even by GASHEE standards.
Before using Dr.UGro GASHEE Hair Products, this woman was having hair loss issues, in particular with her edges. In summary the hair loss or alopecia problems that this woman had to deal with include:
Receding Edges
Hairline Recession
Hair Thinning
Hair Falling
Hair Loss
Yet in 6 weeks' time, this GASHEE user was able to help regrow and restore her edges, through the natural ingredients formulated within GASHEE Products.
The following before and after picture results of her 6-weeks GASHEE Hair Growth can be seen below.
Before and After Results: GASHEE Natural Oral Hair Supplements & Topical Lotion for Improved Hair Growth & Hair Health
Below you can find a clear before and after picture of the natural hair growth results this woman was able to obtain using Dr.UGro GASHEE Natural Hair Products after 6 weeks of consistent use.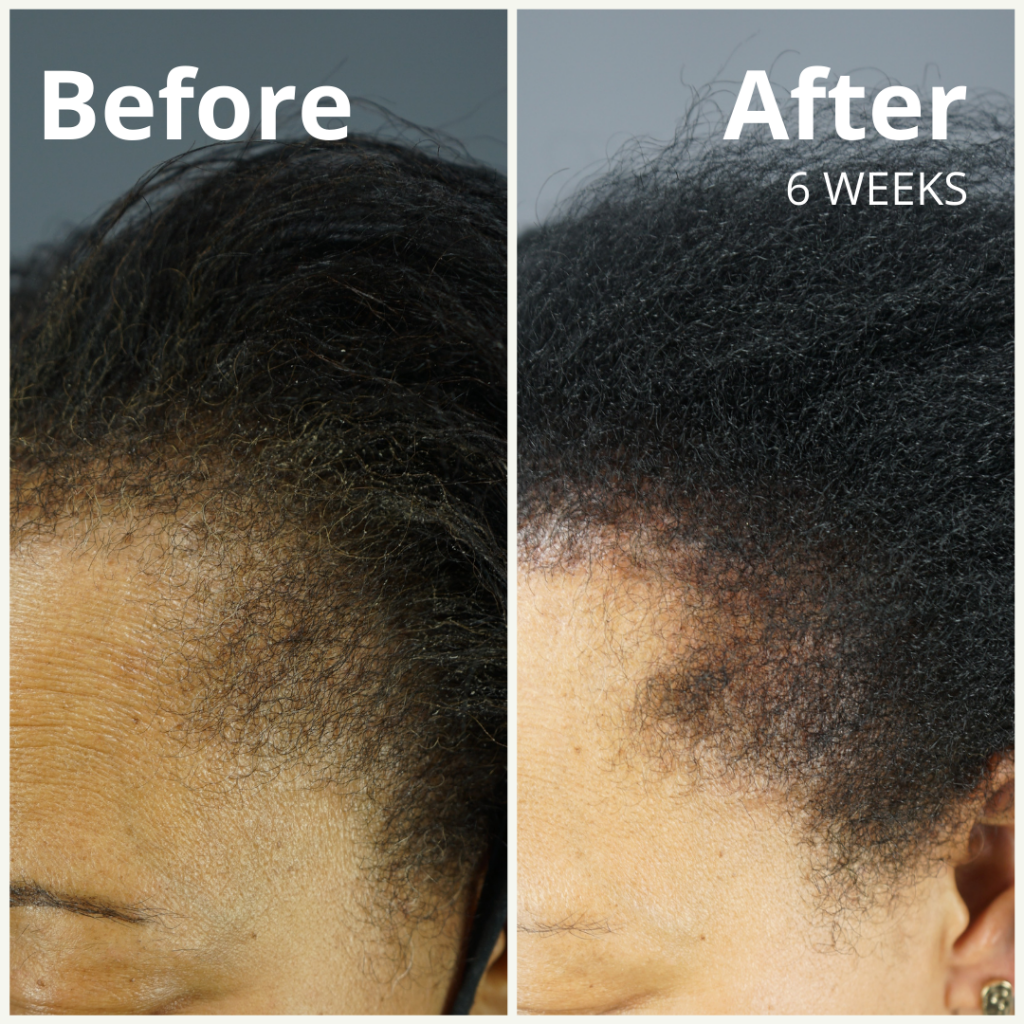 In order to attain the maximal hair health improvement or hair growth results from GASHEE Hair Products, it is best to continue to use GASHEE Products for a few months consistently.
Due to the natural ingredients and formulations that make up GASHEE Hair Products, you can think of using GASHEE Hair Products as a natural way of supplementing your body with important foods, natural extracts, vitamins, and minerals that your hair needs for nutrition, and to grow.
If you are serious about your hair health – whether you are trying to improve your hair health – or perhaps you are already happy with your hair but are looking forward to the future to help preserve the natural beauty of your hair, GASHEE Hair Health Products can help you achieve your hair goals and elevate your hair health by filling in key nutrients that you may be missing as part of your regular diet.
For a better view of the hair growth results this one woman was able to attain using GASHEE, please find the before and after hair growth video results below.
VIDEO: GASHEE Before & After Women's Afro-Textured Fast Natural Hair Growth Results
The Story Behind GASHEE's Success
As part of the modern boom of the internet and the information age, it comes as no surprise to those who are interested in health and beauty, in those who search and research health and beauty products, that health or beauty products endorsed by large pharmaceutical companies may contain chemically-derived or chemically-formulated ingredients that may not be the best for your overall health, especially with the long-term view in mind.
As part of the modern enlightenment and growing movement towards better health products and more natural, healthy ingredients, Dr.UGro GASHEE, also known as Dr. U or Dr. Sanusi Umar, has taken charge and condensed his 25+ years of experience as a double-licensed dermatologist and renowned expert in hair health, hair restoration, and hair transplant surgery to combine nearly all the best ingredients – proven by modern science – to help aid hair health and hair growth.
Visit here to see GASHEE's Full Natural Ingredients List to see all the natural ingredients that go into improving your hair health.
Additionally, GASHEE Topical Lotion has been studied in a peer-reviewed medical journal by Dr. Sanusi Umar and his peers.
Dr. Sanusi Umar Peer Review Study: Hair Growth Effects of GASHEE Topical Lotion
In 2021, Dr.UGro Gashee's Natural Topical Lotion for hair health has been studied and reviewed successfully for its beneficial hair growth effects compared to topical over-the-counter alternatives such as Minoxidil.
In this hair growth study published in Hindawi Medical Journal, Dr.UGro's Gashee Topical Lotion had reportedly helped subjects grow hair at an equal or greater rate in terms of length, volume, density, and thickness compared to Minoxidil, a popular pharmaceutical-grade hair growth drug, also known as Rogaine, without the many unwanted side effects that may possibly appear with Minoxidil.
Due to Dr.UGro Gashee Topical Lotion's natural, botanical ingredients, subjects reported far fewer side effects than Minoxidil. For more information regarding the statistical facts and evidence of Dr.UGro Gashee Topical Lotion, continue to the link here.
More Information Regarding Dr.UGro AKA Dr. Sanusi Umar: Over 25+ Years of Hair Restoration Expertise
For more information regarding Dr.U, visit his page here to see a published list of his medical journals.
Dr. Sanusi Umar Medical Journals on Google Scholar.
Save Your Hair's Natural Beauty With GASHEE
Our hair matters. It provides a statement, even before we speak. There are many natural hair growth products available, but GASHEE's natural solution has provided many of those struggling with hair health attain or recover their hair confidence, with plenty of satisfied reports to show for it.
If you would like to experience the relief and satisfaction of having your best hair day again, through natural and non-surgical means, be sure to try Dr.UGro GASHEE Products with the shop now button below to see how nature and modern science can help you succeed with confident, happy, healthy hair.

Other Satisfied GASHEE User Testimonials
For more happy GASHEE user testimonials and hair growth results, and to see how their hair had transformed for the better after using GASHEE products, visit the new articles and videos below.
References
Umar, S. and Carter, M., 2021. A Multimodal Hair-Loss Treatment Strategy Using a New Topical Phytoactive Formulation: A Report of Five Cases.