Published on December 22, 2021. Last Updated on August 4, 2022.
What are Natural Hair Edges: Edges are those soft, wispy baby hairs that grow along the hairline. Besides being delicate, they also help frame the face, adding to our natural beauty [1].
Article Update August 2022
Falling Natural Hair Edges: Due to their delicate nature, these edges are sometimes one of the first hairs that fall during periods of hair loss caused by stress or other factors. Perhaps you have been losing hair along your edges and other areas of your scalp. This is the exact situation that one of our happy GASHEE users described before trying GASHEE.
6 Weeks Was All It Took: Before using Dr.UGro GASHEE Hair Products, this woman reported hair loss issues such as:
Receding Edges
Hairline Recession
Hair Thinning
Hair Falling
Hair Loss
It was her fading edges that made her worry the most.
Continue below to see her hair health improvement results after 6 weeks of using GASHEE Natural Oral Hair Supplements and GASHEE Natural Topical Hair Lotion.
Before & After Results: Denser, Stronger Natural Hair Edges
Below you can find clear before and after results of her natural hair health: note the improved hair density and thickening of her edges.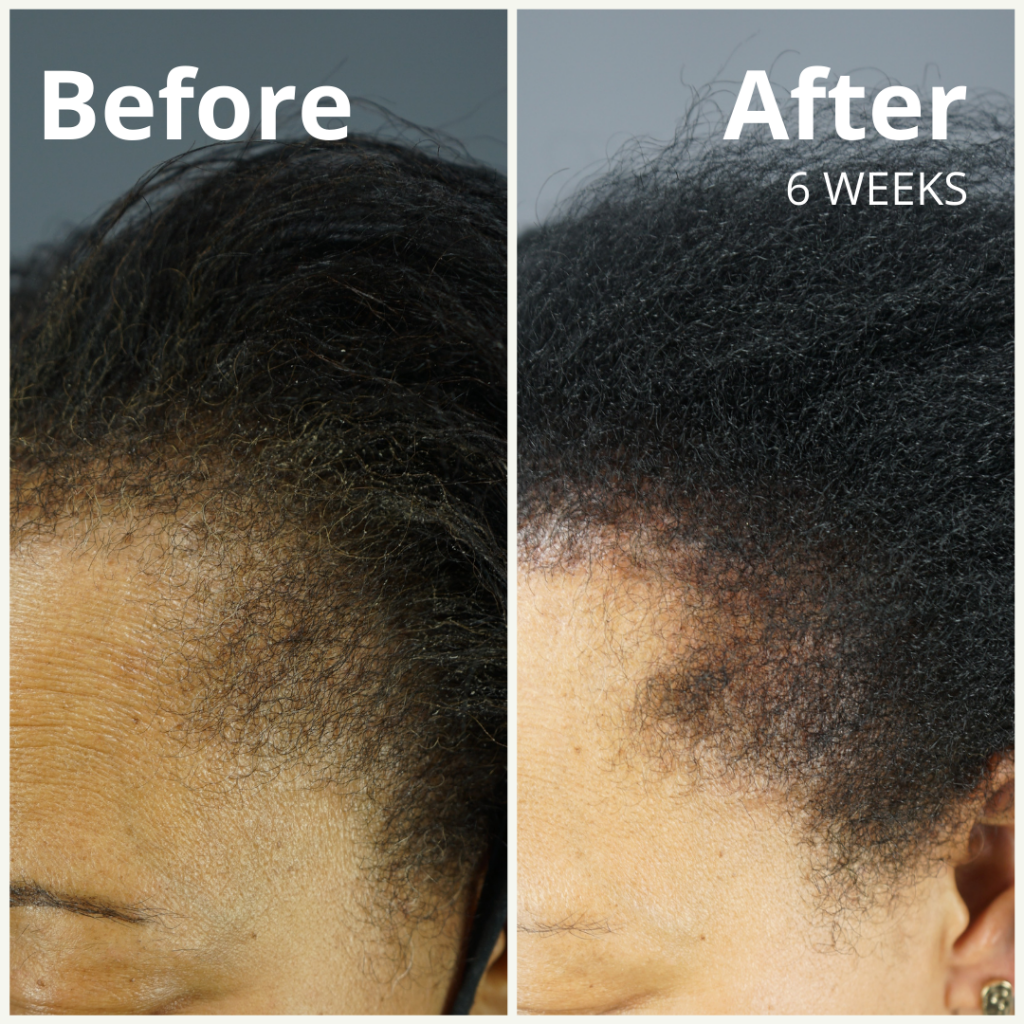 The Secret Behind Her New Fortified Natural Hair Edges: She attributes her success to GASHEE, its wide range of natural ingredients, and her consistency. She used GASHEE Lotion twice daily and followed a routine to ensure that she did not miss any periods of the GASHEE Oral Supplement.
Due to the natural ingredients and formulations that make up GASHEE Hair Products, you can think of using GASHEE Hair Products as a natural way of supplementing your body with essential foods, natural extracts, vitamins, and minerals your hair needs.
For more angles on her hair health improvements, continue to the YouTube video below.
VIDEO: GASHEE Before & After Results for Woman's Afro-Textured Natural Hair Edges
How is GASHEE Different than Other Natural Hair Products?
GASHEE is created by Dr. Sanusi Umar, also known as Dr.UGro GASHEE.
Meaning "hair" in Hausa, GASHEE offers a unique combination of plant-based ingredients for hair health based on ancient medicines worldwide.
In addition, Dr. Umar has invented a new proprietary processing method to formulate GASHEE.
GASHEE: Processed Uniquely Using Dr. Umar's Proprietary Plant-Processing Method
This new processing method is the first of its kind and helps retain important whole plant components and compounds traditionally lost in processing due to heat.
The Power of Whole Plant Compounds: Studies like the one linked below have discussed how whole-plant compounds can offer improved delivery and effect to target pathways within the body than extracted compounds. For more information, continue to the journal linked below.
Dr. UGro GASHEE Study: Hair Health Effects of GASHEE Topical Lotion
In 2021, Dr.UGro Gashee's Natural Topical Lotion for hair health has been studied for its hair health improvement effects.
The study reports how 5 out of 5 patients used GASHEE Natural Topical Hair Lotion to help with various hair loss conditions [2].
Out of the 5 patients within the study, 4 used Minoxidil, one of the most popular hair loss medications, for over a year before the study with little to no effect.
The study reported "significant regrowth of hair" achieved in all 5 patients, with all 5 patients reporting no adverse or side effects from using GASHEE Lotion.
2021 GASHEE Topical Lotion Study Conclusion – a Discussion of Side Effects
In summary, the 2021 GASHEE Hair Lotion Study opens the discussion of natural hair products and how they may be able to help with certain conditions of hair loss.
It is essential to be aware that "natural product" does not mean nor guarantee no side effects. There are still many people with specific plant allergies – plants that may be found in GASHEE's ingredients. Yet, suppose you are not allergic to any of GASHEE's ingredients. In that case, GASHEE Natural Hair Products may open an avenue to help improve your hair health without the unwanted side effects commonly seen from chronic use of pharmaceutical drug-based medications such as Minoxidil.
Oral Minoxidil Side Effects according to MayoClinic[3]:
Fast or irregular heartbeat
Rapid weight gain
Chest pain
Shortness of breath
Bloating
Flushing or redness of the skin
Swelling of legs
Strengthen Your Roots with GASHEE Today
Hair Health Product for Natural Hair Edges: Countless natural hair health products exist, but not all are built or worth the same.
Not only should ingredients be considered, but the processing behind the ingredients, the product's origin, and the manufacturer's intention and experience should all be considered.
If you want to experience the relief and satisfaction of having your best hair day again through non-surgical means, try Dr.UGro GASHEE Products with the shop now button below.

Other Satisfied GASHEE User Testimonials
For more happy GASHEE user testimonials and hair growth results, and to see how their hair had transformed for the better after using GASHEE products, visit the new articles and videos below.
Frequently Asked Questions: Natural Hair Edges FAQ
Can you lose hair from wearing tight braids?
It is possible to lose hair from wearing tight braids or tight hairstyles, such as tight weaves or buns.
Putting too much tactile pressure or pulling pressure on the hairs and hair follicles can stress the scalp and follicles, resulting in hair loss from tractional pressure.
Specifically, this medical condition is called traction alopecia.
What types of hairstyles should I avoid for traction alopecia?
Avoid these hairstyles if you have traction alopecia or if you are trying to avoid traction alopecia:
Buns
Ponytails
Dreadlocks
Cornrows
Hair extensions or weaves
Tightly braided hair
Generally, any tightness applied to the hair can lead to traction alopecia – therefore, tight bands or hair bands can also be an issue to consider.
Are there a lot of people who have traction alopecia?
According to John Hopkins Medicine, an estimated "one-third of African-American women" suffer from traction alopecia [4].
Traction alopecia is, in fact, the most common form of hair loss among African-American women.
References
University, Tricoci. "History behind the Slayed Edges Hairstyle and How to Pull It Off." Tricoci University, 2 Oct. 2021, www.tricociuniversity.edu/beauty-blog/history-behind-the-slayed-edges-hairstyle-and-how-to-pull-it-off/#:~:text=Hair%20edges%2C%20also%20commonly%20known. Accessed 4 Aug. 2022.
Umar, S. and Carter, M., 2021. A Multimodal Hair-Loss Treatment Strategy Using a New Topical Phytoactive Formulation: A Report of Five Cases.
"Minoxidil (Oral Route) Side Effects – Mayo Clinic." Www.mayoclinic.org, www.mayoclinic.org/drugs-supplements/minoxidil-oral-route/side-effects/drg-20068757. Accessed 5 Aug. 2022.
"All Hairstyles Are Not Created Equal – 04/27/2016." Www.hopkinsmedicine.org, www.hopkinsmedicine.org/news/media/releases/all_hairstyles_are_not_created_equal. Accessed 4 Aug. 2022.