Published on December 2, 2021. Last Updated on August 11, 2022.
Natural Hair Health Results: Hair loss is never easy to deal with, no matter your situation. If you have been or are currently struggling with hair health or hair loss issues, such as a receding hairline, thinning hair, lack of hair color, growing bald patches, or more, there may be hope – such was the case of this now happy GASHEE user.
Continue to see her remarkable hair health improvements using GASHEE Natural Hair Products.
Article Update August 2022: Is losing hair as we age normal?
The aging process can result in many changes in your body, and hair is no exception. Hair can naturally change in color and texture over time, and it requires special attention to maintain. Factors such as diet, genetics, and overall health must be considered.
What are some of the reasons why aging women experience hair loss?
Both women and men experience hair loss as they age, which can be influenced by:
Hereditary traits
Endocrine disorders
Thyroid disorders
Reduced hormonal support
Nutritional deficiencies
For women, menopause can significantly cause hair loss as they enter their 40s. According to Cleveland Clinic, sex hormones that generally stimulate follicle fibers are diminished, and frequently, there is a slight increase in testosterone. Due to these changes, some hair follicles may stop producing new hair [1].
4-Month Natural Hair Health Transformation: In this triumphant case of improved hair health, this woman was able to improve her deteriorating hair health conditions using Dr.UGro GASHEE Natural Hair Lotion Topical and GASHEE Natural Oral Hair Supplements.
Before she began using GASHEE for her hair health, this woman reported hair loss symptoms such as:
Thinning hair
Falling hair
Lack of hair volume
Inability to grow hair back
Continue below to see her complete hair health transformation results:
GASHEE Natural Hair Health Results: Natural Hair Topical Lotion & Oral Hair Supplements
Below you can find her before and after results after 4 months of using the GASHEE Botanical Topical Lotion and GASHEE Natural Oral Hair Supplements daily. Notice the improvements in her hair color, hair volume, hair thickness, and hair density.
Where other hair health products did not work nor give her the satisfying hair health results she wanted, GASHEE was able to help.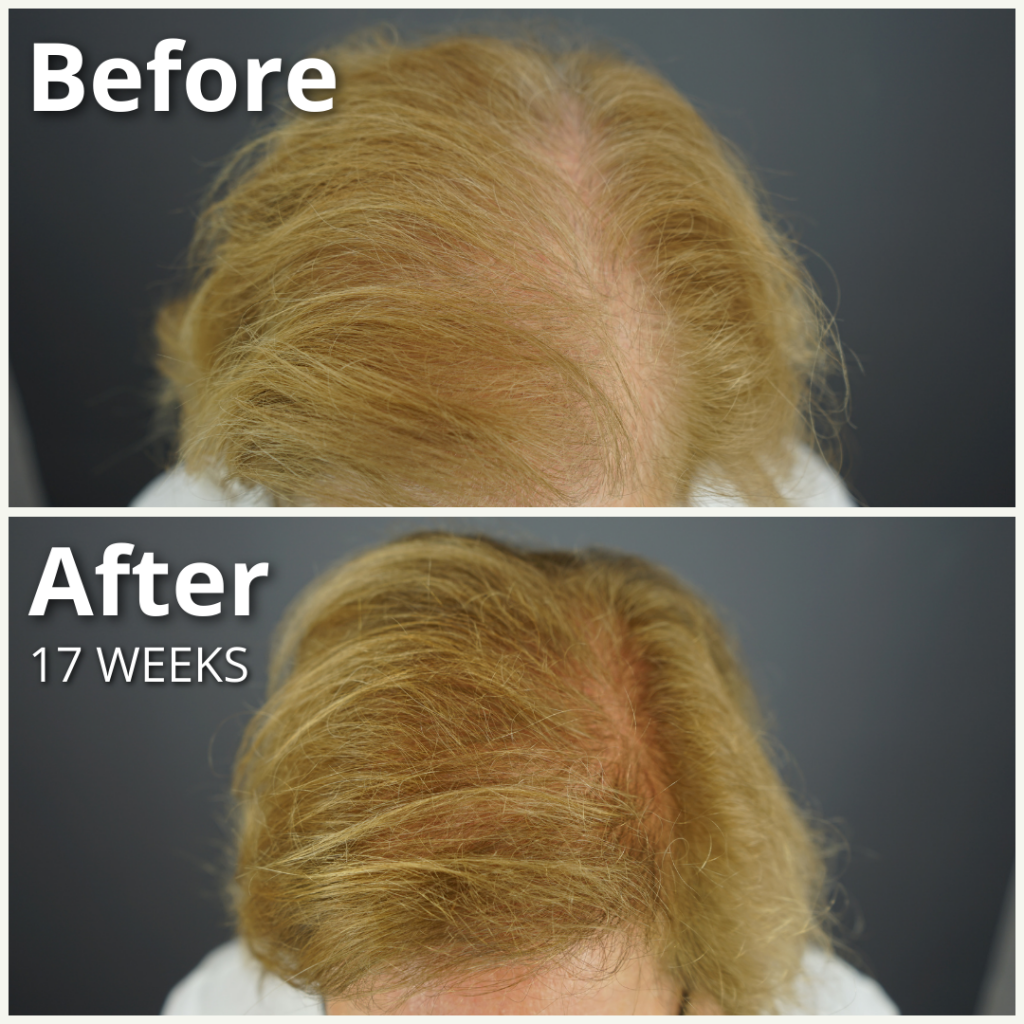 After 4 months of before and after pictures, this woman was able to return to Dr.U's office for another set of before and after pictures – shown below. Note the improved hair quality after 5 months of using only GASHEE Natural Topical Lotion and Oral Hair Supplements: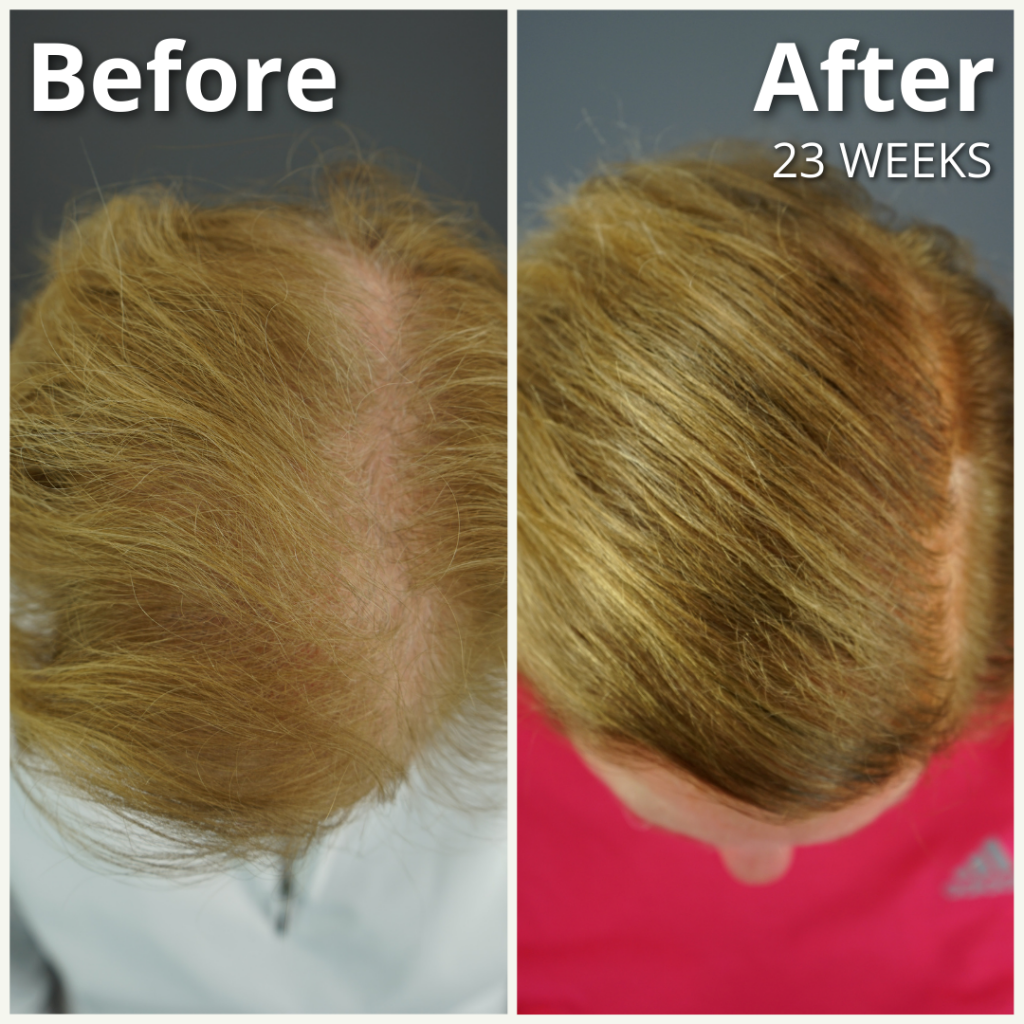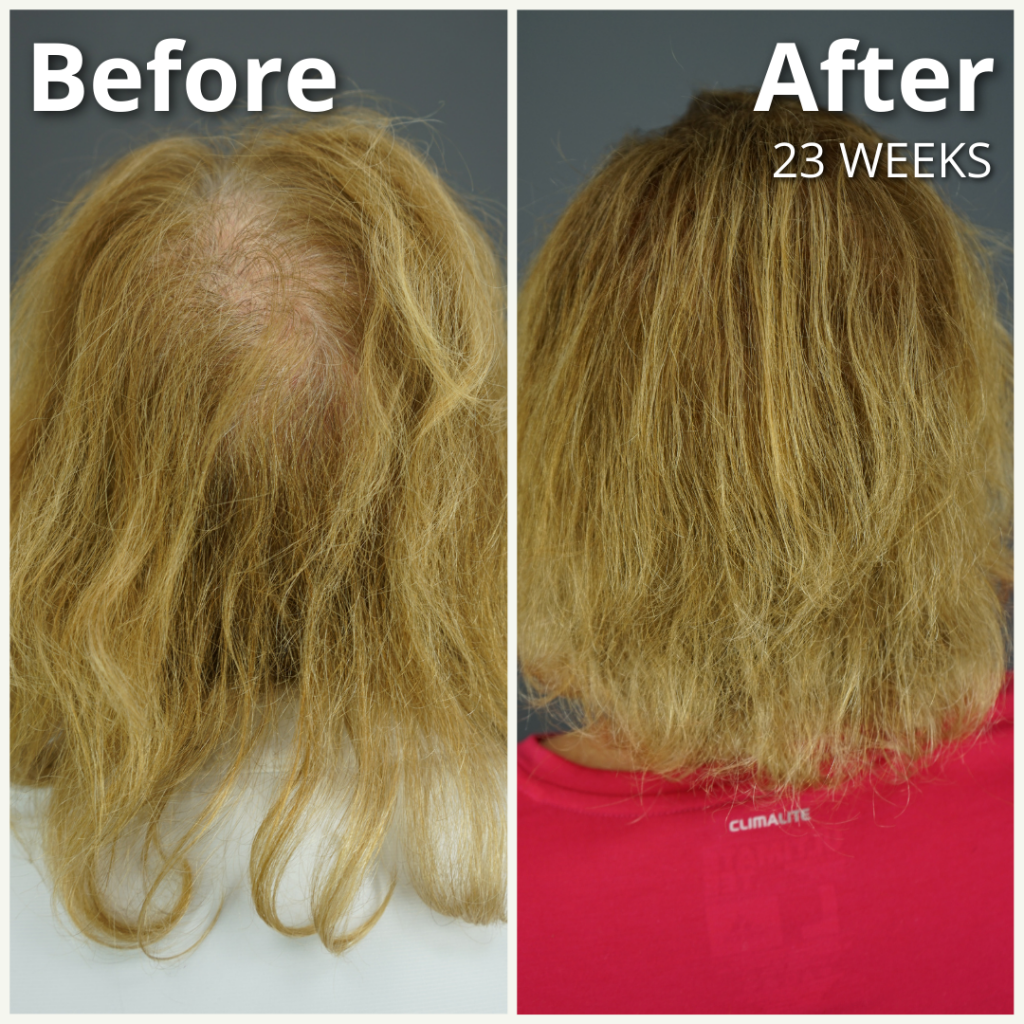 In her own words, this now satisfied and ecstatic GASHEE user states that:
"Dr. Umar has been able to save my hair with his product."

"My hair has been able to regrow stronger than it was before after I saw him [and used the GASHEE products]."

"….and I can't be happier!"

"My hair has grown back to normal."
Imagine what it would feel like to have your hair returned to normal. The way you loved it before. For her, it helped give her the natural confidence and radiance to shine again.
In her own words, this now happy and satisfied GASHEE user reports that:
"I would recommend Dr. Umar's Product because it does work."

"GASHEE Products help strengthen your hair as well as help regrow your hair."
VIDEO: Dr. UGro GASHEE Topical Lotion & Oral Supplements Natural Hair Health Improvement Results
For more angles of this GASHEE user results, continue below for a before and after video of this woman's hair health improvements.
How Easy is It to Use GASHEE for Improved Natural Hair Health Results?
Dr.UGRO's GASHEE Natural Hair Products are easy to use.
For the GASHEE Natural Oral Hair Supplements she took, she only had to take 4 capsules every day.
For the GASHEE Natural Hair Lotion Topical she took, she only had to apply it to her hair once to twice daily, depending on the desired effect.
What Makes GASHEE Natural Hair Lotion Unique?
Dr. UGro GASHEE Natural Hair Lotion Topical is a new, proprietary topical formulation of over 12 different botanicals, vitamins, and cosmeceuticals.
As a topical formulation, it minimizes adverse or toxic effects sometimes experienced after ingesting botanical extracts [2].
In addition, GASHEE's natural ingredients have been derived from a new heat-free formulation method invented by Dr. Umar.
This is a unique case to GASHEE, as most natural hair products involve the use of high temperatures to process their products.
However, using a heat-based approach is known to destabilize or deactivate heat-sensitive phytochemicals and whole plant compounds – thus defeating the purpose of their use.
Instead, using ingredients processed at room temperature using a formulation process that avoids heat, the valuable biochemical or biological activity of active components is optimally retained.
Thus, GASHEE Natural Hair Lotion's minimal processing methods retain these powerful phytochemicals and plant compounds to deliver a more powerful holistic hair health improvement experience.
The Power of GASHEE's Whole Plant Extracts
Furthermore, GASHEE Natural Hair Lotion uses whole plant extracts instead of isolated compounds.
There is medically published evidence that at comparable doses and concentrations, industrially isolated compounds do not have as much activity or hair strengthening power as opposed to the unrefined plant due to the absence of interacting substances present in the extract [2].
GASHEE Natural Hair Lotion: An Improvement Over Past Natural Hair Products
Finally, one issue that made many topical botanicals ineffective is the inability to preserve them for optimal shelf life without resorting to harsh chemical preservatives.
GASHEE overcomes this due to its heat-free proprietary formulation process and blends of ingredients, as well as the naturally derived sustainable preservatives it contains [2].
Does GASHEE Natural Hair Lotion Guarantee No Side Effects?
Although many may believe that natural products equate to no side effects, this is not true. Natural products are derived from plants, and plants have long been used as both poison and medicine. Even pharmaceutical drugs had their origins from compounds isolated from plants. Everyone's body is different. Some may have reactions from using GASHEE Natural Hair Lotion if they have an allergy or reaction to any of GASHEE's natural ingredients.
Yet, suppose you do not have allergies or reactions to any of GASHEE's ingredients. In that case, GASHEE offers a way to help improve hair health conditions naturally that can be sustained long-term due to its natural ingredients, which are more easily processed and utilized by the body.
GASHEE Side Effect Profile Compared to Popular Hair Loss Medications
This is a decisive breakthrough in hair health products as the most popularly used hair loss medication is Minoxidil, an FDA-approved pharmaceutical drug.
According to RX List, Some of topical Minoxidil's (Rogaine) common side effects include [3]:
Irritation
Eczema
Abnormal body hair growth
Allergic contact dermatitis
Site redness
Worsening hair loss
Burning
Respiratory infection
Tendinitis
Back pain
Fractures
Sinusitis
Fluid retention
Anxiety
Low blood pressure
Dizziness
Lightheadedness
Faintness
Additionally, RX List states that "this does not contain all possible side effects and others may occur. Check with your physician for additional side effects information [3]."
Furthermore, prolonged use of pharmaceutical drugs such as Minoxidil can lead to an increased risk of these effects occurring. Peer-reviewed medical studies have been published detailing its failure to improve certain users' hair loss conditions [2].
This is a significant point to consider as many hair loss conditions are chronic and require consistent application or consumption of products or medication.
Due to this, GASHEE's minimal side effect profile, particularly for long-term use if you are not allergic to any of GASHEE's ingredients, opens a new opportunity for effective natural hair health improvement viable for long-term use.
GASHEE Natural Hair Lotion Topical – Published Peer-Reviewed Medical Study
One evidence of this can be seen in the 2021 GASHEE Natural Hair Lotion Study, published in Hindawi Medical Journal. The study reports the natural hair health improvement effects of GASHEE Natural Hair Lotion on 5 subjects with various hair loss conditions such as androgenetic alopecia. 4 out of 5 subjects had previously used topical Minoxidil for at least a year, with no notable results in terms of hair growth or hair health improvement [2].
Results of the GASHEE Natural Hair Lotion Topical Medical Study:
The study reports that "all patients used the [GASHEE Natural Hair Lotion Topical] as the only therapy for at least 3 months before documentation of outcomes."
The study further reports that "in all patients, [the study] observed significant improvements in hair regrowth in the nape, crown, vertex, and temple areas after 3 – 15 months of treatment. All patients were delighted with their results and reported no [side effects]."
Although none of the GASHEE Natural Hair Lotion subjects in the study reported no case of side effects, as well as "significant improvements in hair regrowth," the study concludes that "the [GASHEE Hair Lotion] used in this study demonstrated a good efficacy related to hair growth, warranting further evaluation [2]."
For more information regarding the recorded effects of GASHEE Natural hair Lotion for improved hair health, visit the 2021 GASHEE Natural Hair Lotion – Hindawi Study.
Improve Your Natural Hair Health Now with GASHEE!
If you would like to experience the relief and satisfaction of having your best hair day again through natural and non-surgical means, be sure to try Dr.UGro GASHEE Products with the shop now button below to see how nature and modern science can help.

Other Satisfied GASHEE User Testimonials
For more happy GASHEE user testimonials and how their hair had transformed for the better after using GASHEE products, visit the articles below.
Women's Hair Loss Frequently Asked Questions (FAQ)
What is hair made of?
Hair is made of protein strands.
How long does a single strand of hair live?
A single strand of hair can live for about 2 to 7 years.
How fast does hair grow? What is the average hair growth rate?
Typically hair grows an average of 0.5 inches per month and up to six inches per year.
What factors influence hair growth speed?
Several factors influence hair growth speed, such as:
Age
Diet
Genetics
Overall health
What can you do to improve aging hair loss?
Although hair loss due to aging is part of life's natural progression, there are specific steps we can take to help minimize aging hair loss:
Wash hair less frequently
Apply conditioner & volumizers
Choose hair products that work for you
Eat a protein-rich diet
Doing all this can help optimize your hair health and make a lasting difference.
References
Your Guide to Aging, Thinning Hair: 6 Simple Tips. Cleveland Clinic. Published June 30, 2020. https://health.clevelandclinic.org/your-guide-to-aging-hair/
Umar, S. and Carter, M., 2021. A Multimodal Hair-Loss Treatment Strategy Using a New Topical Phytoactive Formulation: A Report of Five Cases.
Minoxidil Topical. RxList. Published July 28, 2021. https://www.rxlist.com/consumer_rogaine_minoxidil_topical/drugs-condition.htm