Published on February 5, 2018. Last Updated on July 17, 2021.
Eclipta alba also called Bhringraj and the "false daisy," is an Ayurvedic herb found in India and southwestern parts of the United States. The plant is believed to prevent aging while regenerating hair, teeth, and bones. Eclipta alba also improves memory, sight, and hearing. Those looking for natural remedies for their hair loss might be interested in learning about the role of Eclipta alba in hair treatment. In addition, there are interesting studies that suggest that it highlight its potential for stimulating hair growth. These eclipta alba hair studies are summarized below.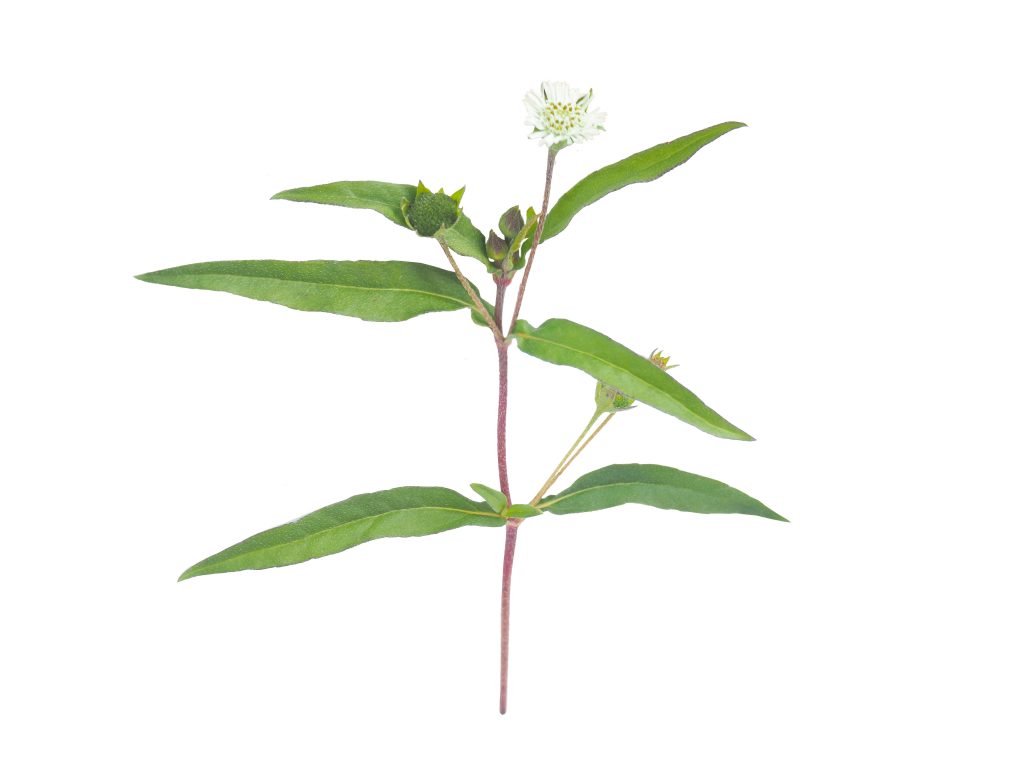 A Word About Bhringraj
Bhringraj, also known as Eclipta Prostrata, is a sunflower that grows in various areas throughout the world. The plant is said to serve as an anti-aging remedy that assists in hair growth. It is also commonly combined with other natural products. For instance, amla and bhringraj powder for hair is a popular DIY remedy for hair loss.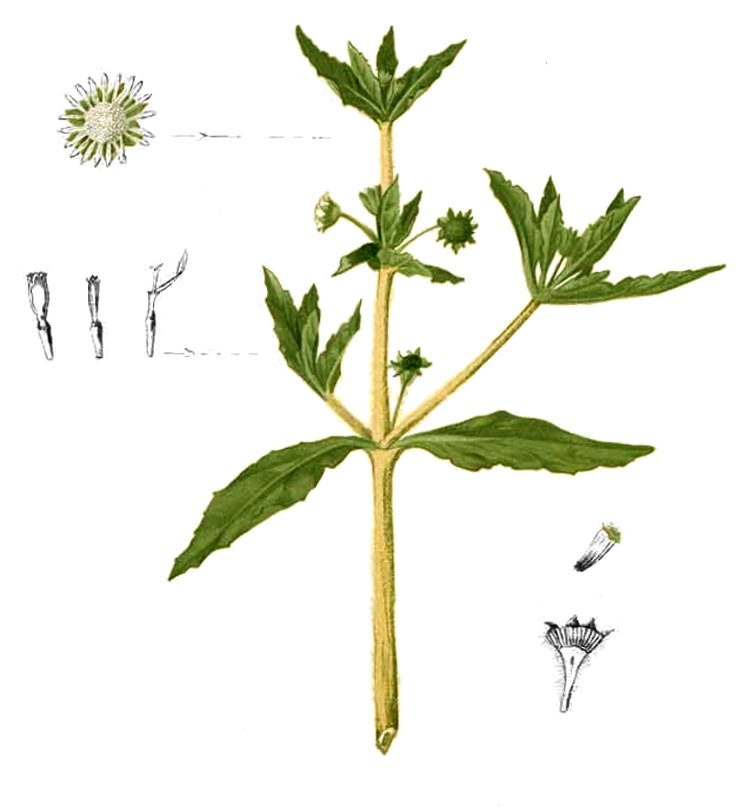 Herbs for Hair Growth in History
The concept of using Eclipta alba as a natural remedy for hair loss comes from Chinese culture. In ancient times, doctors viewed alopecia as the result of a deficiency syndrome that had to do with blood flow. According to the experts, hair was an extension of blood. Hair was shed as a result of a deficiency that caused excessive heat. Chinese doctors experimented with many natural remedies and deemed the Eclipta herb the best option for treating baldness, perhaps based on observations on its effect on hair loss sufferers. Their findings might have stood the test of time as studies suggest efficiency in Eclipta alba hair growth.
Eclipta Alba Hair Treatment: Animal Studies
Extensive research and experimentation have shown the effectiveness of Eclipta alba hair growth. For example, a recent study on albino rats showed positive results for follicle extension (3). Scientists added petroleum ether and ethanol abstract of Eclipta alba to cream applied to the rats' fur. In the end, half of the rodents experienced a shorter hair growth period that resulted in more follicles coming to fruition during the maturation cycle (3).
Another example of Eclipta alba hair growth at work is an experiment that compared the herb to minoxidil (3). Formulas that contained Eclipta alba were applied to one group of rats. Minoxidil was given to another set of rodents. The results proved Eclipta alba as a better source of hair growth. Rodents that were given Eclipta alba hair treatment experienced a 32 percent reduction in the hair growth cycle.
More Research On Natural Hair Growth Remedies: Human Studies
Rats have not been the only living creatures to benefit from Eclipta. A study published in the International Journal of Advanced Research (2014) tested the theory of Bhringraj hair growth on 50 healthy males and females between 18 and 65  (2). All subjects were experiencing mild to moderate hair loss along with dandruff and frequent hair fall. Every participant answered a questionnaire before undergoing the experiment. After seven weeks of treatment, more than 75 percent of subjects reported a significant reduction in hair loss. Some study subjects even noted a reversal of alopecia altogether as hair once again began to grow (2).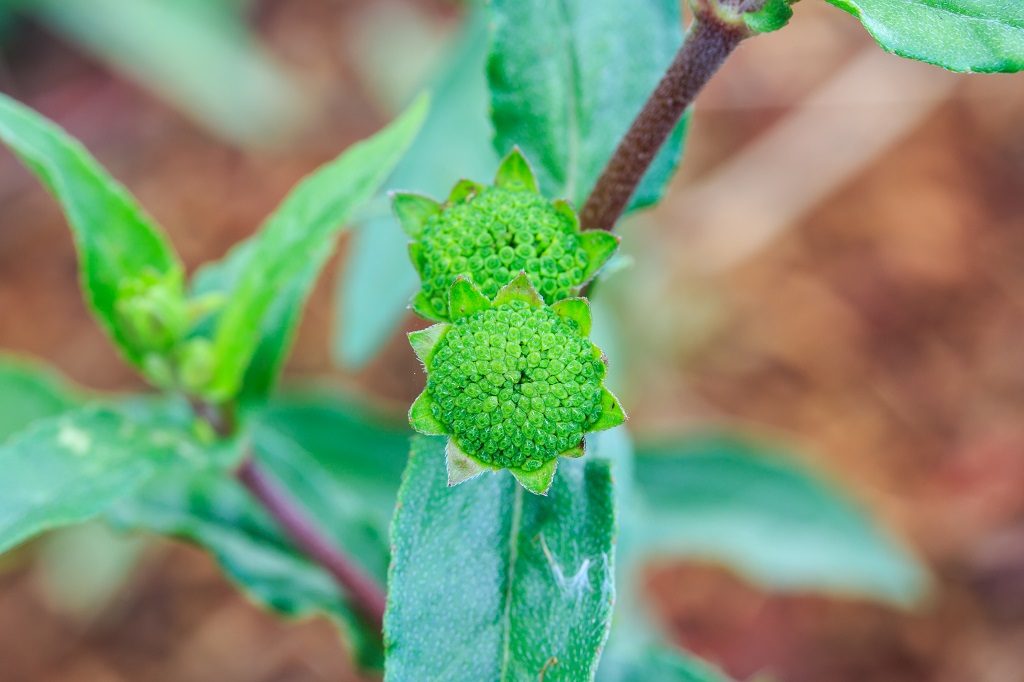 In addition to the study conducted in 2014, the Sichuan Journal of Traditional Chinese Medicines (1987) also published research that proved the effectiveness of Bhringraj hair growth (1). More than 500 individuals experiencing hair loss took an anti-aging mixture that contained Eclipta. The result was 62 percent of individuals treated reporting a reduction in alopecia over three months. Eclipta alba was also effective in 30 out of 36 subjects in China suffering from hair loss (1). These individuals were altogether cured of alopecia. Four other participants claimed to have a significant reduction in hair thinning.
Summary of Bhringraj Oil Hair Growth Results
Studies have shown products containing Eclipta alba were effective treatments for hair loss (1, 2). In addition, another study found Eclipta alba to be effective for follicular extension of rat fur (3). These findings may be of particular interest for women who suffer from hair loss from various causes, including androgenic alopecia and traction alopecia. Androgenetic alopecia in women typically manifests as diffuse thinning. Hair loss from traction alopecia develops due to frequently wearing hairstyles that put a lot of tension on the edges of the scalp.
If you have any further questions about natural products in general or Eclipta alba in particular, contact us for more information.
Other Uses of Eclipta Alba
Although eclipta alba is most commonly known to prevent hair fall by strengthening the roots while promoting growth, it is also used as a preventive herb for skin care. 
According to a 2014 study, the herb is packed with anti-inflammatory and antioxidant properties that assist in preventing unwanted blemishes or fine lines. It's also an effective source to combat your skin and body dehydration to maintain your overall well-being.
Eclipta alba can be used in supplements that aim to benefit weak eyesight and blood purification in the medical world. Additionally, it contributes to ensuring the healthy functioning of your liver.
Precautionary Measures Before Use
There is little evidence known about the long-term effects of eclipta alba. However, especially when applied topically, some products were identified to cause allergic reactions or burning sensations. Thus, it is important to use products that are carefully formulated and tested by health experts.
According to Very Well Health, this herb may not be suitable for those with bleeding disorders due to its tendency to promote blood clots or weaken the effects of blood-thinning medications. For individuals that identify with similar descriptions, it is recommended to consult with your doctor before use. 
Due to the lack of evidence regarding its impact on pregnancy, pregnant or breastfeeding women and children are advised to avoid products with this substance.
Safety Profile
The Environmental Working Group, an organization that offers safety analysis of beauty and food production ingredients, gave eclipta alba a 1 (green) score on its scale. This indicates that the herb shows little to no risk and does not raise health concerns.
---
Tested Natural Hair Product For Hair Growth
If you're interested in incorporating eclipta alba into your hair care routine to stimulate hair growth, Dr.UGo Gashee has two products using this key ingredient. Our hair lotion and pomade are carefully formulated to improve your hair growth journey using a combination of all-natural ingredients. Click the image below to shop now!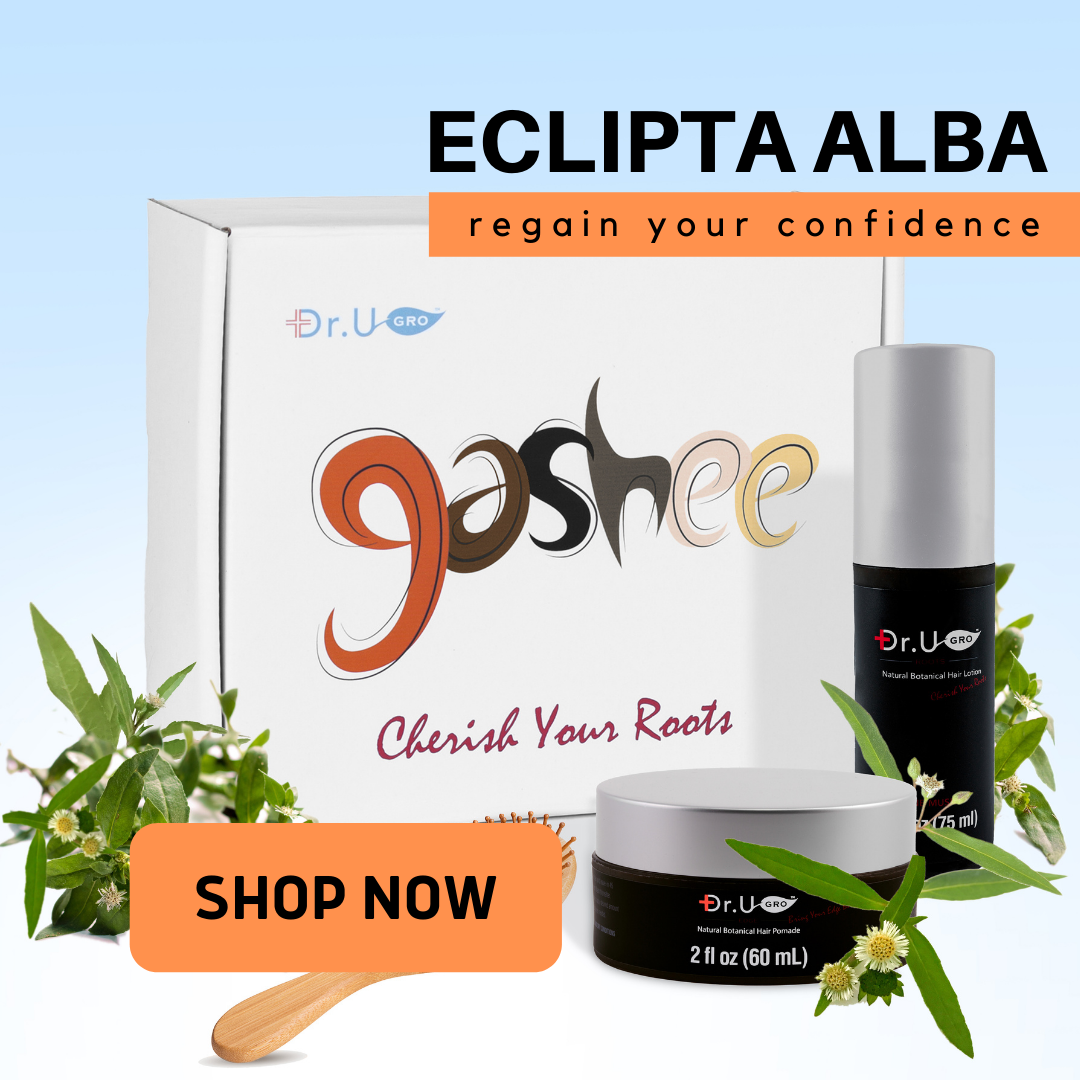 VIDEO: Botanical Hair Pomade Containing Bhribgraj Shows Surprising Hair Growth Results
Diane witnessed the top and sides of her head experiencing dramatic hair loss, but no products or pharmaceutical medications seemed to work for her. However, after discovering and using Dr.UGro Gashee Hair Pomade, her stubborn hair surprisingly grew thicker and stronger. Learn more about her experience by watching the video below.
---
Frequently Asked Questions About Eclipta Alba Hair Growth Research
Does Eclipta alba extract grow hair quicker than Minoxidil?
A 2008 study using Eclipta alba extract on albino rats found the time taken to complete hair growth to be significantly reduced, compared to the control group using a 2% solution of Minoxidil (3). However, it should be noted that the study observed the follicular growth of rats, so the Eclipta alba hair extract results are not guaranteed to be the same for humans.
How can I use Eclipta alba for hair growth?
Eclipta alba has been used as a home remedy for hair growth in several ways. Some people choose to use the plant as a herbal supplement in the form of an oral capsule. Others incorporate the plant into their shampoo of choice. Another way Eclipta alba has been used is a liquid extract applied directly to the scalp.
References
Jiang H. Treatment of 21 cases of alopecia with Shengfa Wan. Sichuan Journal of Traditional Chinese Medicine 1987;5(4):47-8.
Madan A, Arun A, Verma S. A noncomparative open-label pilot study to see Vegetal Hair Well's efficacy and consumer response in preventing hair fall and promoting hair growth. International Journal of Advanced Research 2014;2(2):475-81.
Roy RK, Thakur M, Dixit VK. Hair growth-promoting activity of Eclipta alba in male albino rats. Arch Dermatol Res 2008;300(7):357-64.
Further Reading
Read about the use of flaxseed oil for hair regrowth
Studies show how saw palmetto can be used to combat hair loss