Published on November 19, 2021. Last Updated on January 14, 2022.
What is Chamomile: Chamomile is a common name for several daisy-like plants from the family Asteraceae. There are two species, in particular, Matricaria recutita, and Anthemis nobilis, which are used to make herbal infusions for traditional medicine known for their therapeutic properties. Most of the reported health benefits of chamomile lie in its terpenoids and flavonoids, which can be utilized by the human body by drinking chamomile as a tea, or by ingesting chamomile extract oral supplements. Although there have not been many studies on the health benefits of chamomile in the past, there has been new research and findings which support how chamomile consumption can possibly help several health issues due to its anti-inflammatory, antioxidant, and mild astringent properties. Today, chamomile for hair, chamomile tea for hair, chamomile oil for hair, and chamomile extract for hair are all being studied for their benefits for hair health, with promising results.
Chamomile Health Benefits
Chamomile has been known traditionally by many people and cultures throughout the world for its natural healing properties.
There are many natural health benefits of consuming chamomile which includes:
Naturally lowering your blood sugar levels
Reducing the risk of certain digestive problems
Possibly lowering blood pressure
Reducing menstrual pain
Slowing osteoporosis
Reducing inflammation
Cancer treatment and prevention
Aiding sleep and relaxation
Treating Cold Symptoms
Treatment of Mild Skin Conditions
Possibly treat depression
Due to its relaxing scent, chamomile has been used extensively in cosmetics and aromatherapy as an essential oil.
When taken orally, as a tea or part of a chamomile extract supplement, chamomile can be used as a mild sedative to calm nerves and reduce anxiety, to treat hysteria, nightmares, insomnia, and other sleep problems.
Additionally, chamomile can also be used to help as a digestive relaxant, as noted in this 2011 published study.
And in a published 2013 study, chamomile can also be used to help treat depression by taking chamomile extract as an oral supplement.
In addition, some of these chamomile health benefits also benefit the hair, in several different ways further described below.
Chamomile for Hair Growth, Hair Benefits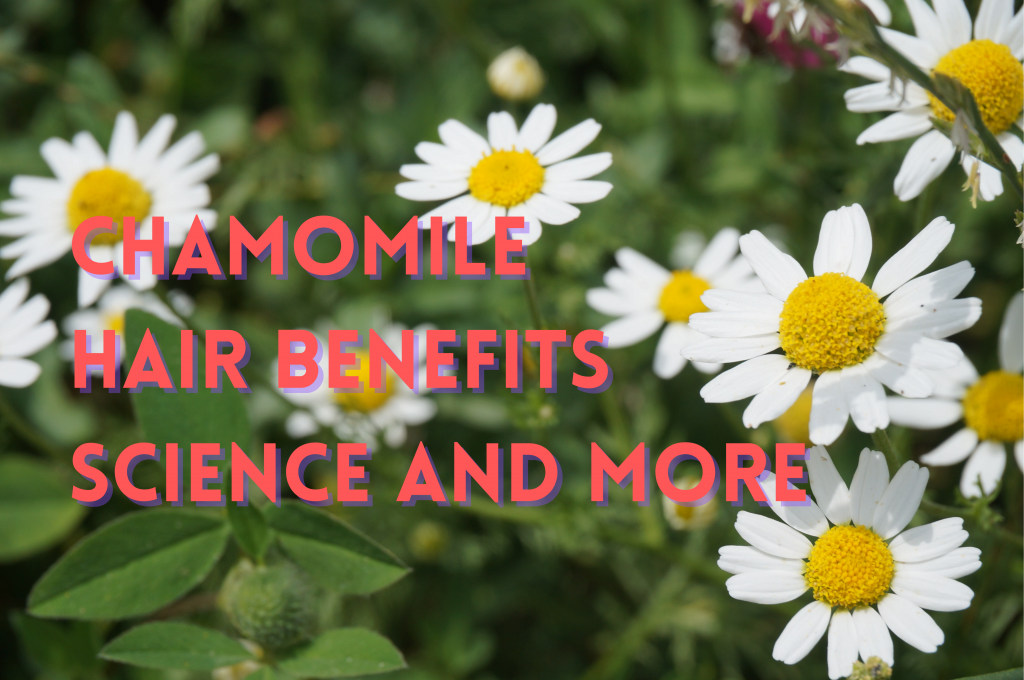 Chamomile is one of the most ancient medicinal herbs known to mankind.
In fact, more than one million cups of chamomile tea are consumed every day.
There are many reasons why many people and cultures have consumed chamomile for hundreds of years and live by its natural health benefits.
Due to its inflammation-soothing and detoxing qualities, chamomile can offer many health benefits, in particular for the hair.
More so, chamomile is also filled with the antioxidant apigenin, which is a potent antioxidant that reduces the effects of aging and stress on the hair, skin, and body, and it also acts as an anti-inflammatory ingredient.
One of the common causes of alopecia is based on auto-immune disorders. In this case of alopecia, the immune system triggers an inflammatory attack on the hair follicles. Therefore, anti-inflammatory agents such as apigenin, found in chamomile, can possibly help reduce the inflammation happening around the hair follicles so that the body does not react so adversely to its own hair.
With all this in mind, taking chamomile in the form of tea or in its more powerful, and concentrated form as oral hair supplements, can possibly help aid hair growth and hair health.
How to Take Chamomile for Hair Health
Traditionally, chamomile is made into tea and drunk for its many health benefits.
Although there are many great chamomile teas available, chamomile extract in the form of oral hair health supplements is now available.
Through chamomile-extract oral supplements, the body can consume a much higher concentration of the many terpenoids and flavonoids which contribute to chamomile's medicinal and hair health improvement properties, at much higher dosages and potency of chamomile as opposed to drinking only the tea.
Therefore, if you are looking to maximize the health and hair-health benefits of chamomile, it is recommended that you try an oral hair supplement infused with chamomile extract.
Chamomile Dosage Recommended for Hair Health
As mentioned by drugs.com, typical oral doses of chamomile are 1.1 to 15 g/per day.
Chamomile Precautions, Contraindications
Given the lack of evidence regarding its long-term safety, chamomile is not recommended for women who are pregnant or breastfeeding.
Chamomile Safety Profile
According to the EWG, chamomile scores a 4 on its safety score sheet, which states that chamomile is relatively safe to consume, with no cancer or developmental, reproductive toxicity dangers, but with possibly high allergies and immunotoxicity danger.
Before you take any products or supplements which include chamomile, it is highly recommended that you first consult with your healthcare provider or physician to make sure that you do not have any allergies or immunotoxicity to chamomile.
Harness The Power of Chamomile in Dr.UGro Natural GASHEE Oral Hair Supplements
Chamomile, as well as other essential minerals, vitamins, and extracts essential to hair growth are among the many powerful plant-based ingredients found in Dr.UGro Gashee Oral Hair Supplements. Gashee Oral Supplements have been carefully formulated with the most effective dosage of chamomile and other minerals and vitamins to help maximize effects on your hair growth and hair health. To help increase the feel and appearance of hair density, thickness, and volume, or to help regrow hair loss or aid hair growth, take 4 capsules a day.
PICTURES: Dr. UGro GASHEE Oral Hair Supplements Before & After Results, Infused with Chamomile
Hair health issues, such as hair loss, a receding hairline, growing bald patches, hair breakage, falling hair, and more, can be hard and frustrating to deal with.
As hair is an important component of our overall appearance and identity, having hair health issues can be detrimental to your mental health.
If you happen to be struggling with these issues of hair loss, alopecia, or other forms of declining hair health, you may be able to relate to Jennifer's story.
Meet Jennifer: Jennifer, one of the many satisfied Dr.UGro Gashee Hair Health Products users, had struggled with many different hair growth and hair health improvement products for her hair that unfortunately, did not work.
But fortunately, Jennifer's story has a happy ending.
At the beginning of Jennifer's journey before meeting Dr.UGro and his Gashee Natural Hair Health Products, Jennifer had to deal with an array of symptoms of hair loss and a decrease in her hair health such as:
Decrease in hair thickness
Decrease in hair strength
Decrease in hair volume
Hair thinning
Hair falling
Hairline receding
For Jennifer, she knew that the root cause of her hair-related issues had to do with her family history. As with most people, Jennifer underwent a decrease in her hair health, hair strength, hair thickness, and hair volume, which eventually befalls all of us due to age, and at times, may be accelerated due to family genetics and history.
How Family Genetics & Working in the Kitchen Contributed to Jennifer's Hair Loss
In Jennifer's remarks, she states how while she was "working in the kitchen," she had to "constantly wrap her hair in a bun to cover it," and she believed that this constant pressure and strain on her hair may have helped contribute to her hair loss and thinning.
Yet, for Jennifer, this problem continued to worsen.
Within a few months of noticing that her hair was falling, Jennifer began to notice that her hairline was slowly receding as well and that she was beginning to have hair thinning in several places around her scalp region.
Fortunately, Jennifer's mother, who has had similar problems of hair loss, growing bald patches, and hair breakage, falling, had recently found a doctor and product that worked wonders for her condition: Dr.UGro Gashee Natural Hair Care Products.
Due to the success that Jennifer's mother already had with Gashee Natural Hair Products, Jennifer decided to give Dr.UGro's Gashee Products – Gashee Natural Oral Hair Supplements and Gashee Natural Botanical Hair Lotion Topical – a try – to spectacular results that can be seen below.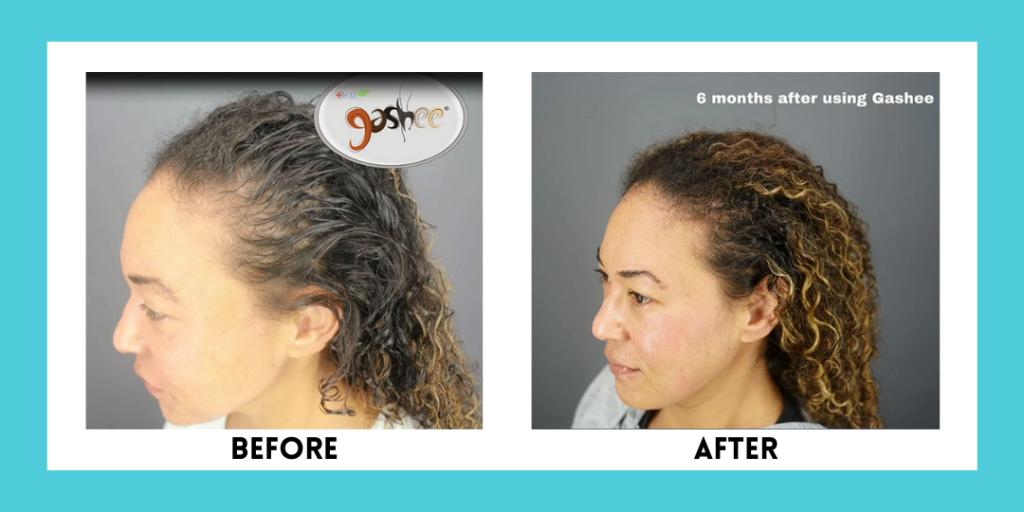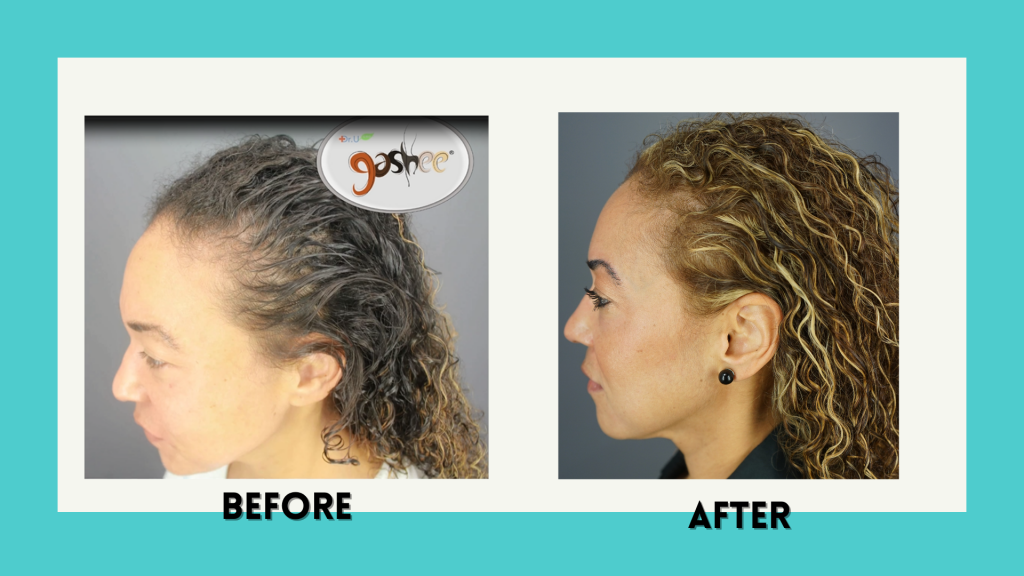 Note the improved fullness, length, texture, sheen, and shine of her overall hair health.
Improvements Beyond Hair: Even Her Eyelashes Grew!
Before Jennifer had reported that she and her friends would use eyelash extensions regularly as a part of their daily routine, but after taking the Gashee Oral Supplements, that had changed. Within a few weeks, Jennifer was no longer using eyelash extensions regularly as she had done before because her eyelashes had been filled and lengthened naturally using Dr.UGRO GASHEE's natural oral hair supplements.
Additionally, Jennifer also reports that even her eyebrows had grown in length, thickness, and density! After taking the Gashee Oral Supplements, Jennifer noted that she now has to pluck her eyebrows a little bit more, as a byproduct of the oral supplements. Even then, her eyebrows had filled out and grew, even more than usual!
Now as for her hair, Jennifer was completely satisfied and happy! She noted how her hairline has now filled, with thicker hair, and a much fuller, healthier and happy head of hair. Now that she has had time to take a look at the before and after picture results of herself before and post-treatment, Jennifer has reported that the difference is huge and drastic.
Dr.UGRO GASHEE Natural Hair Health Improvement Results – Easy to Use
And the best part of Dr.UGRO's GASHEE Natural Hair Products, according to Jennifer, is how easy they are to use!
For the GASHEE Natural Oral Hair Supplements she took, she only had to take 4 capsules daily.
For the GASHEE Natural Hair Lotion Topical she took, she only had to apply it to her hair once or twice daily depending on the desired effect.
VIDEO: Dr. UGro Gashee Before & After Pictures: Chamomile Infused Hair Improvement Results
Below you can see a before and after video result of Jennifer's personal journey towards better hair – where she began before using GASHEE Natural Hair Health Oral Supplements, and GASHEE Natural Hair Lotion Topical.

Related Articles on Hair Loss & Hair Health Ingredients
For additional information regarding hair loss and hair health improvement ingredients that you may find helpful, check out the articles below.
References
Gupta, 2021. Chamomile: A herbal medicine of the past with a bright future (Review).
Healthline. 2021. 5 Ways Chamomile Tea Benefits Your Health. [online] Available at: <https://www.healthline.com/nutrition/5-benefits-of-chamomile-tea> [Accessed 20 November 2021].
EWG. 2021. EWG Skin Deep® | What is ANTHEMIS NOBILIS (CHAMOMILE). [online] Available at: <https://www.ewg.org/skindeep/ingredients/700444-ANTHEMIS_NOBILIS_(CHAMOMILE)-ANTHEMIS_NOBILIS_CHAMOMILE/> [Accessed 19 November 2021].